UniSA research driving better care for diabetes patients
March 06 2017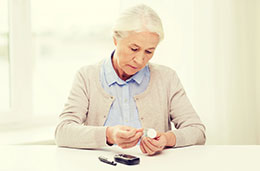 Diabetes is the epidemic of the 21st century and the biggest challenge confronting Australia's health system with around 1.7 million Australians currently living with the disease.
The number of people with diabetes also increases with age - approximately 50 per cent of all Australians with diabetes are aged 65 years or older and research from the University of South Australia published today in the Medical Journal of Australia (MJA) has found hospital readmissions, and therefore the burden of hospital inpatient care costs, could be reduced.
Lead researcher UniSA Senior Research Fellow in the School of Pharmacy and Medical Sciences, Dr Gillian Caughey, and her team found that more than 40 per cent of re-admissions in the study were potentially preventable by providing appropriate primary care, highlighting the need for improved transition between hospital and primary care.
"Almost one-quarter of older patients hospitalised for diabetes were re-hospitalised within 30 days with almost 80 per cent re-admitted within 14 days of discharge," Dr Caughey says.
"Patients with comorbid heart failure, multiple recent hospitalisations, and multiple prescribers involved in their care were at greatest risk of re-admission.
"Little is known at the population level about the rate of re-admission after hospitalisation for diabetes in Australia or the factors that contribute to the risk of re-admission.
"The aim of our study was to identify which patients are at risk of 30-day re-admission, and factors that contribute to re-hospitalisation of older Australians with diabetes and what we found was that hospitalisations for diabetes account for almost one-quarter of all potentially preventable re-admissions in our study.
"The results highlight the need for improved timeliness of primary care after discharge, as almost half of the people re-admitted within 14 days of discharge had not seen their GP during this time.
"The identification of these at-risk patients may also help care providers to target appropriate interventions for preventing these re-admissions."
The most recent available data from the Australian Institute of Health and Welfare shows that hospital inpatient care for people with diabetes in 2008-2009 was conservatively estimated to cost $647 million, or more than 40 per cent of all diabetes-related health care expenditure in Australia.
"Around 85 per cent of patients hospitalised for type 2 diabetes in Australia are aged 65 years or over and the average cost per hospitalisation is $8755 and many of these admissions could potentially be prevented were appropriate primary care provided," Dr Caughey says.
"The risk of re-admission involves a complex relationship between the presence of chronic and acute conditions, the health status of the patient, and health system factors, such as the transition between primary and hospital care and coordination of care, including timely, comprehensive communication.
"As discussed more than 40 per cent of re-admissions in our study were potentially preventable by providing appropriate primary care which underscores the importance of the timeliness of clinical handover and of GP visits after discharge."
In Understanding 30-day re-admission after hospitalisation of older patients for diabetes: identifying those at greatest risk - Gillian E Caughey, Nicole L Pratt, John D Barratt, Sepehr Shakib, Anna R Kemp-Casey, Elizabeth E Roughead – undertook a retrospective cohort study of administrative claims data in the health claims database of the Department of Veterans' Affairs (DVA) for all patients hospitalised for a diabetes related condition between 1 January 2012 and 31 December 2012.
Media contact: Katrina McLachlan mobile: +61 414972537 email: katrina.mclachlan@unisa.edu.au