UniSA pioneers health clinic to help Adelaide's homeless
May 03 2017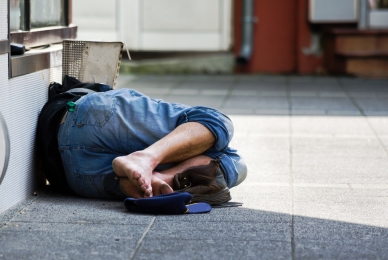 On any given night more than 5000 South Australians experiencing homelessness are left out in the cold when it comes to accessing health services, including physiotherapy and podiatry.
A new partnership between the University of South Australia, the Salvation Army and the SOS Health Foundation is changing this with a new pro bono, student-led Open Door Health Clinic providing physiotherapy and podiatry services to adults in crisis or experiencing homelessness in South Australia.
The clinic was conceived by UniSA researcher and 2016 AMP Tomorrow Maker, Dr Katia Ferrar.
"People experiencing homelessness suffer many of the same conditions as the rest of the population, but they also suffer some unique complaints," Dr Ferrar says.
"Sleeping rough, homeless people often experience low back and neck pain. Plus, as many don't have appropriate footwear, they can present with toenail issues and injuries to their feet.
"This clinic hopes to improve the health and well-being of at risk and under-served people in Adelaide, particularly the homeless and people in crisis."
Manager for SOS Health Foundation, Lynda Cunningham says that they have been operating pro bono physio clinics in Melbourne and Brisbane since 2013, so they know the value of these services.
"Seeking out healthcare is often not a priority for people who are experiencing homelessness or who are at risk," Cunningham says.
"Having an accessible service in Adelaide will give individuals hope that there is a solution to some of their long term physical problems."
The clinic will be staffed by final-year undergraduate physiotherapy and podiatry students who will work under the supervision of qualified clinical educators. When students are not practicing, the clinic will be staffed by qualified volunteer therapists, a service organised by SOS Health Foundation.
"The clinic will deliver rewarding, hands-on learning experiences for the students" Dr Ferrar says.
"It will encourage students to improve their clinical skills, make them more flexible in their delivery of health care, all the while opening their eyes to at risk communities.
"It's very important that the students develop a strong sense of social justice to hopefully take strong steps to becoming ethical practitioners.
"I hope this clinic will serve as a model for other universities to provide a rich learning opportunity while improving the health of disadvantaged Australians."
Dr Ferrar was named as an AMP Tomorrow Maker in 2016 in acknowledgement of her work on the Open Door Health Clinic.
The Open Door Health Clinic will launch at 2.00pm on Wednesday 3 May at The Salvation Army Building, 277 Pirie Street, Adelaide. It will commence public operation on Wednesday 10 May, opening every Wednesday between 1-4:30pm, at the same location. Both appointments and walk-ins are welcome. All services are free.

Contact for interview:
Dr Katia Ferrar, UniSA School of Health Sciences
P: +61 8 8302 2554 | M: 0411 234 885 | email Katia.Ferrar@unisa.edu.au
Lynda Cunningham, SOS Health
P: 1300 859 451 | M: 0438 595 519 | email l.cunningham@soshealth.org.au
Media contact: Annabel Mansfield mobile: 0417 717 504 email: Annabel.Mansfield@unisa.edu.au