UniSA honours retired defence chief
August 15 2017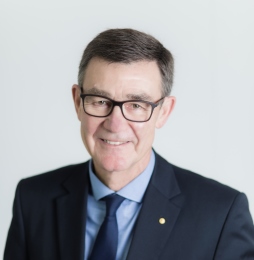 One of Australia's most distinguished military officers, retired Air Chief Marshall Sir Angus Houston AK, AFC, will be awarded an Honorary Doctorate from the University of South Australia today for his outstanding service to the community.
The award, to be conferred at 10.30am, honours Sir Angus's longstanding service to Australia's military – 41 years – as well as his outstanding leadership and commitment to humanitarian, business and charitable causes.
The former head of Australia's defence force oversaw military operations in East Timor, Iraq and Afghanistan before retiring in 2011 and going on to lead Australia's efforts to respond to two aviation disasters involving Malaysia Airlines in 2014.
UniSA Vice Chancellor Professor David Lloyd says Sir Angus's celebrated military career and his unstinting service to Australia is an inspiration to all.
"Sir Angus's service to his country has been exceptional, across so many different fields. Not only has he served the military with distinction - his leadership skills have proved invaluable in so many other areas," Prof Lloyd says.
"In 2014 he headed Australia's efforts, first to find the missing Malaysia Airlines Flight 370 which disappeared and has still not been found, and in the same year he led Australia's efforts to help recover, identify and repatriate the victims of Malaysian Airlines Flight 17, which was shot down over the Ukraine.
"His contributions to society include serving on the boards or as patron of a number of trade, health, education, military, police and charitable organisations.
"South Australia has also been extremely fortunate to have him as a special envoy for the State since 2015, providing strategic advice on international engagement as well as opening the doors to key contacts in our important trade markets," Prof Lloyd says.
Sir Angus was knighted in 2015 for his distinguished service to the Australian Defence Force, spanning more than four decades.
He began his career as a helicopter pilot in the Royal Australian Airforce in 1972, spending his early years flying Iroquois helicopters in Australia, Papua New Guinea and Indonesia.
His career highlights include winning an Air Force Cross for an open sea rescue in 1979; being awarded an AM in 1990 for his role overseeing the Blackhawk helicopter operations; and in 2008 he was made a Companion of the Order of Australia.
In 2011, Sir Angus was also named Australian Father of the Year.
This morning's ceremony will take place at the Adelaide Convention Centre.
Media contact: Candy Gibson mobile 0467 255 684 email candy.gibson@unisa.edu.au