Thomas Kenneally appointed Professorial Fellow at UniSA
October 04 2017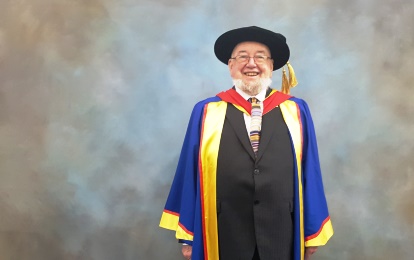 One of Australia's most prolific authors, Booker Prize winner and "national treasure", Thomas Kenneally, has been awarded the honorary title of Vice Chancellor's Professorial Fellow at the University of South Australia.
The three-year Fellowship will see the award-winning novelist deliver masterclasses at UniSA from 2018, providing invaluable insights for students of creative writing and literature.
Author of more than 30 novels, and many more dramas, screenplays and books of non-fiction, Kenneally was first published in the Bulletin in 1962. His best known work is the Booker Prize winning Schindler's Ark which was made into an Academy Award winning film Schindler's List in 1993, but many of his works are now seen as milestones in the development of Australian cultural identity.
UniSA Vice Chancellor Professor David Lloyd says the University is delighted Kenneally has accepted the Fellowship.
"We were very proud to welcome Tom to the University community in 2016 when he was awarded an honorary doctorate, and we are excited to be extending that relationship now," Prof Lloyd says.
"This is an exceptional opportunity for the University and its students to benefit from the wisdom, talent, insights and experience of one of Australia's most successful authors.
"Tom's works have helped to define the experience of Australia – the landscape, the history, the people - and at the same time he has moved beyond, to look at the human condition in other contexts and cultures.
"That he has been successful in writing everything from children's books to screenplays is exceptional and that vast experience will be invaluable and inspirational for our students."
Head of School: Communication, International Studies and Languages, Professor Jason Bainbridge says access to an author of the calibre of Thomas Kenneally is rare and invaluable for students of literature and creative writing.
"From what we have seen of Tom in conversation, his insights about writing and Australian literature, the masterclasses, which will be open to all our students of creative writing and extended to the wider writers' community in SA, will be fantastic," Prof Bainbridge says.
"Part advice, part anecdote and part commentary on Australian culture, writing and society, Tom's lectures and talks are always insightful and wide-ranging.
"Having him join us at UniSA as a Professorial Fellow will provide our students with the great privilege of learning from one of the country's best writers across many genres."
Media contact: Michèle Nardelli mobile 0418 823 673 email michele.nardelli@unisa.edu.au