Researchers discover how potential cancer-causing cells may be eliminated by our body
January 20 2017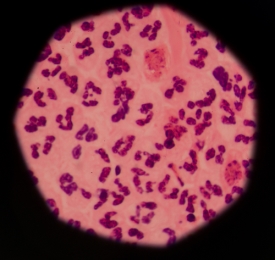 UniSA researchers at the Centre for Cancer Biology (CCB) have discovered a new aspect of cancer biology that may help to battle the spread and growth of tumours.
The research focuses on aneuploid cells, which are often associated with abnormal chromosome content and cell division – and how an enzyme known as caspase-2, initially discovered by the lead researcher 25 years ago, can act to prevent their growth.
Research leaders, Professor Sharad Kumar and Dr Loretta Dorstyn with PhD student Swati Dawar, have discovered that caspase-2, which is found in all mammals, has the capacity to suppress cancer growth by working to destroy aneuploid cells.
"Aneuploidy is a term that describes the abnormal chromosome content of a cell and occurs when there are failings during the normal division of a cell," Prof Kumar says.
"Aneuploidy is a feature of the majority of human tumours and is known to lead to chromosomal instability that can promote cancer onset and progression and cause drug resistance."
In two recent publications, the team demonstrated that cells that have a deletion in the caspase-2 gene are deficient in the cell division "checkpoints" that normally prevent damaged cells from surviving and becoming aneuploid.
Their research also shows that bone marrow cells from mice that lack caspase-2, accumulate many of these defective, potentially cancer-causing aneuploid cells with age.
"This research establishes that caspase-2 is necessary to prevent the long-term survival and uncontrolled growth of aneuploid cells that could otherwise become tumorigenic," Prof Kumar says.
"The research has provided many clues on the molecular basis of preventing aneuploidy and tumour onset and identifies caspase-2 protein levels as a potential biomarker for cancer prognosis."
"Understanding how cells become tumorigenic and how tumours evade normal "stop growth" and "cell death" checkpoint signals, is fundamental in cancer treatment and our search for new cancer therapies", Dr Dorstyn says.
You can read more about the research online here and here.

Media contact: Michèle Nardelli mobile: 0418 823 673 email: michele.nardelli@unisa.edu.au