New study confirms that healthy diet can treat depression
December 12 2017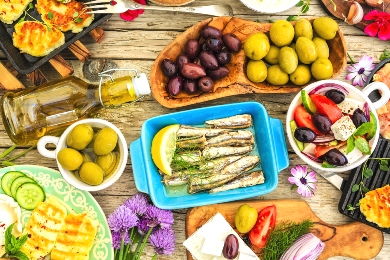 A pioneering new study shows that a tasty, Mediterranean-style diet rich in vegetables, legumes, fruit, nuts, fish oil and extra virgin olive oil can improve mental health in people suffering depression.
The study, published today in Nutritional Neuroscience by researchers from the University of South Australia, showed that, as volunteers improved their diet, their depression was substantially reduced. They also reported improved quality of life.
"People tend to be skeptical about associations between diet and mental health," says UniSA Senior Research Fellow, Dr Natalie Parletta, who led the study.
"This is one of the first randomised controlled trials worldwide to show a causal effect.
"It makes sense that diet can impact mental health, because our brain needs nutrients and other dietary factors to work well—perhaps more than any other body organ.
"It's high time that diet and lifestyle changes are considered at the forefront of treatment options for both physical and mental health, which are closely related.
"What's more, we have shown that with expert advice on nutrition and group cooking workshops teaching how to prepare simple, yummy, cost-effective meals - healthy diets are achievable."
In the study volunteers aged 18-65 who suffered from depression were randomly allocated to a Mediterranean diet group or a social group - because peer support can also help with depression.
The diet group received education in nutrition and fortnightly cooking workshops for three months, while the other group met for fortnightly social gatherings.
Both groups showed improved mental health, but reduced depressive symptoms were significantly greater in the diet group.
Better mental health was correlated with healthier diet, strengthening the notion that diet was a key contributor.
Improvements in both diet and depression were still seen when volunteers were followed up three months after the study finished.
Dr Parletta says she is excited by the findings.
"This research has important implications for people suffering from depression - a debilitating condition that affects around a million Australians in any one year and carries the largest burden of disease worldwide," she says.
"It is fantastic to be able to offer people significant help through simple dietary changes."

More information: Dr Natalie Parletta, Senior Research Fellow, University of South Australia; e-mail natalie.parletta@unisa.edu.au
Media contact: Michèle Nardelli mobile 0418 823 673 email michele.nardelli@unisa.edu.au