NEWS ALERT: How Trump and Twitter are derailing mental health
October 09 2017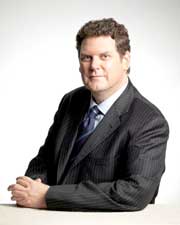 UniSA's Chair in Mental Health Nursing, Professor Nicholas Procter will deliver the 56th Annual Barton Pope Lecture at the Art Gallery of South Australia tonight, and analyse just how the era of Trump and Twitter is undermining mental health and our sense of compassion.
Prof Procter argues that the rise of Donald Trump in uncertain times globally, can be likened to the rise of "cool" bullies in the transition from primary school to high school.
"When the future is uncertain, it is vital to know not only where one fits, but who is in charge," Prof Procter says.
"Trump's ascendency is the playing out of a dominance hierarchy – and his tactics of deliberate humiliation and meanness are one of the most primitive ways to establish dominance.
"The fact that he communicates with the amplification that Twitter provides, brings his bullying culture to a global audience.
Prof Procter says the danger is that society will lose touch with compassion, warmth and trust.
"These qualities are vital in all caring professions but especially important in adopting a person-centred approach to mental health care and in understanding the impacts of trauma on mental health," he says.
"We need leaders who can model strength through compassion - model understanding through listening - and a commitment to quality care or indeed leadership, through knowledge, innovation and engagement."
The Barton Pope Lecture commences 7.30 pm tonight at the Art Gallery of South Australia.
Media contact: Michèle Nardelli mobile 0418 823 673 email michele.nardelli@unisa.edu.au
Contact for interviews: Nicholas Procter mobile 0417 080 630 email Nicholas.procter@unisa.edu.au