Lethal brain tumours prompt $1 million research pledge
October 24 2017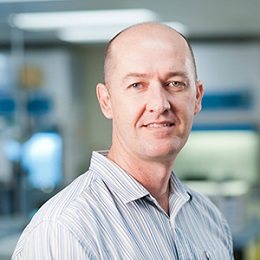 The University of South Australia will use a $1 million research pledge to develop new drugs in the fight against lethal brain tumours, which kill 95 per cent of patients within five years.
The million dollar pledge from the Neurosurgical Research Foundation (NRF), announced today, coincides with International Brain Tumour Awareness Week (21-28 October).
The funds will help UniSA's leading brain cancer researcher, Professor Stuart Pitson (pictured right) – the inaugural NRF Brain Tumour Research Chair – further his research into glioblastoma, a highly malignant and the most commonly diagnosed brain tumour in adults.
Brain cancer kills more adults under 40 than any other cancer, kills more children than any other disease, and takes one life about every seven hours in Australia.
Currently, people diagnosed with the most lethal brain cancer – glioblastoma – have a very poor prognosis. The median survival rate is about 15 months and only five per cent of patients will still be alive after five years. These figures have barely increased in 50 years.
Prof Pitson and his team in the Centre for Cancer Biology have identified the defect in the glioblastoma cells that appears to cause the cancerous tumour to grow rapidly and become resistant to chemotherapy.
"This single defect, involving hyper-activation of the SK2 protein, is an ideal target for new therapies for glioblastoma," Prof Pitson says.
"We have developed inhibitor drugs to the SK2 protein which are showing great promise in the laboratory and pre-clinical models.
"The continued and generous support from NRF will allow my team to enhance our promising research and bring us closer to clinical application.
"It is essential that we are doing all that we can, and as quickly as we possibly can, to find more effective treatments for glioblastoma so we can increase patient prognosis from months to years."
NRF is well on its way to providing the $1 million pledge by the end of May 2018.
"On the front line of this disease, we are all too aware of trauma caused to patients and their loved ones," says NRF Board member and leading Adelaide neurosurgeon Dr Cindy Molloy.
"When faced with a devastating disease, such as a brain tumour, every moment spent with loved ones is incredibly precious. More research into the cause, diagnosis, treatment and prevention of brain tumours is critically important.
"At the NRF, we are proud that our committed donors are contributing towards brain tumour research and ultimately helping those sadly affected," Dr Molloy says.
Adelaide resident Kerry Buttery – who lost her husband Richard to glioblastoma in 2015 – has become a proactive fund raiser for the NRF since her husband's death.
"We desperately need this research to find a way to effectively treat glioblastoma," Kerry says.
"Sufferers and their families need some hope for a cure or at least to have a better life expectancy than the one they are currently given. Without a way of effectively treating glioblastoma, anyone diagnosed with it at the moment is given a death sentence."
UniSA Deputy Vice Chancellor Research and Innovation, Professor Tanya Monro, says the "incredibly generous gift from the NRF will allow Prof Pitson and his team the opportunity to progress their exciting and pivotal research towards real world outcomes."
Media contact: Candy Gibson mobile 0434 605 142 email candy.gibson@unisa.edu.au