Julia Gillard to be honoured at UniSA
October 12 2017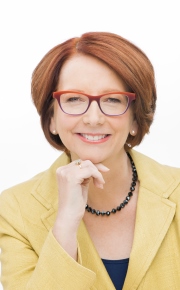 Australia's first woman Prime Minister and a career champion for education and equity, Julia Gillard will receive an Honorary Doctorate from the University of South Australia on October 12, not only in recognition of her leadership career but also for what she continues to contribute as an ambassador for education and mental health.
Gillard took up the reigns of beyondblue in July this year, the nation's highest profile mental health and suicide-prevention advocacy and education organisation.
She will be honoured following her delivery of the 20th Annual Hawke Lecture at the Adelaide Town Hall, where Gillard will examine Bob Hawke's influence on her own career but also on the nation and reflect on the value of courage and conviction in an age of anxiety and depression.
University of South Australia Vice Chancellor Professor David Lloyd says, for young Australian women, Julie Gillard has been a powerful role model of determination, hard work, belief in the power of education and the importance of public service.
"Julia's energetic approach to life and work is to be admired," Prof Lloyd says.
"Her career reveals a real energy to pursue her ideals through education and hard work and a commitment to making a difference in society.
"Since leaving the role of Prime Minister she has continued to pursue her particular passion for children's education as Chair of the Board for Global Partnerships for Education – a multilateral partnership devoted to getting children into school worldwide.
"She joined the Brooking Institution's Centre for Universal Education in Washington, as one of 300 global experts focussed on universal quality education in the developing world and here at home, she is patron for the Campaign for Female Education which tackles poverty as one of the barriers to keeping girls at school and successful at school.
"The thread running through her career both before and after politics has been that education is one of the most powerful tools in changing life outcomes.
"And in her new position at Chair of Beyond Blue she will be taking on a vital role to lead education and understanding about mental health, depression and anxiety, so that more Australians can be supported back to good health and stability.
"When we consider who might receive an honorary award, we look not only at people's talents but most importantly at how they have used their skills and connections to improve society.
"From her earliest days as a student union representative in Adelaide, her career as a lawyer, to tough years in state and federal politics, and on to the work she has taken on with such enthusiasm today, Julia has been dedicated to supporting those who would otherwise have no voice and little opportunity.
"We know she will continue to make a powerful contribution and we are delighted to welcome her to the University of South Australia community."
Media contact: Michèle Nardelli mobile 0418 823 673 email michele.nardelli@unisa.edu.au