Exploring the best of sports science in new UniSA/PAFC partnership in China
May 13 2017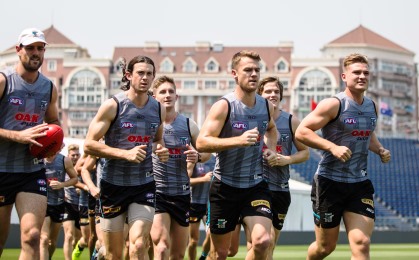 On the eve of the Port Adelaide Football Club's first game for official AFL Premiership points to be played in China, the Club and the University of South Australia will sign a strategic collaboration agreement with two of Shandong's leading sports science and leadership educational institutions.
A memorandum of understanding between Port Adelaide, UniSA and China's Shandong Research Centre of Sports Science (SRCSS) and Shandong Sports University (SSU) is set to open up collaborations in teaching, research, education, experiential learning and placement opportunities.
UniSA Pro Vice Chancellor: Health Sciences, Professor Robert Vink says the MOU offers incredible opportunities for students and staff from all the institutional partners and will be a great advantage to Port Adelaide, opening up the latest in Chinese sports and health science research.
"The agreement we are signing has immediate and long term goals but will sure up some great opportunities for collaboration with two of the best sports science educators in China in the SRCSS and SSU," Prof Vink says.
"This initiative builds on our already strong relationship with the Port Adelaide Football Club and opens up new opportunities to grow expertise in elite coaching and athlete training and the science that supports elite sports performance, from exercise physiology and dietetics, through to physiotherapy and sports psychology.
"We are really delighted to be working with Port Adelaide to build international research and teaching links with China and provide a sports science engagement with China that is complementary to the Australian Football League's strategy and investment in Australian Rules football and competition there."
Port Adelaide Football Club chief executive officer Keith Thomas says the partnership will enable all four organisations to push forward with aspirations of being world leaders in sports science.
"The AFL is world renowned for its excellence in Sport Science and at Port Adelaide we are very proud of the quality of our High Performance team," Mr Thomas says.
"This new partnership with UNISA, Shandong Sports University, and Shandong Institute of Sport Science brings together four parties who share a vision of being at the forefront of the development and application of sports science.
"We all operate in a fiercely competitive environment. To remain at the leading edge of this industry we must continue to invest in research, development, technology, education and people.
"We believe this exciting international collaboration will enable us to achieve our goals."

Media contact: Michèle Nardelli mobile 0418 823 673 email michele.nardelli@unisa.edu.au
PAFC media contact: Daniel Norton mobile 0419 848 669 email dnorton@pafc.com.au