Crows and UniSA join forces
October 17 2017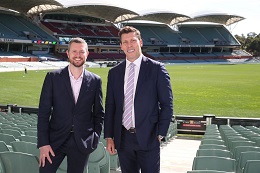 The Adelaide Football Club and University of South Australia have today announced a new partnership that will pave the way for collaboration to drive excellence in sports science and sports business research.
The three-year partnership, which will see UniSA support the Club's AFL and AFLW teams, will build on the strong links, which already exist between the two organisations.
As well as providing opportunities for collaboration to enhance sports business knowledge, the partnership will provide a range of unique experiences for UniSA students to connect with the Crows.
Crows Chief Executive Officer Andrew Fagan is looking forward to the highly productive partnership and benefits it will bring.
"We employ a number of graduates across the Club in areas from business development to finance and football," Fagan says.
"Our Head of Football Brett Burton holds an Honours degree in Human Movement from UniSA and we also already have a research-based relationship.
"We are delighted with the University's enthusiasm to extend and formalise our relationship and to offer more of its expertise in both research and education.
"At the same time, we are keen to engage with students and give them insights into the working world of Australian Rules football through placements and internships.
"This will be a highly productive partnership for both the Crows and UniSA."
University of South Australia Vice Chancellor Professor David Lloyd says the new partnership is an exciting development for two leading South Australian institutions, founded in the same era and with the same spirit of enterprise.
"We will be building on our already close links with the Adelaide Crows, which include a range of activities such as collaborations around leading edge research in sports science, elite performance measurement and training, athlete health and fitness and exercise science, as well as placement opportunities provided by the Crows for our students," Prof Lloyd says.
"The new partnership, which supports both the men's and women's teams, lays the ground to expand and deepen our engagement with the Club by fostering player education and development, and bringing our expertise in management, marketing and big data to the business of sport."
As a premier partner, the UniSA logo will be seen prominently on the sleeves of AFL and AFLW player and coach apparel, as well as across match-day activations, member offers and experiences, and other events and branding.
Crows media contact: Natasha Wade mobile 0419 819 306 email nwade@afc.com.au
UniSA media contact: Candy Gibson mobile 0434 605 142 email candy.gibson@unisa.edu.au
Backgrounder
In the past 12 months, the Adelaide Crows has supported almost 1000 placement hours for UniSA students, including PhD research projects being undertaken with the team.
As part of the ongoing relationship between UniSA and the Crows, High Performance Manager Matt Hass was recently appointed Adjunct Research Associate at UniSA's Alliance for Research in Exercise, Nutrition and Activity (ARENA) and he will be sharing his knowledge of sports science practice with UniSA students and researchers.