Yet again, Australia receives a D- for kids' physical activity
November 17 2016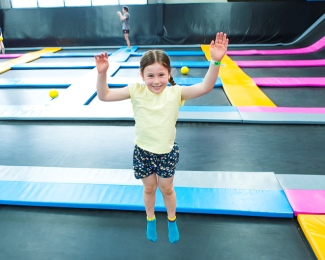 Australian kids are now some of the least active in the world, and have again been graded a D minus for physical activity according to the latest national report from the Active Healthy Kids Australia (AHKA) research group.
Lead author of the Australian Report Card from the University of South Australia, Dr Natasha Schranz said the age-old notion of Australia being a nation of active healthy kids who naturally gravitate to outdoor play and sports, has gone out the window. Aussie kids are failing to meet the basic physical activity guidelines that lead to lifelong health and well-being.
"What this means is less than 1 in 5 Australian children aged between 5 and 17 years meet the recommended 60 minutes of physical activity each day, despite a range of recommendations, initiatives and campaigns put in place in an attempt to improve the grade," Dr Schranz said.
"It seems many Australian children and parents just don't know how or why they need to include physical activity in their daily lives."
Heart Foundation spokesperson on physical activity Adj Prof Trevor Shilton said these results are a real wake-up call and we, as a nation need to act decisively.
"We must turn around these results or face the consequences and costs of an increasingly unhealthy population," Adj Prof Shilton said.
The 2016 Physical Activity Report Card is part of a global network, which includes 38 countries all reporting on the physical activity levels of their nation's children.
The global results to be presented in Bangkok on 16 November highlight that Australian children's overall physical activity levels remained static at a D minus, but we are lagging behind countries such as New Zealand, Slovenia, Mexico and Brazil.
"The Report Card indicates that as our society has changed and there are fewer opportunities for free or unstructured play and active travel, our children have fewer opportunities to acquire the necessary skills, confidence and motivation to be physically active," Dr Schranz said.
"To imagine there is a quick fix for this would be a mistake – children need to be supported to develop their 'physical literacy' and establish the capabilities and habits that will set them up to be active for life."
"The Report Card shows that although the Australian community is well served with community and school sporting facilities - parks, cycling tracks, courts and swimming pools - children are spending less time than ever using them.
"During the recent election campaign the Opposition committed substantial funding for a national physical activity plan, this is an important step that we applaud, as it is going to take a national coordinated response to ensure this alarming trend reverses," Adj Prof Shilton said.
"For its part, the Government committed $170m for community physical activity infrastructure, $60m to boost sporting schools program and $24m for improving parks, but more needs to be done.
"The Report Card shows Australian children have a poor level of aerobic fitness and movement skill competency."
Dr Schranz said kids need to be empowered with the necessary skills to understand physical activity as an important and enjoyable part of everyday life.
"This 'tool kit' of skills must include not only physical skills, but also the social, emotional and cognitive skills they need to be physically active throughout their lives," she said.
Adj Prof Shilton said much more needs to be done to turn around the results.
"We need to redouble our efforts and support children to be active and develop the skills and competencies that will help them to remain healthy across their lifetime," Adj Prof Shilton said.
"It is something that requires a national, coordinated response from Governments, councils and schools, families and the community to not only make activity accessible but to ensure it is a positive confident choice that children can make for themselves.
"Australia needs a National Physical Activity Plan, and children and families should be at its heart."
He said a 'prescription for active kids', a comprehensive approach is needed and would include as a minimum:
- Robust, mandatory, high quality physical education for all children K-12;
- Build physical activity into the environment and programs of childcare services and early childhood centres;
- Provide funding to local governments to extend and improve community infrastructure to support physical activity, sport and recreation for kids;
- Ensure safe walking and cycling infrastructure and safe road crossing is a priority – especially leading to schools and other facilities used by children;
- Implement media and public education targeting parents, families and young people to build knowledge and skills in how and why kids need to build physical activity into their daily lives;
- Public education and programs to help parents reduce kids' screen time.
"Australia has implemented some key initiatives, but these fall well short of the coordinated response this problem requires. We owe it to our children to ensure we have a future where we can all Move More and Sit Less," Adj Prof Shilton said
The full 2016 Report Card, including a breakdown of the 12 physical activity indicators and methodology is available online at http://www.activehealthykidsaustralia.com.au/
Media contacts: UniSA: Manager News and Communications, Michèle Nardelli: 0418 823 673
Heart Foundation: National Media & Strategic Communications Manager Sofia Dedes: 0478 483 777 or, Heart Foundation Brand, Communications & Digital Manager SA Nikki Williams: 0401 234 469.