UniSA's "New Colombians" work and study in the Asia-Pacific
November 29 2016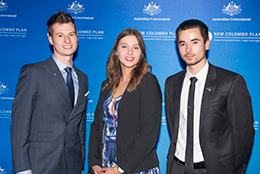 Three UniSA students have won support for an invaluable work and study experience through the federal government's New Colombo Plan Scholarship program for 2017, including Tristan Winters who has been awarded the special honour of 2017 New Colombo Plan Fellow for Malaysia.
Winters, a Bachelor of Construction Management and Economics (Honours) student, was the highest ranked of all NCP Scholars heading to Malaysia in 2017 and will now undertake two semesters of study at the University of Malaya, before an internship with a prominent construction firm in Kuala Lumpur.
Winters, who has come into construction management after a career as a lawyer, says he is passionate about making the most of the many opportunities the NCP Scholarship in Malaysia will provide, adding that he is honoured to have been named a Fellow and achieve the scholarship.
"It is such an incredible opportunity to be able to travel to Malaysia, to learn and share knowledge about Australia and Malaysia's construction industry," Winters says.
"We are entering what has been described as the Asian Century and the Malaysian construction industry is currently performing projects that are world-leading in terms of size, scale and sustainable innovation. As a student of construction management and economics, the NCP Scholarship provide invaluable learning opportunities to observe and participate in these projects.
"I'm so grateful to be supported, to be able to have this experience, and will use it to further enhance the important multi-lateral social, political and economic relationships between Australia, Malaysia and the Asia-Pacific region."
Hannah Kemp and Kogo Fujiki are the other successful scholars who have achieved the opportunity to respectively study and work in the Korean tourism and event management sector and in Pacific Islands development.
The NCP Scholarship is the Australian Government's flagship scholarship program to give high-achieving young Australian undergraduates the opportunity for an immersive experience in the Asia-Pacific region.
The students will both work in professional internships and study in their chosen country, honing their own skills and gathering invaluable experience about the region, its challenges and opportunities.
UniSA Deputy Vice Chancellor: External Relations & Strategic Projects, Nigel Relph, congratulated the NCP scholars, and highlighted the benefits of these international internships.
"The unique opportunities created through the New Colombo Plan enables our student scholars to gain valuable experiences of living, working and learning in the Asia-Pacific, strengthening their knowledge and skills and their engagement with business and industry at an international level.
"Their success in achieving these scholarships will now see them step out as ambassadors, reflecting UniSA's commitment to encourage students to make the most of international study opportunities afforded to them."
Hannah Kemp will be heading to Korea in mid-2017 to undertake studies and internship relating to her Double degree at UniSA Bachelor of Business (Marketing) and a Bachelor of Business (Tourism and Event Management).
Kemp's placement also reflects more widely Korea's priority in UniSA's global engagement strategy; in September this year UniSA was selected, as one of only nine hubs in the world, to establish a King Sejong Institute based in Adelaide, which will build upon research and student exchange relationships with Korea.
Kemp will be studying at Sookmyung Women's University, strengthening institutional links with UniSA by supporting research activities and facilitating a study tour for local students to come to South Australia.
Aiming to secure an internship through her current and new contacts, including the PyeongChang 2018 Winter Olympics planning committee, Kemp is looking forward to gaining valuable work experience in the Korean tourism and event management industry.
Kogo Fujiki is studying both a Bachelor of Journalism and Bachelor of International Studies and will undertake his study and internship in Fiji.
Fujiki has a long history of engagement with Fiji and is looking forward to gaining a deeper appreciation of Fijian culture and language.
Due to a keen interest in Pacific Islands regionalism and promoting development in the Pacific, he is anticipating that his internship at the Pacific Islands Forum Secretariat will kick-start his career in the region.