UniSA spotlights a new definition of responsible leadership at Vatican symposium
September 07 2016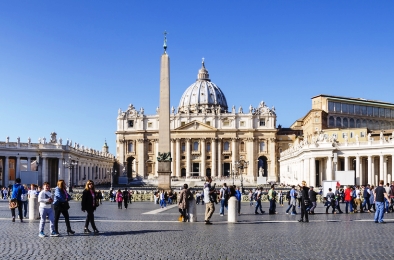 University of South Australia Professor and Head of School of Management, Thomas Maak will be in Rome this week to address the Jubilee of Universities and of Research Centres and of Institutions of Higher Arts and Music Education, XIII International Symposium of University Professors on what the full responsibilities of leadership may entail.
The symposium will respond broadly to Pope Francis' second Encyclica, Laudato sì - On care for Our Common Home, in which he critiqued 21st century consumerism, irresponsible development, environmental degradation and global warming.
Prof Maak from UniSA's Business School will make his presentation as part of a management stream at the symposium, which specifically looks at companies and businesses and how their leadership can influence better global outcomes.
Prof Maak says following the shock of the global financial crisis and the continuation of intractable and devastating problems such as war, the global refugee crisis and the less than inspiring political landscape – there is a new spotlight on what constitutes responsible leadership.
"There is an expectation that leaders need to do better and do more," he says.
"We are looking beyond governments and expecting that other influencers and in particular business leaders need to take a share of the responsibility for the wellbeing of the communities, constituencies and societies in which they operate.
"More often than not, deeper debate or discussion around these issues has been removed from executive education curricula.
"What we confront is that notions of responsible leadership are not necessarily the same for everyone – while some leaders have endorsed the broader responsibilities of business in a world full of complexity, disruption and increased disparity, others are hesitant to accept the full scope of economic, social, environmental, and indeed political responsibilities."
Prof Maak says to develop a deeper understanding of leadership we need to understand who is impacted by that leadership.
"Leadership has to be considered as something less about leaders and more about those who are affected by the leadership - followers, stakeholders, organisations and communities or even nations," Prof Maak says.
"I argue that a key responsibility for leaders, whether in business or other walks of life, is the promotion and advancement of human dignity because human dignity is our most far-reaching moral concept.
"It is a moral source for our values and interactions everywhere and for everyone, and the ultimate objective of moral action, in considering human, civil or social rights and in ensuring respect and recognition at the workplace."
Prof Maak says despite its place as a moral source for people worldwide, human dignity is under- researched in business ethics education.
"More often than not, the importance of human dignity, respect and recognition, is acknowledged only when they are absent in workplaces or communities.
"At the symposium in Rome I will be arguing that responsible leadership qualities can be developed – one effective way is through international service-learning assignments, outside the comfort zone of 'executive suites'."
Prof Maak will also present insights from his involvement in an executive program to develop the next generation of responsible global leaders.
Media contact: Michèle Nardelli mobile: +61 418 823 673 email: michele.nardelli@unisa.edu.au
Image - St Peter's Square in Vatican City. laranik/Shutterstock.com