UniSA leads information innovation
June 20 2016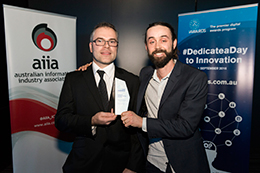 The University of South Australia's enterprising approach to research, digital innovation and industry engagement has been acknowledged with a haul of category wins and a merit at the 2016 Australian Information Industry Association (AIIA) SA and NT iAwards.
The iAwards offer the chance for researchers, governments, students, SME's and large businesses to showcase their innovative projects to the world and have them recognised at home or on a global scale.
The work of the Institute for Telecommunications Research (ITR) was recognised with the Consumer Category Award for LiPo, an indoor positioning system using visible light, and a collaboration between UniSA Ventures, UniSA's Wearable Computer Lab and the School of Health Science won the Research and Development Project of the Year Award with MoOvi - a virtual reality training tool for chronic pain.
Undergraduate student work was also recognised with a merit in the Student Category for the research and development of Smart Care an intelligent age care call alert system developed through the School of Art, Architecture and Design.
Vice Chancellor Professor David Lloyd says the awards are further recognition that UniSA's research and innovation strategy is empowering academic researchers and students to partner with industry, business and government to tackle the grand challenges we face at the local level and as a society.
"UniSA's research culture fosters the development of new and talented researchers in an environment that is both ambitious and enterprising but also enlightened by a drive to contribute to a better world and these South Australian AIIA Awards provide our students and researchers with the opportunity to compete at a national level later in the year," Prof Lloyd says.
ITR Senior Research Fellow, Dr Siu Wai Ho, and PhD student, Mahammad Yasir's Consumer Category Award acknowledged their work on LiPo, a novel indoor positioning system using visible light – a breakthrough that is accurate, low cost and energy efficient.
"Lighting systems are undergoing a revolution from fluorescent lamps or tubes to LEDs and LiPo uses the lighting system to achieve a low cost and highly accurate indoor positioning system," Dr Ho says.
"LiPo is applicable to electromagnetic sensitive areas and is built on existing lighting infrastructure that reduces deployment costs.
"The new technology is crucial for applications as diverse as interactions with customers for retail uses, tracking products more cost-effectively and efficiently in manufacturing, assistive devices for building an age- and disability-friendly world, indoor positioning services such as navigation, local information, location-based guides of museums, and social networking applications."
Co-Director of the Wearable Computer Lab, Dr Ross Smith and Professor of Clinical Neurosciences in the School of Health Sciences, Professor Lorimer Moseley along with PhD student, Dan Harvie, were recognised for a unique collaboration between UniSA Ventures, the commercialisation arm of UniSA, the Wearable Computer Laboratory (WCL) and the Body in Mind research group that developed MoOVi.
"While rehabilitation strategies are plentiful, those that specifically target the brain are few—resulting in a massive unmet need among the 1 in 5 Australians with persistent pain, where the brain is known to play a role," Dr Smith says.
"The market is currently flooded with professionals, drugs, and devices that operate with little basis in science, yet claim to treat chronic pain so what differentiates the MoOVi application as a treatment is its grounding in the most recent neuroscientific theories about why pain can persist after injury.
"MoOvi innovates by adopting an existing treatment known as mirror therapy and significantly enhancing its functionality thus in its application to targeting the brain it provides a new frontier in persistent pain treatment.
"The application uses the ability of high-end smartphones to act as a virtual-reality display and is therefore is accessible to a market via a mobile phone app stores."
School of Art, Architecture and Design Program Director, Dr Peter Schumacher and industrial design student, Arryn Lloyd were recognised for their contributions to the design of Smart Care - an intelligent age care call alert system.
"Aged care is an increasingly important area for research and this new device is highly functional but also discreet and beautiful in its design," Dr Schumacher says.
"Thanks to Eldercare, we were able to spend many hours in aged-care workspaces gathering as much information and data as possible to ensure Smart Care delivers the right information at the right time."
All UniSA iAward winners and merit recipients will represent SA at the National iAwards in Melbourne on September 1.
Media contact: Katrina McLachlan office +61 883020961 mob 0414972537 email katrina.mclachlan@unisa.edu.au