UniSA honours influential social theorist Professor Lord Anthony Giddens
April 14 2016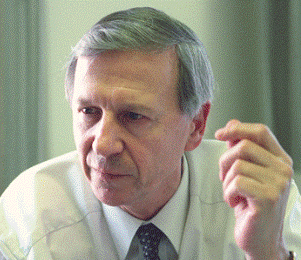 University of South Australia Vice Chancellor Professor David Lloyd is in London to award an Honorary Doctorate to Prof Lord Anthony Giddens this week in recognition of his international contribution to social theory and his guidance and support for UniSA's Hawke Research Institute.
Announcing the award, Prof Lloyd says Lord Giddens is one of the most cited and influential social scientists in the world, credited with developing the first major sociological theory of globalisation.
"Unlike many discipline-bound experts, Lord Giddens is renowned for his interdisciplinary approach, applying his knowledge and commentary to developments in sociology, anthropology, archaeology, psychology, philosophy, history, linguistics, economics, social work and most recently, political science," Prof Lloyd says.
"His breadth of range has been especially helpful to the leadership of the Hawke Research Institute which also has a wide remit in the social sciences."
Author of some 40 books, published in more than 40 languages, Lord Giddens' theory of structuration has profoundly shaped the social sciences – especially in the English-speaking world.
His works including New Rules of Sociological Method (1976), Central Problems in Social Theory (1979) and The Constitution of Society (1984), brought him international fame in the discipline of sociology.
Lord Giddens' theory of structuration argues that in order to understand society you need to look at both the actions of individuals and the social forces that maintain society.
In the 1990s he first wrote about globalisation in his books The Consequences of Modernity (1990) and Runaway World (1998).
Lord Giddens taught at Cambridge University for more than 25 years, where he was Professor of Sociology.
From 1997 to 2003 he was Director of the London School of Economics.
So valued is his contribution that today he is a Life Fellow of King's College, Cambridge, and Emeritus Professor of Sociology at the London School of Economics.
He was given a life peerage in 2004, as Baron Giddens of Southgate in the London Borough of Enfield and sits in the House of Lords for the Labour Party.
He has been honoured by universities around the world and is a Fellow of the American Academy of Science and the Chinese Academy of Social Sciences.
Lord Giddens has also had a profound impact on politics with political leaders from Asia, Latin America and Australia, as well as from the US and Europe seeking his advice.
As former advisor to Tony Blair, he had a major impact upon the evolution of New Labour in the UK.
He also took part in the original Blair-Clinton dialogues from 1997 onwards.
Vice Chancellor Professor Lloyd says the impact of such an academic goes well beyond a list of career achievements.
"Lord Giddens has changed the way we understand social theory and teach social science and in doing so, he has influenced the education of students around the world," Prof Lloyd says.
"At UniSA we're grateful for that contribution in the broadest sense, but also in what his work has contributed to shaping the Hawke Research Institute.
"It is a great pleasure to confer him with an Honorary Doctorate and to welcome him to the University of South Australia community."
Media contact: Michèle Nardelli mobile:+61 418 823 673 email: michele.nardelli@unisa.edu.au