UniSA China partnership to provide longevity and sustainability for the mining sector
April 19 2016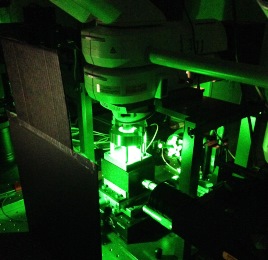 A joint Australia-China Research Centre partnership between the University of South Australia and China's Central South University (CSU) has the potential to revolutionise process control in mineral processing, and ensure the continued operability and profitability of Australia and China's mining sectors.
UniSA Vice Chancellor, Professor David Lloyd, says the project is one of six Australia-China Science and Research Fund (ACSRF) innovation partnerships worth a total of $116 million formalised during Prime Minister Malcolm Turnbull's visit to China last week.
"A healthy and profitable mining sector equipped with the tools to enable continued extraction of core resources is essential for the economies of both Australia and China," Professor Lloyd says.
"The aim of the Joint Research Centre is to develop powerful sensing platforms for mineral processing, by bringing together experts in mineral processing chemistry, experts in analytical chemistry, and experts in spectroscopy and photonics.
"UniSA has a track record of excellence in the chemistry of mineral processing, first established at the Ian Wark Research Institute and now flourishing within the Future Industries Institute (FII).
"Given the undeniable predicted increase in global demand for metals in the future, the ability to continue to extract valuable minerals from deposits of decreasing quality becomes paramount.
"The research of the Centre will enable this to occur, thus ensuring the longevity and sustainability of the mining industry in Australia and China."
Deputy Vice Chancellor: Research, Professor Tanya Monro says the Joint Centre is significant recognition for a group of UniSA researchers ready to partner with industry, business and government to tackle the challenges Australia and China's mining sectors face.
"The common objective of performing research with relevance to industry and society sets this partnership on the path to success, and highlights that UniSA and CSU have great potential to work together to not only produce excellent research outcomes but also generate significant commercially applicable intellectual property," Prof Monro says.
"The outcomes of this research will be enhanced, and developed into practical technology, by our industry partner, Magotteaux Australia, a world leader in applying sensing platforms for monitoring the chemistry of mineral processing."
UniSA Associate Professor David Beattie has led research in the area of advanced physical chemistry in mineral processing for 15 years and says contributing to solving the problems faced by the mining industry is central to the mission of UniSA and CSU.
"The processing of ore to yield valuable minerals and metals relies on a cocktail of chemicals and numerous chemical processes, and these underpin the control of mineral separations," Assoc Prof Beattie says.
"With the challenges of decreasing ore grades and restrictions on fresh water use, the effectiveness and profitability of mineral processing are being pushed to the limit.
"If miners are to continue to extract minerals effectively and profitably, they need better information to control the separation processes, and effectively deploy the necessary chemicals."
The economic benefits to the mining sector are just one aspect of the value of the research to be undertaken by UniSA and CSU.
"The ability to process ore with water of lower quality, which will allow for effective and useful recycling of process water, will be of significant value to miners in both countries, and will improve the public perception of the industry sector," Assoc Prof Beattie says.
"A third outcome of the project will be human capital – the training and mentoring of many PhD students and postdoctoral researchers in an area of transdisciplinary science and engineering that will make them uniquely valuable to mining and mining services companies.
"These graduates/scientists will then contribute to the growth and sustainability of an industry that will need to undergo a revolution to survive in a global/geopolitical context of change."
The partnership between UniSA and CSU also brings together researchers with complementary skills and experience from the University of Tasmania.
Associate Professor David Beattie will lead the UniSA team, which includes core experts in mineral processing from FII - Dr Marta Krasowska, Professor William Skinner and Dr Craig Priest - and which also boasts an internationally recognised research team in optics and photonics from the UniSA School of Engineering, spear-headed by Professor David Lancaster and Associate Professor Shahraam Afshar Vahid with support from Deputy Vice Chancellor, Tanya Monro.
The research group at Central South University is led by Prof Yuehua Hu, and he will be the Centre Co-Director along with Assoc Prof Beattie. Prof Hu and his colleagues are well known for their research on mineral flotation of sulfides, oxides, and salt-type minerals, and bring to the Centre complementary expertise in reagent molecular design and electrochemistry.
The UTAS team lead by Assoc Prof Michael Breadmore is renowned around the world for its excellence in Analytical Chemistry, particularly in the field of separation science within the Australian Centre for Research on Separation Science (ACROSS).
Media contact: Michèle Nardelli mobile:+61 418 823 673 email: michele.nardelli@unisa.edu.au