Proteomics expert to become new strand leader at FII
December 15 2016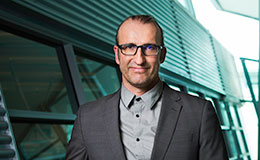 A renowned expert in the large scale study of proteins (Proteomics) and tissue imaging mass spectrometry, Professor Peter Hoffmann is the new strand leader in Biomaterials Engineering and Nanomedicine at UniSA's Future Industries Institute.
With more than 90 papers published and almost $10 million raised for research, Professor Hoffmann's area of expertise is focussed on biomarker discovery in cancer, detection of protein phosphorylation and Tissue Imaging Mass Spectrometry.
Professor Hoffmann's research team were the first to use and publish Imaging Mass Spectrometry (IMS) techniques in Australia, techniques that are used to investigate protein and peptide distributions in human tissue.
More recently Professor Hoffmann formed the spin out company Onco DX to commercialise patented biomarkers for the early detection of ovarian and gastric cancer.
Professor Hoffmann is joining FII having been Deputy Director of the Institute for Photonics and Advanced Sensing (IPAS) and Director of the Adelaide Proteomics Centre at the University of Adelaide. Professor Hoffmann is also Director of the National NCRIS facility for Tissue Imaging Mass Spectrometry.
"It is a great opportunity to be able to join the Future Industries Institute as a strand leader in such a dynamic and developing area of health research," Prof Hoffmann says.
"As an Institute with a strong reputation for innovative and collaborative research and for fostering industry partnerships, the FII is the ideal place to help translate my research into outcomes that can benefit wider society."
FII Director Professor Emily Hilder described Professor Hoffmann's appointment as a strand leader at the FII as an exciting and important development for the Institute.
"As a pioneer in biomarker discovery in cancer, Professor Hoffmann's research expertise is matched by his ability to translate those outcomes into commercial practice," Professor Hilder says.
"Such qualities mark Professor Hoffmann out as a cutting edge scientist whose research has real impact in the health sector and whose ability to lead and inspire really make him the ideal candidate to lead the Biomaterials, Engineering and Nanomedicine strand of the Future Industries Institute."
Deputy Vice Chancellor, Research and Innovation, Professor Tanya Monro described Professor Hoffmann's appointment as a boost to UniSA and FII.
"Peter's outwardly focused approach to research is an excellent fit to FII and UniSA," Professor Monro says.
"His transdisciplinary and entrepreneurial approach will strengthen the links between our engineering and physical science research and health and medical science and boost our translational focus."
UniSA Vice Chancellor, Professor David Lloyd says Professor Hoffmann's appointment will help to address one of the key health challenges of our times.
"Creating new knowledge that better identifies and builds understanding around conditions such as cancer requires dedication and research skills of an exceptionally high calibre, of the sort that Professor Hoffmann has demonstrated throughout his career," Professor Lloyd says.
"We are delighted to now welcome Peter to the Future Industries Institute where that knowledge can be expanded further and applied in practical ways to have potentially society-wide benefits."
Media contact: Will Venn mobile: 0401 366054 email: will.venn@unisa.edu.au