Minerals and mining expert to lead future-focussed innovation at UniSA
July 26 2016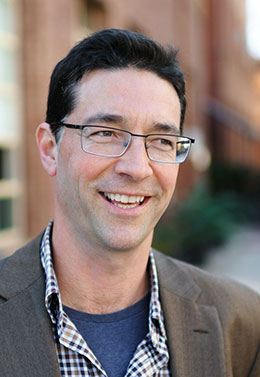 A leading expert in translating minerals science research into solutions for the mining industry, Professor David Giles, has been appointed as Strand Leader and John Ralston Chair in Minerals and Resource Engineering at UniSA's Future Industries Institute (FII).
FII Director Professor Emily Hilder says the appointment further strengthens the Institute's team of world experts tackling the big challenges for sustainable minerals production in the mining and resources sector.
"With more than 20 years mineral exploration experience working with industry, government and academia, we're pleased to have David on board because he has the right skills and the knowledge to lead an exceptional team of researchers dedicated to delivering solutions to the mining and resources industries," Prof Hilder says.
"I think he will find himself right at home at FII because our research culture is one of deep engagement with industry and focussed on innovation and partnership to build economic success and industry growth."
Prof Giles graduated from Monash University with a BSc Honours in Geology in 1992 and began working for Billiton (later Acacia Resources) and the Great Central Mines group of companies on exploration and development projects in the Northern Territory and Western Australia.
He completed a PhD at Monash University between 1996 and 2000 in a collaborative project focused on Broken Hill type mineralisation and sponsored by BHP Billiton.
Following a series of post-doctoral positions associated with the Australian Crustal Research Centre, Prof Giles moved to Adelaide in 2006 where he became the inaugural Government of South Australia Chair of Mineral Exploration at the University of Adelaide.
In this role Prof Giles became heavily involved in establishing the Deep Exploration Technologies Cooperative Research Centre, where he has been a Program Leader since 2010.
Prof Giles has extensive experience in the development and implementation of the next generation of exploration geoscience and believes mineral innovations will not be made by continuously recycling the concepts and techniques developed over centuries of exploration in exposed mineral provinces.
"With years of direct involvement in the industry as a researcher but also working in policy development and industry investment this new position as Strand Leader at the Future Industries Institute is an enormous opportunity to bring this experience together," Prof Giles says.
"The industry needs to implement fast, cheap, safe and environmentally friendly mineral discovery and processing and the researchers at FII have the knowledge and skills to partner them in research that will deliver on those needs.
"I'm looking forward to the challenge of bringing together the best of academic, government and industry research, from the most esoteric to the most pragmatic, in order to facilitate scientific mineral discoveries and build wealth for Australia."
Media contact: Katrina McLachlan office +61 883020961 mob 0414972537 email Katrina.mclachlan@unisa.edu.au