Leading the way with low carbon industry engagement
July 25 2016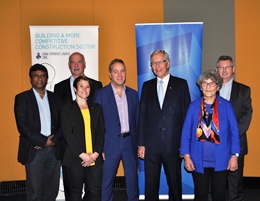 The University of South Australia is working closely with industry and all levels of government to ensure Adelaide becomes the world's first carbon neutral city.
The South Australian Government's vision for Adelaide to be an urban environment characterised by innovation, prosperity, dynamism, new-economy jobs and industries, and the widespread use of clean and green renewable energy cannot be achieved without dynamic partnerships such as those being developed through the UniSA Research Node for Low Carbon Living Industry Friends Forums.
Former South Australian Premier and the Chair of the UniSA Research Node for Low Carbon Living, the Hon. Dean Brown AO, says more than 60 industry, government and research leaders attended the first Industry Friends Forum in May engaging and sharing knowledge and experiences and building contacts.
"These industry forums are so important to bring people together so that we can build partnerships and find solutions to problems that we can't ignore," the Hon. Dean Brown says.
The UniSA Research Node for Low Carbon Living is South Australia's hub for multi-disciplinary industry-driven research into transitioning the local economy into a more sustainable and prosperous low carbon built environment and is co-funded by the University of South Australia and the Cooperative Research Centre for Low Carbon Living (CRCLCL).
CEO for the CRCLCL Scientia Professor Deo Prasad AO, says the response from local industry to the first forum held in May was astounding and hopes are high that the upcoming event in August will open more lines of communication and transition even more research.
"The UniSA Node is leading the pack in terms of industry engagement and making a real difference for the transition to a low carbon economy," Prof Prasad says.
"Industry, government and research collaboration is essential for an innovative economy."
At the first forum industry leaders presented their experiences creating low carbon buildings, precincts and organisations and government representatives shared key policies and programs shaping South Australia's low carbon future.
Among the industry leaders was Uniting Communities a leading not-for-profit organisation with 1500 staff and volunteers providing more than 90 community service programs and engaging with more than 20,000 South Australians each year.
In February Uniting Communities become the first South Australian organisation and the first registered charity in Australia to receive certification under the Federal Government's Carbon Neutral Program.
Uniting Communities Chief Executive, Simon Schrapel says the certification came after a five-year commitment by the organisation to significantly reduce its carbon footprint.
"Aiming for carbon neutrality was part of our strong moral compass to serve our clients as best we can," Schrapel says.
"Importantly, the carbon neutral investment decisions have quite literally paid off with the organisation saving $1M over the past three years from developing a lower carbon footprint, money that has been redirected to provide better services to clients.
"Becoming carbon neutral makes sense for our organisation because research tells us that climate change will most affect people in our client base – the elderly, socially disadvantaged and people on lower incomes."
With energy prices rising again this month organisations of all types and sizes need to keep striving for innovative solutions that attack low-carbon challenges head-on and most of these solutions will come from research.
UniSA Research Node for Low Carbon Living Manager, Dr Stephen Berry, says a great deal of work is being done to match PhD and Masters scholarships with industry and government needs, and the recently offered low carbon mobility scholarship highlights the value of partnership with the State Government, Adelaide City Council, and local industry experts.
"The impact of transport is recognised as the second-largest contributor to the city's carbon emissions (accounting for between 35-40 per cent of the total carbon impact) behind building energy use," Dr Berry says.
"In particular, passenger vehicles are estimated to contribute to approximately 99 per cent of the total transport emissions so it is essential for us to research mobility services that can transport people and goods to and within the Adelaide City but still meet the needs of a dynamic economy requiring a lower carbon impact."
The next Forum features timely and informative presentations from AECOM, Suntrix, Renewal SA, Redflow, Peats Soils, and the Adelaide City Council.
AECOM consulting engineers are providing industry mentoring to the low carbon mobility research scholarship and their Associate Director for Transport Planning, Leigh Dalwood, will discuss the challenge of meeting increasing transport demand while reducing the carbon impact.
South Australian company Suntrix is one of the most awarded Solar Energy companies in Australia and CEO Jenny Paradiso will talk about the importance of good design and quality products in maximising the output of a solar PV system as well as demonstrate how the myWatt monitoring system, developed in Adelaide, can help businesses decrease their energy use.
Colby Industries Managing Director, Dr Chris Colby, will speak about technology developed for Peats Solis to extract biofuels from some organic waste streams before they are composted, potentially displacing fossil fuels used by machinery and equipment and for transport.
Manager of CitySwitch for the Adelaide City Council, Ms Alison Cusack, will talk about how the CitySwitch program can help Adelaide businesses to reduce operating costs and become more sustainable.
And with all the talk around large-scale battery storage for powering homes and businesses Global Sales Manager for Redflow Energy Storage Systems, Mr Andrew Kempster, will discuss the new wave of battery storage technologies available in South Australia that enable businesses to extract greater value from their solar panels, and potentially move off-grid.
The State Government's urban development agency, Renewal SA has been working with UniSA conducting world class research into strategies to reduce energy and water use, and significantly reduce the carbon impact of residential and mixed-use developments.
The Manager of Sustainability Project Delivery for Renewal SA, Mr Andrew Bishop, will delve into how the research partnership is delivering outstanding results at the Lochiel Park Green Village and the urban renewal project at Bowden.
Further information about the Research Node for Low Carbon Living and the Industry Friends Forums is available at: http://unisa.edu.au/research-node-for-low-carbon-living but the next forum will be held:
Tuesday 2 August, 4-6pm
Bradley Forum, Level 5 Hawke Building
City West Campus, North Terrace
University of South Australia
Media contact: Katrina McLachlan office +61 883020961 mob 0414972537 email katrina.mclachlan@unisa.edu.au