Islam and the West: a history of common ground
August 16 2016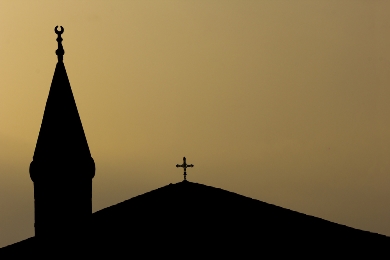 The impact of international and local events since the attacks on the World Trade Centre in 2001 and the rise of violent extremism among some Muslims has led to mayhem and destruction in the name of Islam and heightened both fear and a populist notion that there is an unbridgeable chasm between Islam the West.
But that view belies a long and engaged history between Western and Islamic civilisations, one that at many times has been fruitful, peaceful and collaborative.
This evening, in his inaugural public lecture at the University of South Australia and marking the launch of the University's new Centre for Islamic Thought and Education, head of the Centre, Professor Mohamad Abdalla will explore the interconnectedness between Islamic and Western societies across history.
"Textual analyses of the Australian popular media discourse demonstrates that both before and after September 11, Muslims have been demarcated from Australians based on an underlying assumption that Islam is hostile, not only to Australia's values, but also to the basic tenets of Western civilisation," Prof Abdalla says.
"Equally, the rise of violent extremism among some Muslims in the name of Islam has heighted this portrayal and promulgated a notion of an "us" and "them" divide.
"Not only has this been destructive and divisive, but perhaps more significantly, it ignores centuries of history rich with fruitful interactions between peoples of diverse faiths and backgrounds."
Citing threads of influence and convergence across history, Professor Abdalla, will emphasise how knowledge, science, art and understanding have been built by the interplay between cultures.
"In fields such as astronomy, for example, Muslims such as Nasir al-Din al-Tusi and Ibnal-Shatir learned from the great Greek mathematician and astronomer, Ptolemy, then translated and added to his knowledge, inventing new mathematical models to correct Ptolemy's theories. Ultimately, their work was a huge influence on 16th century Polish mathematician Nicolaus Copernicus in devising his breakthrough heliocentric theory.
"It is in examples such as these that we find civilizational interconnectedness and understand more completely that there is the highest potential in connection and engagement between cultures.
"While we are experiencing a period of uncertainty where extremists from all sides are attempting to argue that Islam and the West are incompatible and cannot co-exist, we need to debunk this fear-mongering myth, and work towards acceptance through wisdom, genuine engagement and appreciation of the 'other'."
The lecture, Interconnectedness: Our Shared Narrative will take place from 6.45pm this evening at the Allan Scott Auditorium, Hawke Building, at UniSA's City West campus.
About UniSA's Centre of Islamic Thought and Education (CITE)
Drawing on many years of research and teaching in Islamic studies, coupled with extensive engagement with the Australian Muslim and wider communities, the Centre of Islamic Thought and Education aims to serve as a global knowledge hub for community empowerment through research, education and engagement.
Its vision is a revival in Islamic thought and scholarship that facilitates interconnectedness and empowerment for local, national, regional and global communities.
Its philosophy is to promote empirical research informed by Islamic methodologies, philosophies and pedagogies, cognisant of the unique Australian context.
The Centre for Islamic Thought and Education brings together academics specialising in Islamic civilisation, psychology, ethics, leadership, management, sociology, finance and education.
Importantly, staff of the CITE have extensive community experience that will allow for genuine and grounded engagement.
About Centre Director, Professor Mohamad Abdalla
Professor Mohamad Abdalla is one of Australia's most prominent and respected Australian Muslim leaders combining the roles of an academic scholar, public intellectual, religious leader and commentator. In 2006, he established Islamic studies as a discipline at Griffith University, where he was founding director of the Griffith University Islamic Research Unit (GIRU). From 2008-2016 he was director of the QLD node of the National Centre of excellence for Islamic Studied (NCEIS), a collaboration between Griffith University, University of Melbourne and the University of Western Sydney. Over the years, he held multiple distinguished community posts and was awarded multiple civic awards such as the Ambassador of Peace Award. Professor Abdalla is an expert in Islamic civilisation and its interconnectedness with the Western civilisation, Islam in Australia, Islamic thought and Islamic ethics.
He has published widely in a host of reputable journals and publishers. His published books include Islamic Science: The myth of the decline theory (2009); Islam in the Australian News Media (University of Melbourne Press, co-edited); Interconnectedness of civilisations: Islam and the West (University of Melbourne press, forthcoming), and Islamic schooling in the West: Pathways to renewal (Palgrave MacMillan, forthcoming, co-edited).