Graduate's great gift launches UniSA's Pridham Hall
October 29 2016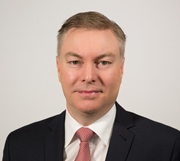 The Pridham Foundation, which administers the philanthropic giving by the family of UniSA graduate Andrew Pridham, has presented a $5 million gift to the University of South Australia to support its new great hall, now under construction in the Adelaide CBD's Hindley Street.
Acknowledging this as the largest single private donation in the University's 25-year history, UniSA Vice Chancellor Professor David Lloyd says the signature building, housing multipurpose sports and graduation venues, will be now known as Pridham Hall.
Adelaide born and educated, Andrew Pridham completed his Bachelor of Applied Science in Property Resource Management at UniSA, before moving to Sydney and then internationally to further pursue his career in investment banking.
Mr Pridham's business career has spanned time based in Sydney, London and Singapore.
Today he is Chief Executive Officer of Moelis & Company Australia, a New York headquartered investment bank, which he established in Australia in 2009.
He was previously Managing Director & Head of Investment Banking Australasia, and Global Head of Real Estate at UBS and Executive Chairman and Head of Investment Banking at JPMorgan.
His love of sport and his commitment to the role of education in transforming lives is well known, particularly through his role as Chairman of the Sydney Swans, and the facilities in the new hall represent both of those passions, offering state-of-the-art sporting facilities, including a 25m pool, as well as the new graduations hall, where academic success will be celebrated by future generations.
The importance of the Pridham philanthropic gift is being further recognised by the State Government, which will augment the donation with an additional $1 million to create two new perpetual scholarship programs.
The two scholarships are the Elite Athlete Scholarship – supporting high-achieving sportspeople to attain their university education at UniSA - and the Goodes O'Loughlin UniSA GO Scholarship - recognising outstanding academic merit by high-achieving Aboriginal students seeking to study at the University in a range of programs and expanding the work of Adam Goodes' and Mick O'Loughlin's GO Foundation.

UniSA Vice Chancellor, Prof David Lloyd says the generous Pridham gift is inspiring, but so is the man himself.
"Andrew is a fantastic example of everything we hope a UniSA graduate should be – he is enterprising, has used all of his talents to their utmost, and is always mindful of how he can use his success to make a positive difference to others," Prof Lloyd says.
"We're also grateful for the additional, special contribution from the State Government to establish two new scholarships schemes. That generous State Government support was catalysed by the scale and impact of the Pridham donation.
"Pridham Hall transforms our sporting facilities in the heart of the city, adding a swimming pool, playing courts and a gym for our students and that is a great boon for those who are committed to a sports training regime.
"A key role for the University is to provide opportunities for all South Australians to realise their academic goals, but also to offer them every support to reach their full potential – including nurturing their talents beyond academia.
"The top class facilities at Pridham Hall, along with these two scholarships will ensure our students have the chance to succeed in all their endeavours."
Premier of South Australia Jay Weatherill says the new scholarships will enhance the State's reputation as a place where talented athletes are supported to achieve their goals. He says he is also delighted to engage with the GO Foundation in supporting high-achieving Aboriginal students to pursue their education goals.
"Andrew Pridham's personal commitment to enhancing Aboriginal access to higher education and the natural link to two South Australian-born AFL legends – Michael O' Loughlin and Adam Goodes, meant that engaging around the creation of the GO Scholarship was a logical step for us," Premier Weatherill says.
"Andrew's amazing gift to UniSA's iconic new hall was an inspiration for us to partner in this investment by offering a fund for perpetual sports scholarships in the State so our leading athletes can complete their studies right here and at the same time, aspire to international success in their chosen sport.
"The best athletes often feel they have to sacrifice either their sport, or their careers. What we hope to do with these scholarships is to take away the need to choose, by supporting them to have both."
Delighted with the scholarship support, Co-Founder of the GO Foundation Michael O'Loughlin says the package of Government and private sponsorship for education in South Australia is a great example for others.
"Having worked with and known Andrew Pridham for many years I am really proud to see how his personal generosity will make a difference here in my home state of South Australia," O'Loughlin says.
"We are very grateful to the State Government for taking this opportunity to launch important scholarships that will advance the educational and sporting opportunities for not only Aboriginal students, but all students who want to pursue their dreams but that might be otherwise held back by lack of funds.
"This is a great example for all those who are interested in giving back to society."
Andrew Pridham says he is delighted to be able to support UniSA and in doing so, to contribute to future generations of South Australians and international students choosing to study in SA.
"I received an outstanding education at UniSA and count myself fortunate to be an alumnus", Pridham says.
"Having seen the plans for the great hall, I know it is going to be an exciting and dynamic building with an innovative combination of auditorium and sporting facilities and that matches my interest in both education and sport. I see it as a place for grand celebrations, such as graduations, in addition to being a daily hub for sport.
"I've always believed that it is important for people who have the capacity to contribute to the broader Australian community to do so generously and encourage others to do the same.
"Having the State Government enhance this donation through additional investment for scholarships benefitting the Indigenous and elite sporting talent is amazing and I sincerely thank Premier Jay Weatherill.
"Through my involvement at the Sydney Swans I have been very fortunate to have had the opportunity to develop a deeper respect and understanding of Indigenous Australians and am determined to assist in any way I can to enhance their prospects for a life of dignity, success and happiness.
"My family and I have a strong belief in the hugely positive role education and sport can play in the lives of our youth. I have great confidence in the future of South Australia and hope that this gift can inspire all South Australian's to share in this confidence.
"I am very pleased to be able to support UniSA in this way and I strongly encourage others to do so."
A media conference and cheque presentation will be held on Saturday October 29.
Run time: 10.30 – 11.45
Location: City West campus Kaurna Building, Level 5, Room K507
Fenn Place, Adelaide
Media contact: Michèle Nardelli office: 08 8302 0966 mobile: 0418 823 673 email: michele.nardelli@unisa.edu.au