Electronic music pioneer John Foxx to perform at UniSA
July 19 2016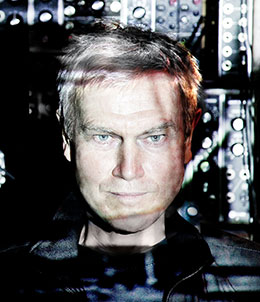 The age of the "absurdly rich rock star" is over and simply trying to make a living is the biggest challenge facing musicians, says synth pop pioneer John Foxx, who will be in conversation with Director of the Hawke EU Centre, Professor Anthony Elliott, at a Hawke Research Institute event, next week.
Foxx, the former lead singer and founder of hugely influential British band Ultravox! will talk about his life and career while also performing some of his own ambient piano compositions to an audience at the sold-out event at the Bradley Forum.
Having worked with musical luminaries including Brian Eno and Harold Budd, Foxx's first two solo albums from the 1980s, 'Metamatic' and 'The Garden', proved foundational to British electronic and synthpop music, inspiring artists such as Gary Numan, Depeche Mode and Blur.
As an expert on the history of electronic music, talking about landmark events in recorded sound, Foxx is equally engaging.
"The electric guitar was really the first electronic instrument. I also think it enabled a true revolution in society as well as in music," Foxx says.
"Then the microphone - it allowed singers to sing quietly against massive sounds, completely altered the nature of singing - from Sinatra to rock. Next was reverberation - the ability to make virtual spaces in recording.
"Finally, the synthesiser - for me personally the biggest change - because you can interface with other machines and computer power too.
"I'm definitely of the non-posh electrode college. Except for ambient music and a couple of Europeans such as Kraftwerk or Michel Jarre, I detest nice sounding electronic records.
"They should all crackle with lost electricity, like some old blues record – that's really what I was trying to sound like - listen to early John Lee Hooker recordings - thrillingly distorted and you can hear the dog bark in the background. Those moments will live forever. Pure Electron Rock.
With regards to the current challenges facing the recording industry, Foxx points out the operations of multinational technology company Apple, as a key game changer.
"The time of the absurdly rich rock star is over. The MP3 utterly altered the landscape then Apple's land-grab meant that record companies are now obsolete except for highly specialised operations," Foxx says.
"The reason the door-to-door salesman vanished is - he's no longer necessary, he's already in your home, actually in your pocket. And he maps you 24 hours a day.
"As Burroughs said, the truly successful product is not one that gets delivered to the client - it's when the client gets delivered to the product. That's roughly where we are now. And as the Chinese might say, we live in interesting times."
Professor Anthony Elliott, Dean of External Engagement at UniSA describes Foxx as a seminal figure.
"UniSA is renowned in Australia for its work in the creative arts, and having John Foxx join us as a Visiting Fellow is a huge plus," Professor Elliott says.
"What Kraftwerk are to German electronic music, Foxx is to British electro-pop. From Ultravox to his collaborations with Brian Eno, Gary Numan and Gazelle Twin, Foxx is a seminal figure – he has helped shape the 'surround' of contemporary music and on a global scale."
The Quiet Man: An Evening with John Foxx will take place at 7pm on July 27th at the Bradley Forum, Hawke Building.
Media contact: Will Venn mobile: 0401 366 054 email: will.venn@unisa.edu.au