Building global ties through storytelling
August 09 2016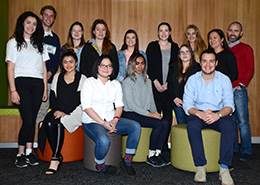 A group of UniSA students will be immersed in a week of real world learning and intercultural experiences when they travel to Vietnam next week to take part in the Battle of Long Tan 50th anniversary commemorations.
The 12 students from the School of Communication, International Studies and Languages will be documenting the relationship between Vietnam and Australia in the years since the battle– a topic close to Communication and Media Lecturer, Kim Burley's, heart.
Adopted from an orphanage in Vietnam when she was six months old, Kim Burley is looking forward to leading the delegation of students who will be playing a pivotal role in the commemorations.
"At the commemoration service at the Long Tan Cross, students will be first-hand witnesses to former foes from both sides of the conflict meeting as friends after 50 years," Burley says.
"By partnering with the Australian Chamber of Commerce in Vietnam, students will also document the growing business and education ties between our countries, with respect to Vietnamese migrants in Australia, current international students in Australia and business links.
"This opportunity is providing our students with global experiences utilising skills and knowledge from their programs in real world industry and community settings.
"This is an exciting project that will both be a rewarding experience for all involved and will be a meaningful way to strengthen the ties between our two countries."
AUSCHAM Vietnam has asked the Bachelor of Journalism and Professional Writing; Bachelor of Communication and Media and Bachelor of Media Arts students to produce communication content that showcases Australia's growing association with Vietnam.
AUSCHAM Vietnam executive director, Phil Johns says the students will be learning about the flourishing relationship between the two countries as they research write and create feature stories, website content and social media posts.
"We are pleased to host a student delegation from our member organisation UniSA and we are excited that they will be creating some tangible content promoting the strong links between Vietnam and Australia," Johns says.
"There are an estimated 25,000 Vietnamese citizens currently studying in Australia and somewhere between 50,000 and 100,000 Vietnamese citizens have returned to Vietnam equipped with an Australian qualification and emotional connection which augurs well for the future.
"AUSCHAM Vietnam is excited to be able to give Australian students opportunities to learn about the fast-growing relationship between the two countries."
UniSA Spokesperson Kim Burley Office 8302 4285 Mobile 0403 971 182 email kim.burley@unisa.edu.au
Media contact: Katrina McLachlan office +61 88302 0961 mob 0414 972 537 email Katrina.mclachlan@unisa.edu.au