Urban systems symposium highlights new thoughts on living sustainably
May 16 2012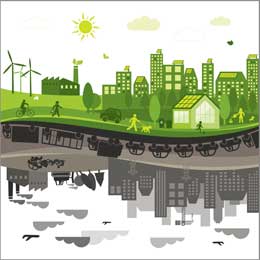 Traffic congestion, over consumption, pollution, energy and water supply and a growing demand for everything – they are all a part of a mix that makes up modern urbanised communities and as populations globally continue to be drawn away from rural lifestyles and into vast urban centres – these issues are increasingly those of our times.
In a day packed with research and insights, UniSA's Zero Waste SA Research Centre for Sustainable Design and Behaviour (sd+b) is presenting a significant symposium, Transforming Urban Systems, on May 17 at UniSA's City West campus.
And the symposium will feature fresh research from 10 PhD candidates examining everything from the commercial use of discarded tyres for building materials, right through to an examination of the urban heat island effect in rapidly developing cities and how cities can develop zero waste practices and a performance measure for them.
PhD presentations will commence at 1.30 pm and run through until about 4.30 pm.
UniSA Director for Zero Waste SA, Professor Steffen Lehmann says the exciting aspect of the symposium is to see the depth and breadth of the new research being undertaken in what is importantly an interdisciplinary field
"In our bid for progress we have borrowed from the planet for a long time, exceeding its carrying capacity and causing a range of integrated problems already impacting on the quality of living conditions," Prof Lehmann says.
"The overconsumption, loss of biodiversity, depletion of virgin materials and excess waste are not simple issues. They have evolved over time and are bound up in economic, cultural and behavioural forces – so understanding and unpacking them requires research from many angles and disciplines."
The symposium will conclude with two evening keynote presentations, commencing at 5pm.
Electric vehicles and the City – a look at how completely renewable electric cars could be integrated into urban living, presented by Senior Research Fellow with UniSA's Barbara Hardy Research Institute, Dr Peter Pudney, and a special presentation from Visiting Fellow Prof J Alexander Schmidt, from the University of Duisburg-Essen who will cover a range of issues that support the transformation of complex urban systems touching on areas of behavioural psychology and urban design.
More information about the symposium and the PhD candidate presentations is available online.
Media contact: Michèle Nardelli office (08) 8302 0966 mobile 0418 823 673 email michele.nardelli@unisa.edu.au