Expert shares the secret to building creativity in the workplace
June 15 2012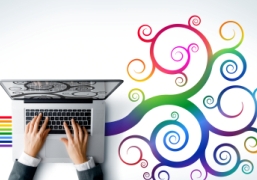 An international expert in workplace creativity will be urging us to think more about enhancing creativity in the workplace when she delivers a free public lecture at the University of South Australia next week.
US academic Christina Shalley, who is Professor of Organisational Behaviour and Human Resource Management in the College of Management at the Georgia Institute of Technology, is guest speaker at UniSA's Centre for Human Resource Management Insights lecture on Thursday June 21.
Director of the UniSA's Centre for Human Resource Management in the School of Management, Professor Carol Kulik says UniSA is excited to be bringing Prof Shalley to South Australia to present the lecture.
"Prof Shalley has enormous expertise in how individual and team creativity can be enhanced at work to improve productivity and a great body of research to back up her ideas," Prof Kulik says.
"Organisations hope that creativity will encourage entrepreneurial thinking, improve individual and team performance, facilitate organisational growth and make the organisation a stronger competitor in the international marketplace.
"Creativity can be demonstrated in any job and at any level of an organisation, but how can organisations nurture their employees' creative potential? Prof Shalley has been engaged with cutting edge research that helps to explain how individuals can develop their creative thinking skills and how organisations can manage the work context to harness the creative potential of their employees."
Prof Kulik says most people assume they have a fixed level of creativity. She says most managers assume that organisations become innovative by hiring creative people. As a result, workplaces develop standardised work practices that discourage employees from experimenting with new approaches.
In contrast, Professor Shalley's research program demonstrates that creative performance is affected by the organisational context. Managers play a key role in designing workplace environments that will generate and support creative performance.
Professor Shalley will highlight several strategies that managers can use to increase creativity:
Design jobs that are optimally challenging – that will motivate employees to experiment.
Explicitly set goals for creative performance – so that employees recognise that creativity is part of the organisation's performance expectations.
Give employees enough time and resources to be creative – creativity takes time and is hard work.
Develop performance management reward systems that help employees monitor their own creative performance and accrue personal benefits from creative behaviour.
Design teams in ways that use diverse perspectives that lead to more creative behaviour.
The CHRM Insights lecture is aimed at providing the South Australian public with an opportunity to engage with leading academics on contemporary people management issues.
You can register online for Prof Shalley's lecture on Thursday June 21 at 6pm in the Bradley Forum, Hawke Building, UniSA's City West Campus. Prof Shalley will be at UniSA from Tuesday June 19.
Media contact: Michèle Nardelli office 8302 0966 mobile 0418 823 673 email