An evening with Sean Willmore - Founder and Director of The Thin Green Line Foundation
| | |
| --- | --- |
| | Wednesday 16 March 2016 |
Watch the YouTube video HERE
A war (the term is used purposely) is being waged around the world to try and protect wildlife and our remaining natural areas. At the frontline of this war, 1000 rangers have been killed in 10 years, 70% by commercial poachers. 200,000 elephants have been killed for ivory since 2009, and many more species including lions, leopards, tigers and pangolins are being slaughtered.
But before you hide under the doona cover, from the impending doom and horrible news, Sean Willmore, President of the International Ranger Federation and Founder and Director of its charity arm - The Thin Green Line Foundation (as seen on the ABC's "Australian Story – The Game Changer") says the war can be won! There is hope.
Having worked in over 50 countries with rangers on frontline, from Uganda to Uruguay, Colombia to Congo, Sean says the effort going on now is analogous to a resistance movement against a more powerful enemy. The rangers are fighting the brave fight on many fronts, and whilst some might argue for even more rangers, he says what's really needed, really urgently, are more allies to support the rangers out there right now.
Sean will share the very personal, often moving, and sometimes very funny stories of his work with the "Protectors of Nature", the park rangers. The wildlife is always present, but this talk will give you a rare insight into life of those dedicated to protecting it, their challenges, their interactions with the animals, landscape and cultures they protect, and the often remarkable experiences of these conservation heroes.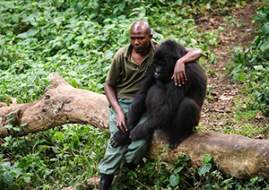 Presented by The Bob Hawke Prime Ministerial Centre

---
While the views presented by speakers within the Hawke Centre public program are their own and are not necessarily those of either the University of South Australia or The Hawke Centre, they are presented in the interest of open debate and discussion in the community and reflect our themes of: strengthening our democracy - valuing our diversity - and building our future.

The copying and reproduction of any transcripts within the Hawke Centre public program is strictly forbidden without prior arrangements.