Professors launch bid to put world space convention on Adelaide orbit
By Dan Lander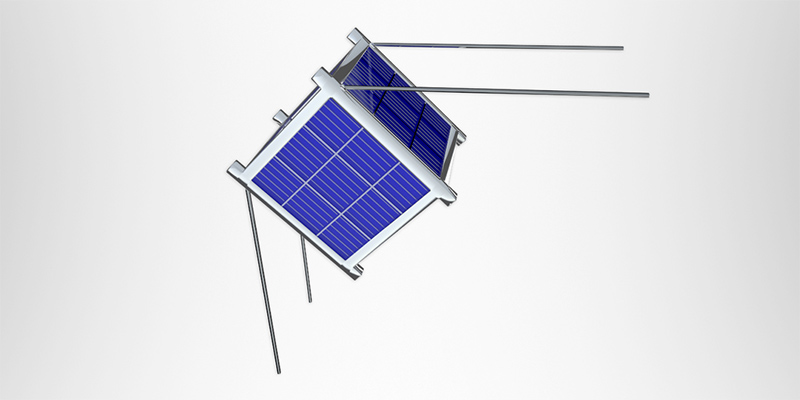 TECHNOLOGY AND ENGINEERING
UniSA space industry experts will lead a new bid to bring the world's largest space convention, the International Astronautical Congress, back to Adelaide.
In 2017, the South Australian capital hosted the International Astronautical Congress (IAC), which was attended by more than 4400 delegates and firmly established Adelaide as the home of the space industry in Australia.
Now, two of the key figures behind that successful bid, UniSA Adjunct Professors Michael Davis and Nicola Sasanelli, will use the platform of the newly established Andy Thomas Space Foundation (ATSF) to bid for Adelaide to host the 2024 IAC.
Named after Australia's first astronaut, Dr Andy Thomas AO, and supported by the Australian Space Agency and the SA Government, ATSF was launched in late 2020 to provide a new forum to grow the nation's space industry, with Profs Davis and Sasanelli serving as chair and CEO respectively.
"When the foundation was formed last year," says Prof Davis, "one of its specific goals was to promote national education and outreach programs, and to conduct major space-related forums.
"The IAC fits that brief perfectly, and we're delighted to partner with the Adelaide Convention Bureau (ACB) in a bid to bring the congress back to Adelaide, where it enjoyed resounding success."
Prof Sasanelli says winning the 2017 IAC was a major milestone in Australia's rebirth as a space nation, and he believes hosting the event gain in 2024 would provide further impetus for the country's burgeoning industry.
"The 2017 congress inspired impressive growth in the Australian space sector, including the establishment of the Australian Space Agency, the SmartSat CRC and the Andy Thomas Space Foundation, all headquartered in Adelaide," Prof Sasanelli says.
"A congress in 2024 will be a great boost to the goal of the Australian Space Agency to grow the number of jobs in the national space industry to 30,000 by 2030."
Plans to send locally manufactured small satellite to space
UniSA's involvement with the new ATSF and the 2024 IAC bid continues the University's strong association with the Australian space industry, which will continue to build throughout 2021.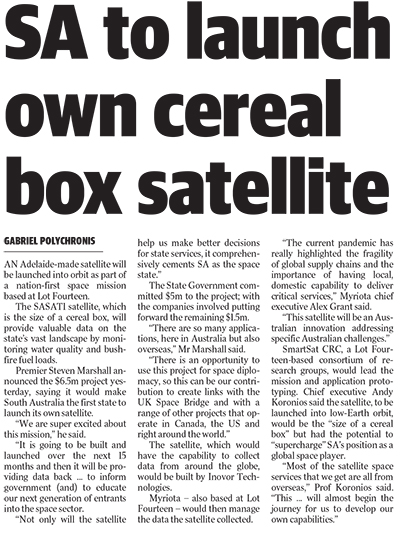 UniSA researchers and alumni are set to play a key role in the development of new locally designed and manufactured small satellites, which will be sent to low Earth orbit to deliver Internet of Things (IoT) data collection and hyperspectral electro-optical capability for Earth observation.
The project will be led by the SmartSat CRC, which is headed by UniSA Adjunct Professor Andy Koronios, and will feature IoT technology developed by UniSA spin-out company Myriota.
"This mission will provide opportunities for small start-up companies to use the ongoing data captured by the satellite to develop analytics applications for government and commercial use," Prof Koronios says.
"The SASAT1 Space Services Mission positions South Australia to play an even greater role in national initiatives like water quality monitoring and bushfire mitigation.
"SmartSat is incredibly excited to be providing leadership for this South Australian Government initiative and we are committed to providing expertise and R&D capability to make the mission a great success."
UniSA will also head research in other areas of small satellite development in 2021, with support from the latest round of South Australian Defence Innovation Partnership Cooperative Research Grants.
In late 2020, UniSA secured two out of six of the grants and is a collaborator on three other grants awarded. Through the UniSA-led projects, Dr Kamil Zuber will collaborate with DST Group and industry on freeform optics for small satellites, while Associate Professor Craig Priest will develop satellite systems that respond to adverse events.
UniSA Director Defence and Space, Matt Opie, says the outcomes from the grants round are a testament to the University's capability in defence and space-related research.
"These collaborations will give Australia a technology edge, creating new opportunities for partnership and industrial engagement to build knowledge in defence and space science," Opie says.
"Support for these projects contributes to our strong research base, enabled by South Australia's nationally significant infrastructure."