The effect of geo-trademarks on Australian brands
Geographical indicators, or geo-trademarks are a name or sign used to signify a specific geographical origin, of a product. Common examples include Champagne, Port Wine, and Roquefort cheese. When a region is geo-trademarked other producers are required to use generic labelling instead, like sparkling wine.
Geo-trademarks are granted to regions as a certification that the product possesses certain qualities, is made according to specific methods, or has a reputation because of the location of production. They therefore act as quality signals to consumers and when they are introduced, competing products will experience a fluctuation in their market share.
The client wanted to understand how the introduction of new geo-trademarks for international food and beverage products would affect Australian producers market share.
19 potential geo-trademarks were investigated across eight product categories. Respondents were either presented with supermarket shelves that allowed or did not allow Australian products to use geographical indicators, like "Parmesan" and "Pasta Topper". A mixture of cheese varieties were presented simultaneously to mimic a real supermarket shelf.
In this study, it was necessary to use stated preference choice experiments to understand the effect of a new product feature (geo-trademarks) on a new market structure.
Category market shares are impacted differently for Australian products relative to their geo-trademarked counterparts. The change in price that Australian producers would need to charge consumers to maintain their current market share when geo-trademarks are introduced was calculated.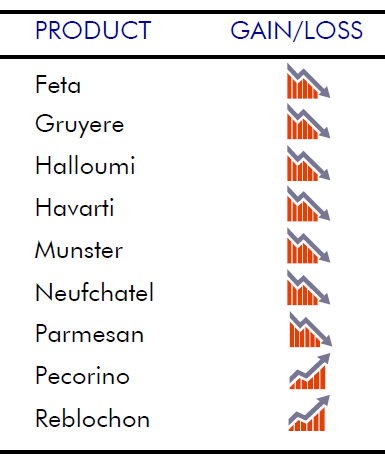 As the table shows, Australian producers of Pecorino and Reblochon benefit from their foreign competitors using geo-trademarks, while Australian producers of other cheeses will lose market share if they do not reduce their prices.
Contact us to find out more information about this project.