Societal and Political Transformations Archive
2014 Books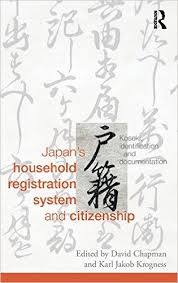 Chapman, D & Krogness, KJ 2014, Japan's household registration system and citizenship: koseki, identification and documentation, Routledge, London
Japan's Household Registration System (koseki seido) is an extremely powerful state instrument, and is socially entrenched with a long history of population governance, social control and the maintenance of social order. It provides identity whilst at the same time imposing identity upon everyone registered, and in turn, the state receives validity and legitimacy from the registration of its inhabitants. The study of the procedures and mechanisms for identifying and documenting people provides an important window into understanding statecraft, and by examining the koseki system, this book provides a keen insight into social and political change in Japan. By looking through the lens of the koseki system, the book takes both an historical as well as a contemporary approach to understanding Japanese society. In doing so, it develops our understanding of contemporary Japan within the historical context of population management and social control; reveals the social effects and influence of the koseki system throughout its history; and presents new insights into citizenship, nationality and identity. Furthermore, this book develops our knowledge of state functions and indeed the nation state itself, through engaging critically with important issues relating to the koseki while at the same time providing a platform for further investigation. The contributors to this volume utilise a variety of disciplinary areas including history, gender studies, sociology, law and anthropology, and each chapter provides insights that bring us closer to a comprehensive grasp of the role, effects and historical background of what is a crucial and influential instrument of the Japanese state. This book will be of great interest to students and scholars of Japanese history, Japanese culture and society, Japanese studies, Asian social policy and demography more generally.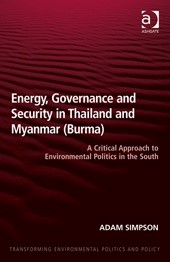 Simpson, A 2014 Energy, Governance and Security in Thailand and Myanmar (Burma): A Critical Approach to Environmental Politics in the South (Routledge).
Across the world states are seeking out new and secure supplies of energy but this search is manifesting itself most visibly in Asia where rapid industrialisation in states such as China and India is fomenting a frantic scramble for energy resources. Due to entrenched societal inequities and widespread authoritarian governance, however, the pursuit of national energy security through transnational energy projects has resulted in devastating impacts on the human and environmental security of local populations. These effects are particularly evident in both Thailand and Myanmar (Burma), which, located at the crossroads of Asia, are increasingly engaged in the cross-border energy trade. Based on extensive fieldwork and theoretical analysis this groundbreaking book proposes a new critical approach to energy and environmental security and explores the important role that both local and transnational environmental movements are playing, in the absence of effective and democratic governments, in providing 'activist environmental governance' for energy projects throughout the region. By comparing the nature of this activism under two very different political regimes it delivers crucial theoretical insights with both academic and policy implications for the sustainable and equitable development of the South's natural resources.
2014 Book Chapters
Chapman, D & Krogness, JK 2014, 'The koseki' in D Chapman & KJ Krogness, (eds) Japan's Household Registration System and Citizenship: Koseki, Identification and Documentation, London: Routledge.
Chapman, D 2014 'Managing 'Strangers' and Undecidables': Population Registration in Meiji Japan' in D Chapman & KJ Krogness, (eds) Japan's Household Registration System and Citizenship: Koseki, Identification and Documentation, London: Routledge.
Fopp, R & Coleman, AJ, 2014, Homelessness Policy: Benign neglect or regulation control?, in C Chamberlain, G Johnson, S Mallett & C Robinson (eds) Homelessness in Australia: An Introduction, New South publishing, Sydney, pp. 11-29.
Franzway, S, 2014, 'Sexual politics and queer activism in the Australian trade union movement' in F Colgan & N Rumens (Eds) Sexual Orientation at Work. Contemporary Issues and Perspectives Routledge, Oxford, pp. 213-227.
Simpson, A 2014 'Market building and risk under a regime in transition: The Asian Development Bank in Myanmar (Burma)' in T Carroll & DSL Jarvis (eds), The Politics of Marketising Asia, Palgrave Macmillan, Basingstoke.
2014 Journal Articles
Ahmand, M & Khan, S 2014, 'The Case for Muslim Aged Care in the West', Journal of Religion, Spirituality & Aging, Routledge, vol.26, no. 4.
Hynd, A, 2014, 'Revolution 2.0?: Deconstructing the Social Media Narrative of the Tunisian and Egyptian Uprisings', in The Contemporary Middle East: Revolution or Reform?, Melbourne University Publishing, Victoria, pp. 200-225.
Khan, S & Yu L 2014, 'Aodaliya Guanyu Zhongguo Jueqi He Jiaqiang Duihua Guanxi De Xueshu Yu Gonggong Zhengce Bianlun Dui Daguo Boyi Yujing Xia Tisheng Huayuquan De Qishi(Australia's Public Debate on China's Rise and its China Policy: A Lesson for China in the Quest for a Greater Say in Global Affairs) in International Forum (Beijing Foreign Studies University. Published in December 2014), Vol. 16, No. 6, 2014
Khan, S & Ahmad, M, 2014, Looking Within and Without: The Path to Tread By Muslims in Alternatives/Turkish Journal of International Relations, Vol. 13, No. 1-2, Spring, December 2014, pp. 21-40.
Khan, S & Yu, L 2014, China-US New Type of Great Power Relationship: Theoretical Analysis of Global Systemic Transformation and Power Shifts, Journal of Strategy and Decision-Making, Vol. 5, No. 29, pp. 3-19.
Khosa, S, 2014, Playing Three Dimensional Chess: Australia's Civil-Military Commitment in Afghanistan in Reconstructing Afghanistan: Civil-Military Experience in Comparative Perspective, William Maley and Susanne Schmeidl eds. Routledge.
West, B and O'Reilly, R 2014, National humanitarianism and the 2004 Indian Ocean tsunami, Journal of Sociology Online first published on December 5, 2014 as doi:10.1177/1440783314550515.
Yu, L & Khan S 2014, 'Zhong Deng Qiang Guo Zai Quan Qiu Ti Xi Zhong Sheng Cun Ce Lue De Li Lun Fen Xi: Jian Lun Zhong Ao Zhan Lue Ho Ban Guan Xi' (China-Australia Strategic Partnership: Theoretical Analysis of Middle Power Strategies at Systemic Level), Pacific Journal (Society of Pacific Studies, Beijing. Published in January 2014), vol. 22, no.1, pp.48-60.
2013 Books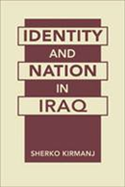 Kirmanj, S, 2013, Identity and National in Iraq, Lynne Rienner Publishers, Colorado, USA
Sherko Kirmanj offers a balanced, critical analysis of the evolution of Iraqi national identity and the process of national integration, tracing a history of antagonisms and violence from the creation of the state in 1921 to mid-2012. Challenging approaches that variously blame the legacy of the Baathist regime or the US invasion for the sectarian violence that plagues Iraq, Kirmanj delves into the political and social dynamics involved across the decades. His focus is on the enduring conflicts between Iraq's Sunnis, Shiites, and Kurds—and on the challenges of forging a nation when the groups involved share no collective identity or attachment to a single homeland. His work, comprehensive in scope and rich with new insights, is a vital contribution to ongoing debates about the future of the Iraqi state.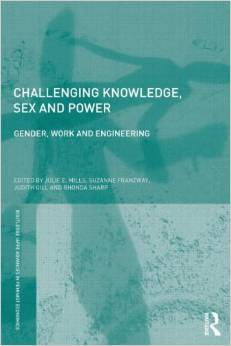 Mills, J, Franzway, S, Gill, J & Sharp, R, 2013, Challenging Knowledge, Sex and Power: Gender, Work and Engineering,Hampshire, UK: Routledge
Women in the developed world expect to work in the labour force over the course of their lives. On finishing school more girls are entering universities and undertaking professional training for careers than ever before. Males and females enter many high status professions in roughly equal numbers. However, engineering stands out as a profession that remains obstinately male dominated. Despite efforts to change, little progress has been made in attracting and retaining women in engineering. This book analyses the outcomes of a decade-long investigation into this phenomenon, framed by two questions: Why are there so few women in engineering? And why is this so difficult to change? The study includes data from two major surveys, accounts from female engineers in a range of locations and engineering fields, and case studies of three large engineering corporations. The authors explore the history and politics of several organisations related to women in engineering, and conclude with an analysis of a range of campaigns that have been waged to address the issue of women's minority status in engineering.
2013 Book Chapters
Biro, D 2013, 'Editor's Word: From International Relations Theory to Global Politics. A Romanian Perspective' (trans. from Romanian) in D Biro (ed) Contemporary International Relations. Central Themes in Global Politics (trans. from Romanian) POLIROM, Iasi, 2013, pp. 13-18.
Biro, D 2013, 'The Problematic labeling of "state-failure" and difficulties of state-building. A Radiography of contested concepts and practices' (trans. from Romanian) in D Biro (ed) Contemporary International Relations. Central Themes in Global Politics (trans. from Romanian) POLIROM, Iasi, 2013, pp. 205-231.
Mehmeti, L 2013, 'Democratisatization in Kosovo: The Role of the International Institutions', in B Radeljic (ed) Europe and Post-Yugoslav Space, Branislav Radeljic, Ashgate, pp. 183-210, London.
Simpson, A 2013, 'Challenging inequality and injustice: A critical approach to energy security in R Floyd & R Mathew (eds) Environmental Security: Approaches and Issues, Routledge, London and New York.
Viljoen, JM 2013, Waltz with Bashir: between representation and experience in Critical Arts: South-North Cultural and Media Studies published by Taylor and Francis and UniSA Press. Vol 28, Issue 1. Pp 40-50, online 28 Feb 2014.
2013 Journal Articles
Bilic, S. 2013, 'On Gendered Conceptions of Human Rights and Culturally Diverse Feminisms', The International Journal of Interdisciplinary Cultural Studies, Volume 7, Issue 4, pp 11-26.
Featherstone, W 2013, 'Intersections with 'O'; the Psychoanalytic Object, Australasian Journal of Psychotherapy, vol. 31 no. 1.
Khan, S & Yu, L 2013, 'Quan Qiu Ti Xi Li Liang Zhuan Huan De Dong Yin He Dong Meng +6 Kuang Jia Xia Zhong Guo Di Yuan Zheng Zhi Xin Zhan Lue' (Dynamics of Power Shift and China's New Geopolitical Strategy in the Context of "ASEAN +6), Fudan International Relations Review (School of International Relations and Public Affairs, Shanghai. Published in December 2013), vol. 13, no.2, pp.202-223.
Khan, S & Yu, L 2013, 'Evolving China-ASEAN Relations and CAFTA: Chinese Perspectives on China's initiatives in relation to ASEAN Plus 1', European Journal of East Asian Studies, (Brill), vol. 12, no. 1, pp. 81-107.
Lundberg, D 2013, 'Political vulnerability of Australian Emission Reduction Policies', International Journal of Climate Change: Impacts and Responses, vol. 4, no. 3, pp. 133-146.
Nagel, R 2013, 'Challenges & limitations of conducting research in a newly independent country', Global Studies Journal, vol. 5, no. 4, pp. 13-20.
Porter, E 2013, 'Ethical Commitment to Women's Participation in Transitional Justice', Global Justice: Theory, Practice, Rhetoric, vol. 6, no. 1, pp. 1-20.
Porter, E 2013, 'Rethinking Women's Empowerment', Journal of Peacebuilding & Development, vol. 8, no. 1, pp. 1-14.
Simpson, A 2013, 'Challenging hydropower development in Myanmar (Burma): cross-border activism under a regime in transition', Pacific Review, Taylor and Francis, pp. 1-24.
Simpson, A and S Park 2013 'The Asian Development Bank as a global risk regulator in Myanmar', Third World Quarterly, vol. 34, no. 10, pp. 1858–71.
Spagnoletti, B & O'Callaghan, T 2013 'Let there be light: A multi-actor approach to alleviating poverty', Energy Policy, vol. 63, Oxford.
Tran MV 2013, 'Vietnam Central Highlands at the Crossroads: Globalisation, Development, Sustainability, and Cultural Identity' in A Sharma & M Khanna (eds) 2013 Asian Perspectives on the World's Religions after September 11, Praeger, pp. 181-195.
2013 Reports
Walby, S, Franzway, S et al 2013, 'Overview of the worldwide best practices for rape prevention and for assisting women victims of rape' Directorate General for Internal Policies Policy Department C: Citizens' Rights And Constitutional Affairs, European Parliament, Bruxelles.
2012 Books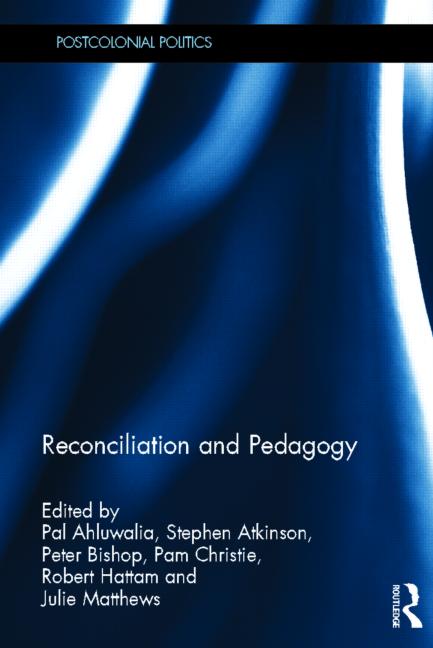 Ahluwalia, P, Atkinson, S, Bishop, P, Christie, P, Hattam, R and Matthews, J (eds), 2012, Reconciliation and pedagogy, Routledge, London
Reconciliation is one of the most significant contemporary challenges in the world today. In this innovative new volume, educational academics and practitioners across a range of cultural and political contexts examine the links between reconciliation and critical pedagogy, putting forward the notion that reconciliation projects should be regarded as public pedagogical interventions, with much to offer to wider theories of learning.

Porter, E & Mundkur, Anuradha 2012, Peace and Security: Implications for Women, University of Queensland Press: Brisbane.
Peace and Security offers both a broad overview of what is being done in conflict-affected countries to advance women's participation in peace processes, peacebuilding and decision-making. The authors examine the implementation of UN Security Council Resolution 1325 on 'Women, Peace and Security' and present evidence-based case studies from Timor-Leste, Fiji and Sri Lanka to suggest key actions needed. Five fundamental aspects flow through the book: a specifically feminist methodology, a priority on gender equality and women's empowerment and broad notions of human security and peacebuilding. While identifying obstacles, the emphasis is on articulating best practices in numerous contexts and outlining key actions to be taken by development agencies, women's NGOs and policy-makers. Peace and Security explores ways to protect women and girls from violence, ensure gender perspectives in peacekeeping, and increasing participation of women in decision-making.
2012 Book Chapters
Chapman, D & Long D 2012, 'English is my home: citizenship, language and identity in the Ogasawara Islands' in N Gottlieb (ed) Language and Citizenship in Japan, Routledge, London.
Chapman, D 2012, 'Identifying the periphery: Challenging citizenship, nationality and identity on the Ogasawara Islands' in P Caroline & C Kwok-bun (eds) Living Intersections: Transnational Migrant Identifications in Asia, Dordrecht, NL, Springer.
Hattam, R, Atkinson, S & Bishop, P 2012, 'Rethinking reconciliation and pedagogy in unsettling times' in P Ahluwalia, P, S Atkinson, P Bishop, P Christie, R Hattam, & J Matthews (eds) 2012, Reconciliation and Pedagogy, Routledge, London, UK, pp.1-9.
Porter, E 2012, 'Gender-Inclusivity in Transitional Justice Strategies: Women in Timor-Leste', in S Buckley-Zistel and R Stanley, (eds), Gender in Transitional Justice, Palgrave Macmillan, Basingstoke, pp. 221-240.
Porter, E 2012, 'Women, Peace & Securing Human Rights', in B. Offord, R. Garbutt & B. Chen Goh (eds), Activating Human Rights & Peace: Theory, Practice & Context, London, Ashgate, pp. 201-215.
2012 Journal Articles
Evans, J 2012, 'Educating Extremism: The failure of Pakistan's Education System and the Radicalisation of its Student's, The International Journal of Interdisciplinary Social Sciences, vol. 9, no. 5, pp. 163-168.
Evans, J 2012, 'Politics, Stereotypes and Terrorism: The Politics of fear in Liberal Democracies', The International Journal of Interdisciplinary Social Sciences, vol. 6, no. 5, pp. 71-78.
Khan, S & Yu, L 2012, 'Zhong Guo Dong Meng Zi You Mao Yi Qu: Hou Quan Qiu Hua Shi Dai Zhong Guo Zi You Mao Yi Qu Zhan Lue De An Li Fen Xi' [China-ASEAN Free Trade Area (CAFTA): A Case Study of China's Pursuit of FTAs in Post-Crisis Globalization], in Shi Dai Jing Mao (the WTO Economic and Trade Update), vol. 242, no.15, May 2012.
Khan, S 2012, 'Middle Powers and the Dynamics of Power Shift: Conceptualizing the Economic and Geopolitical Implications of Pax Sinica', Harvard Asia Quarterly, Fall 2012, vol. XIV, no. 3, pp. 51.59.
Ye, RM, 2012, 'Making connections: an investigation into the factors determining Internet uptake by rural residents in China' Communication, Politics & Culture, vol. 45, no.2, pp. 241-255.
2011 Books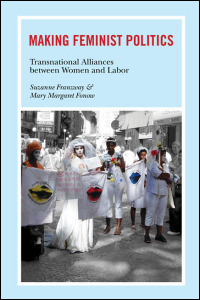 Franzway, S & Fonow, M M, 2011, 'Making Feminist Politics: Transnational Alliances between Women and Labor', University of Illinois, USA
Suzanne Franzway and Mary Margaret Fonow reveal the ways in which women across the world are transforming labor unions in the contemporary era. Situating specific case studies within broad feminist topics, Franzway and Fonow concentrate on union feminists mobilizing at multiple sites, issues of wages and equity, child care campaigns, work-life balance, and queer organizing, demonstrating how unions around the world are broadening their focuses from contractual details to empowerment and family and feminist issues.
Moghadam, VM, Franzway, S & Fonow, MM, 2011, Making Globalization Work for Women: The Role of Social Rights and Trade Union Leadership, (SUNY Series, Praxis: Theory in Action)
Explores the potential for trade unions to defend the socioeconomic rights of women. Making Globalization Work for Women explores the potential for trade unions to defend the socioeconomic rights of women in a global context. Looking at labor policies and interviews with people in unions and nongovernmental organizations, the essays diagnose the problems faced by women workers across the world and assess the progress that unions in various countries have made in responding to those problems. Some concerns addressed include the masculine culture of many unions and the challenges of female leadership within them, laissez-faire governance, and the limited success of organizations working on these issues globally. Making Globalization Work for Women brings together in a synthetic and fruitful conversation the work and ideas of feminists, unions, NGOs, and other human rights workers. "Making Globalization Work for Women is an illuminating, timely, and original collaboration among three prominent scholars that fills an important and missing niche in studies of transnational activism, global employment policy, and women's work." — Dorothy Sue Cobble, author of The Other Women's Movement: Workplace Justice and Social Rights in Modern America
2011 Book Chapters
Franzway, S & Fonow, MM 2011, 'Demanding their rights: LGBT Transnational labour activism, in S Franzway, MM Fonow, Making Globalization work for women: The role of social rights and trade union leadership, pp. 1-24, SUNY Press, New York.
Franzway, S, Moghadam, V & Fonow, MM, 2011, 'Introduction and overview: Globalization and Women's Social Rights, Making Globalization work for women: The role of social rights and trade union leadership, pp. 289-308, SUNY Press, New York.
2011 Journal Articles
Biro, D 2011, 'NATO's partnership with "countries across the globe": the case of Australia', Journal of East European and Asian Studies, vol. 2, no. 1, pp. 9-27.
Chapman, D 2011, 'Different Places, Different Faces: Identifying the Ogasawara Islanders, Social Sciences Japan Journal, vol. 14, Oxford University Press, University of Tokyo.
Chapman, D 2011, 'Geographies of Self and Other: Mapping Japan through the koseki', The Asia Pacific Journal, vol. 9, no 29.
McGinley, W 2011, 'Reduction in Sociology', Philosophy of the Social Sciences, SAGE, online.
Mills, J, Gill, J, Sharp, R & Franzway, S 2011, 'Getting it together: Feminist interdisciplinary research on women and engineering', Women's Studies International Forum, vol. 34, no. 1, pp 13-19, Elsevier, online.
Spagnoletti, B & O'Callaghan, T 2011, 'Going Undercover: The Paradox of Political Risk Insurance', Asia Pacific Journal of Risk and Insurance, vol. 5, no. 2, Article 4, pp. 1-21, Berkley Electronic Press, online