Mr Paul Burke
&nbsp PRESENTING:
This presentation discussed the experience of implementing Clinical Practice Guidelines within a state-wide prehospital service, using practical examples to show how we have attempted to manage anticipated barriers, deal with unanticipated issues, draw out and analyse some of the successes we have achieved and highlight lessons from some of our less successful work. The talk also covered Ambulance Victoria's move into a digital interactive format, discussing some of the pros and cons of this strategy.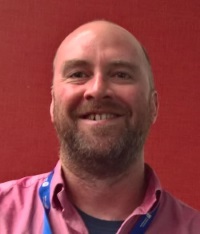 Paul worked as a Registered Nurse before joining Ambulance Victoria in 1999. He has worked as an ALS Paramedic, Clinical Instructor, MICA Paramedic, Education and Training Coordinator, Clinical Review Specialist and now works in Clinical Practice Development writing the guidelines for AV.
When he is not at work subverting the branding of the AV Corporate Communications team, Paul enjoys stealing the affection of other people's pets. He likes to play with fonts in official documents and has breached the AV Style Guide on numerous occasions, including the use of Calibri, Cambria, Copperplate Gothic, Euphemia and Palatino Linotype. He is yet to achieve his career goal of having an internal document published in Comic Sans, but is confident it is attainable.