Best Student Presentations
Mr Michael McCaul and Mrs Sarah Gilmore were awarded best student presentations for the iCAHE 2017 Conference for their presentations "Developing clinical practice guidelines for low-to-middle income countries: methods, experiences and lesson learnt in adapting, adopting or contextualising existing CPGs" and "How much do patients walk in the first week after lumbar spinal surgery?" respectively. Congratulations to Michael and Sarah on their excellent presentations.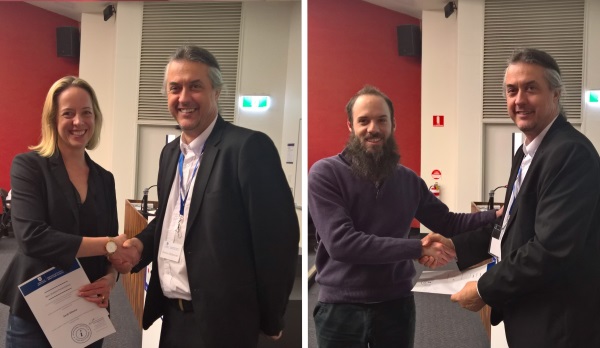 How much do patients walk in the first week after lumbar spinal surgery?
Presenter: Mrs Sarah Gilmore
Authors:S. Gilmore, J. McClelland, M. Davidson, A. Hahne
Background: Physiotherapists are routinely involved in patient care after lumbar spinal surgery. Post-operative physiotherapy typically focuses on achieving independent mobility and commencing a regular walking program, however advice about walking programs and returning to activity following lumbar surgery is highly variable. Little is known about how much patients walk, or should aim to walk in the immediate post-operative period.
This research aimed to establish the typical activity patterns of patients over the first six days after lumbar spinal surgery.
Methods: Patients admitted to St Vincent's Private Hospital Melbourne for lumbar spinal surgery between April and November 2016 were invited to participate. Participants wore an ActivPAL3 accelerometer for the first six post-operative days, that recorded a daily step count and the time spent in active (standing and walking) and sedentary (sitting and lying) positions.
Results: A total of 249 participants were recruited. Thirty-three participants were excluded due to faulty or lost monitors, or inaccurate or short recordings. Of the 216 included participants, the mean age was 61 years (SD 13.85) and 51% were female. Forty one percent of participants had lumbar disc surgery, 32% had a lumbar fusion and 27% had a lumbar decompression.
Over the six-day period, a mean 87% of participant time was spent sedentary, 10% standing, and 3% walking. On the first post-operative day 1% of participant time was spent walking with a mean step count of 1141 steps (SD 1404). These figures gradually increased to 4% of time spent walking on day six, with a mean step count of 3823 steps (SD 2950).
Conclusion: As lumbar surgery directly affects the ability to perform active tasks such as walking, these results were as expected with low activity levels that gradually increased over the week. The data gathered in this research will now be used to determine whether the amount of walking patients do early after lumbar surgery has an impact on longer term recovery and quality of life. This will determine the importance of walking and physical activity in early post-operative multi-disciplinary rehabilitation programs, and inform the development of evidence based post-operative protocols.
Developing clinical practice guidelines for low-to-middle income countries: methods, experiences and lesson learnt in adapting, adopting or contextualising existing CPGs
Presenter: Mr Michael McCall
Authors: M. McCaul, B. de Waal, P. Hodkinson, J. Pigoga, T. Young, L. Wallis
Background: Methods around developing de novo (new) clinical practice guidelines (CPGs) are well established with numerous guides, tools, resources and examples. With the growing number of existing CPGs and taking account of resource implications for de novo development, resource-limited settings need alternative methods to de novo CPG development. Using existing high quality CPGs to make recommendations relevant to local contexts through adopting, adapting or contextualising are such alternatives. However, limited examples exist showcasing the pragmatic application of this approach in settings where time and budget constraints are a real issue.
Objectives: To develop contextually appropriate, evidence-informed CPGs for pre-hospital emergency care providers in South Africa using alternative guideline development methods.
About the project: Following engagement with an expert panel to identify key questions, we searched for and appraised existing CPGs. A process of adapting, adopting or contextualising existing CPGs was used to develop the South African guideline.
Our experience and learning points: The final guideline included more than 270 CPGs culminating in over a 1000 recommendations for pre-hospital care. Challenges experienced included the lack of guidelines applicable to the African setting, issues in evidence synthesis, poor quality of some guidelines and heterogeneous level of evidence classifications. Learning points included focusing on key CPGs, clear knowledge translation strategies and stakeholder engagement. Key successes included easy and specific searching strategies, logical evidence mapping leading to easier content management and using an accessible online platform to incorporate expert panel and advisory board feedback.
Conclusions: Re-inventing the wheel by using de novo methods to produce CPGs is not always an option. Alternative methods exist that are systematic, transparent and rigorous – and, most importantly, within reach of resource limited guideline development teams.