iCAHE Journal Clubs
For the past decade, iCAHE has facilitated Journal Clubs (JC) in hospitals/healthcare centres in South Australia under the auspices of the Allied and Scientific Health Office (ASHO), Department of Health, SA. The iCAHE approach offers opportunities for health professionals to be trained in Evidence Based Practice (EBP) and apply research/ tested evidence into practice for clinical scenarios identified by clinicians themselves. The iCAHE JC approach has been well received and valued by several hundred participants over the years.
With the recent updates in EBP and implementing best evidence into practice, iCAHE has refreshed its JC approach by not only focusing on the steps in EBP but more importantly on 'local context' to implement evidence more effectively. iCAHE recognises that context is very important in getting evidence into practice. However, there is limited guidance as to how to assess and address local context considerations in order to make the evidence applicable and useful in practice. This is what the refreshed iCAHE JC approach is all about.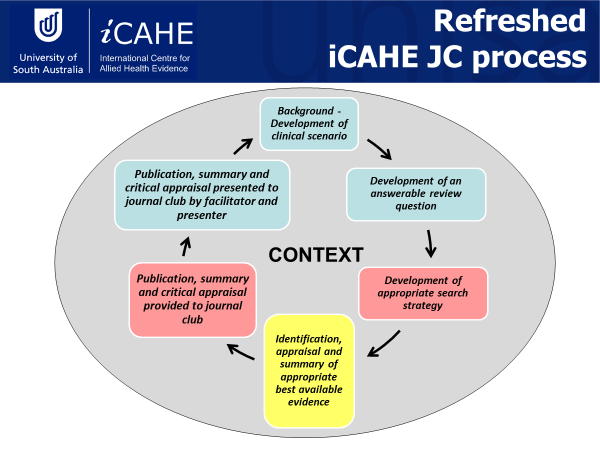 Legend: blue colour – JC task, pink – JC and iCAHE task, yellow – iCAHE task
Journal Club Training
We at iCAHE understand that clinicians are very busy, and so we have designed this facilitator training to fit within a reduced, 3-hour timeframe, perfect for both new facilitators and those who need a refresher. We've also elected to run this through Virtual Classroom – an online learning environment where facilitators can participate with the training from their home or office just as if they were physically present. Not sure about your internet connection? Don't worry – we will be hosting the virtual classroom in a real classroom, and facilitators are welcome to attend in person.
How the iCAHE Journal Club works
Do you want to start an allied health journal club in your department?
Do you want to start an allied health face-to-face journal club in your department? Please email the iCAHE Journal Club staff for more information by using the iCAHE Journal Clubs email, iCAHEjournalclub@unisa.edu.au
Are you interested in the iCAHE journal club, but you are from overseas?
Please feel free to email Janine.dizon@unisa.edu.au and ask for the Journal Club packages – iCAHE has a range of packages suited to your needs.
---
Evaluation and Feedback
iCAHE is dedicated to the success and expansion of the iCAHE Allied Health Journal Clubs and provides a forum here for feedback to iCAHE staff. iCAHE Journals Clubs will be routinely evaluated to ensure that it accomplishes its aims and objectives. Additionally, a vehicle for feedback and suggestions will also be provided for practitioners to voice their opinions on processes and outcomes from journal club. To this effect, multiple strategies will be utilised to garner the effects of journal clubs from various stakeholders perspectives.
Feedback to date:
We have had very positive feedback from our participants with the refreshed Journal Club approach and the online sessions.
'Very informative'
'It was a good experience for me. It was easy to follow, hear and participate as required
very informative and relevant to clinical practice'.
'I liked the discussion regarding adopt/adapt/contextualise. I feel this is a really helpful way to starting discussions within our groups'.
'Very effective way of running training. This allowed me to stay on site and therefore return to clinical work immediately following this. The chat room worked very well, and the ability to have a separate conversation with the other SPs for the practical component was great'.
'I thought the discussion at the end about context within our own workplaces was very good. The "mock Journal Club" helped to consolidate what we'd already learned'.
'It was unfortunate about sound not working so may have missed the first little bit (however great idea to record it!)'.
'It was very convenient to be able to participate in the VC. At times it was a little bit difficult to hear what was being said but overall it worked well. The discussions at the end were probably less valuable via virtual classroom however it worked as well as it could have'.
Southern Cross Care Rehabilitation Service
The Southern Cross Care Rehab Service OTs looked at the Effects of Splinting on Wrist Contracture After Stroke: A Randomized Controlled Trial article.
We all found the critical appraisal very beneficial and it helped us reflect on our own practice: what we are/aren't doing and how this study relates to our client group and setting. Overall our journal club session was successful and the article was very relevant.
Port Pirie Journal Club
The Port Pirie Journal Club looked at the clinical scenario: Is there an overall improvement in development or behaviour in children under five years with developmental delays/behaviour issues who receive therapy with a developmental framework?
This article was great thanks! We had some great discussion around attachment and the changes we can make to our services to include this (something we have been talking about for nearly 12 months!)
Generic feedback
If practitioners would like to comment on processes and outcomes from journal club and provide their feedback and suggestions for improvements, an online form will be set up. An example of an online form is provided below.