Winter 2017
From the Director
It has been another busy time in, and out of the iCAHE offices. It is great to see that iCAHE have maintained and continued to develop our International focus, continuing the vision of previous director Professor Karen Grimmer. Dr Janine Dizon and Karen have done a fantastic job in Africa promoting iCAHE's work. iCAHE has been named as part of an international research team that has been awarded over $2.5million funding from the South African Medical Research Council to establish multipronged rehabilitation research into improving lives of people living with chronic disease and disability. iCAHE is also a partner investigator on a funded South African Medical Research Council project to develop a universal CPG evidence-translation approach for AH rehabilitation of chronic diseases (funded 2017-2020). iCAHE's work in this area will continue to put us at the forefront of Allied Health Evidence translation into practice internationally.
This international focus continues with our "Allied health is Good Health" conference in November this year – We have speakers coming from our partner organisations in South Africa, Hong Kong, Malaysia, India and New Zealand as well as some great local and national speakers. One of the goals of the conference is to get delegates from each of the countries together to see how we can collaborate on future allied health initiatives internationally, to support each other and share resources across borders. Whilst Allied Health will always remain secondary to medicine and nursing in the health system, our strength can only grow when we work together.
I was privileged to see the strength that came from collaboration across borders in August when I was invited by the Asia Physical Therapy Students Association to present a workshop and a presentation at their 8th Annual conference in Kuala Lumpur, Malaysia. This association of physiotherapy students from 10 Asian countries has been going for 8 years and is a model of how to collaborate across borders. Despite having no central office and no paid office staff they have managed to develop and maintain a vibrant association. iCAHE will be providing funding for Australian students to attend the next annual conference in Singapore next year to support this organisation.
What is exciting for me is that whilst iCAHE continues to develop our traditional focus on secondary evidence synthesis and translation of evidence into practice we are expanding our focus into clinical therapy-based research. We have two new therapy-based researchers starting in iCAHE over the next month to help us keep up with our current projects and to develop our research in this area. I think iCAHE and iCAHE researchers are well placed to build on our strong methodological focus to develop and carry out rigorous valid research to answer real world problems.
We have recently completed a massive review of the evidence associated with the management of Post-traumatic stress syndrome (over 100 interventions). This 400+ page review and associated consumer document will form the basis for a number of new research theme within iCAHE, with two new projects already underway. More information in the next newsletter.
I also wanted to take this opportunity to thank Ash Fulton, who has been an integral and valuable member of iCAHE. She is leaving to pursue motherhood and I would like to extend our best wishes to her for the future and immense gratitude for all her help in iCAHE.
iCAHE Training Arm
iCAHE works with South African Department of Health on Stroke Rehabilitation Guidelines for Allied Health
Dr Janine Dizon and former iCAHE Director Prof Karen Grimmer are currently working on clinical practice guidelines for stroke rehabilitation with the group of allied health professionals in South Africa led by Maluta Tshivhase from the National Department of Health, with Elma Burger from the Provincial Department of Health (Gauteng) and the Stellenbosch University team, Prof Quinette Louw with Dr Dawn Ernstzen and Dr Sjan Marie Brown. South Africa is faced with an increasing burden of stroke (and it's co-morbidities such as HIV, malaria etc) and challenges of delivering efficient allied health services for stroke rehabilitation. Thus there is a need for good quality and context specific guidance that are implementable to address their need. iCAHE has been pioneering innovative guideline methods and processes without recreating the wheel (meaning, there is no need to develop de novo guidelines) and focusing on the use of current high quality evidence and addressing local context service delivery issues which are the usually the barriers in implementing guidelines. Addressing local context service delivery issues is a complex task as it deals with questions such as, who refers the patient and when does referral need to happen, who should conduct the test or treatment at a specific point in time, what resources/equipment are available, what type of training is required, etc. to make the sure that the evidence will be implemented and will work. Very critical in this type of work is an understanding of the usual patient pathway and how the health system works. Therefore, concomitant discussion with key players (policy makers, administrators, clinicians and consumers) in South Africa is regularly taking place.
iCAHE's methods have been tested and recognized internationally especially by those who want to focus their resources and energy in addressing local context barriers instead of synthesizing more evidence. iCAHE has worked with the Philippine Academy of Rehabilitation Medicine on contextualizing guidelines in stroke and low back pain and the South African Guidelines Excellence (SAGE) project on alternative and efficient guideline methods using iCAHE's methods and processes.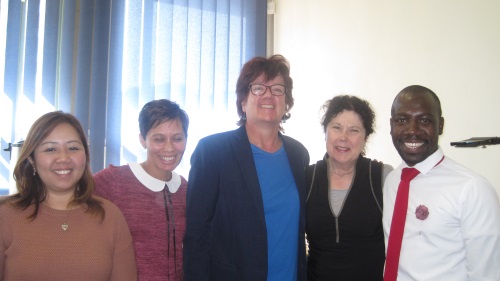 Left to Right: Janine Dizon, Quinette Louw, Elma Burger, Karen Grimmer, Kganetso Sekome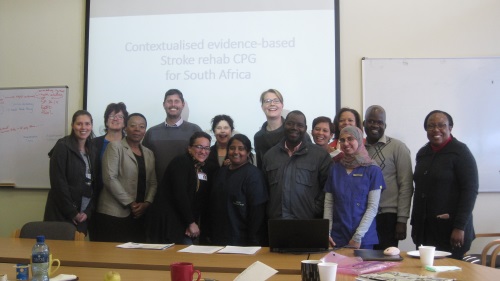 The Stroke Rehabilitation CPG group
Journal Club Evaluation
iCAHE has been facilitating Journal Clubs in hospitals and healthcare centres in South Australia for about ten years. The iCAHE Journal Clubs are designed to support healthcare professionals to engage in evidence-based practice by identifying clinical queries, searching for and appraising the quality of relevant research, and applying research evidence into clinical practice. With recent updates in evidence-based practice, iCAHE has refreshed its Journal Club approach by not only focusing on the steps in evidence-based practice but also on the context in which evidence is translated into practice.
Anecdotally we are aware that the iCAHE Journal Clubs are well received by its members and have been beneficial in terms of professional development; however, we require empirical evidence of the impact of Journal Club on professional practice and service delivery. Given this, iCAHE is conducting a mixed-methods evaluation of Journal Club with the intention of understanding the role of Journal Club in influencing clinical decision making, its impact, and the processes by which clinicians incorporate Journal Club findings into practice. The quantitative component will include a short demographic survey and an activity diary to record the occasions that clinicians had to search for best evidence, the actions undertaken to source relevant evidence for decision making, and outcomes relevant to indicators of effectiveness, efficiency, timeliness, safety, patient-centeredness, and equity. The qualitative component will use semi-structured interviews to explore how the skills and knowledge gained through Journal Club participation are enacted in practice, interpreted through a framework of adult learning theory.
If you are interested in participating in the iCAHE Journal Club or have any questions about the evaluation, you are most welcome to contact Dr Janine Dizon (Janine.dizon@unisa.edu.au) for further information.
Professional Certificates by iCAHE
iCAHE Professional Certificate in Quality Improvement in Healthcare
Professional Certificate in Quality Improvement in Healthcare is now officially open to interested health professionals
The Professional Certificate in Quality Improvement in Healthcare is designed to teach students to develop skills in evidence informed practice by learning how to assess their local practice, seek the best guidance to manage patients and facilitate quality improvement in healthcare. The professional certificate is composed of a selection of two 4.5 unit courses which are delivered across a 13 week study period. Students must select two courses from the following list:
Course and course dates are:
For more information, please check the link: http://www.unisa.edu.au/Health-Sciences/Programs-and-Courses/Short-courses/PCert-Quality-Improvement-Healthcare/
iCAHE Professional Certificate in Consumer Engagement
Course two of the Professional Certificate in Consumer Engagement has begun. This course is a self-directed learning project in which students use their research evidence skills and knowledge of best practice health consumer engagement to develop a successful business case for an intervention; conduct the intervention; evaluate its reach and impact; and provide a report to management with recommendations for future consumer engagement.
The course runs over ten weeks and builds on learnings in SCHLS 90008 (course one), which focused on principles, frameworks, and evidence used to inform consumer engagement activities in healthcare. This course focuses on using these learnings to inform a quality improvement project that seeks to achieve the highest possible standard for consumer engagement in the workplace. This course is structured around four deliverables, which will form the assessable components for this course. These assessment tasks will act as important milestones to ensure that the project is on track for timely completion, is of high quality, and is likely to achieve its aims. Reflective journaling will also be used to support the learning process and enable effective communication between students and their researcher mentor.
Planning is also under way for the 2018 Professional Certificate in Consumer Engagement, which will involve a revised curriculum in response to stakeholder feedback and suggestions. For further details about the 2018 Professional Certificate in Consumer Engagement, please contact Heath Pillen (Heath.Pillen@unisa.edu.au).
Actions in Allied Health
2017 iCAHE Conference
Planning and progress for the 2017 iCAHE conference is well underway, with several major updates occurring. With a focus on putting evidence into practice for Allied Health, this conference will host presentations on the current state of play for allied health evidence globally and locally, and what barriers may exist for translating evidence into allied health practice. Presentations are welcomed from all allied health disciplines.
Keynote Speaker Announced: Ms Susan Huckson!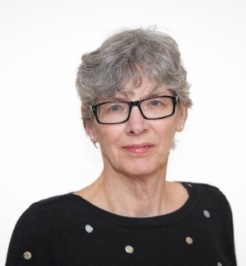 We are honoured to announce Ms Susan Huckson as a keynote speaker of our 2017 Allied Health conference! Sue has been a Board Trustee for Guidelines International Network (G-I-N) since 2012 and more recently held position of Vice Chair. She is very involved in many G-I-N activities including the Implementation Working Group, supporting the Low and Middle Income Working Group and leading the G-I-N ANZ Regional Group. Sue's work on clinical practice guidelines will be the focus of her presentation in November.
For more about Sue's work, please see out Keynote Speakers page!
Meet the Plenary Speakers
We are pleased to announce the plenary speakers of our 2017 Allied Health conference! With an impressive roster of international guests, including Professor Narasimman Swaminathan, Dean of Faculty of Health and Life Sciences at INTI International University, Malaysia; Ms Ivis Chung, Chief Manager (Allied Health) of the Hospital Authority (HA) in Hong Kong; Ms Gill Hall, Manager Rehabilitation at Accident Compensation Corporation (ACC), New Zealand and her colleague Mr Ken Stewart, clinical lead for Falls Prevention & Fracture Liaison services for the Canterbury health system. Local speakers Associate Professor John Moss, a health economist from the University of Adelaide, and Mr Paul Burke, a clinical guideline developer for Ambulance Victoria, are also highly anticipated speakers.
For more on all of our Plenary Speakers, please visit our Plenary Speaker page!
Early Bird Registration Still Available!
Early Bird Registrations for the 2017 iCAHE Allied Health Conference will be closing on August 31st! Get in quick for a discounted rate, and secure your place to see the fantastic speakers above.
Research Spotlight
ACC New Zealand IPM Review – Lumbar Epidurals
Over the last year, iCAHE were commissioned by the Accident Corporation Commission in New Zealand (ACC-NZ) to help in the development of Interventional Pain Management (IPM) Purchasing Guidelines. iCAHE was tasked with supplying evidence-based healthcare reviews on three broad groups of interventional pain management procedures (steroids, anaesthetics, Botox), which consisted of a series of 20 systematic reviews.
As part of each review, iCAHE focussed on six research questions:
What is the evidence of effectiveness in terms of pain-related outcomes?
What is the evidence of effectiveness in terms of functional outcomes (e.g. range of motion, reduction of disability, return to work, quality of life)?
What is the evidence for safety and risk?
Does the evidence suggest effectiveness differs if imaging is used?
What does the evidence report in terms of: patient selection and indications; treatment frequency and dosage; typical effect sizes/response rates; any sub groups more likely to benefit; are there any best practice recommendations?
Does the evidence report any information about cost effectiveness?
The iCAHE team and the UniSA library worked together in this review process. The UniSA library are a brilliant resource (thanks, Carole) that gives our evidence reviews a point of difference to those of other organisations. Having the rigour of an independent academic librarian involved at the early stages of a review provides us a with a rigorous, defendable search strategy.
Across the 20 systematic reviews, one in particular stood out, and was a reminder of the quality and unique focus of the work performed by iCAHE researchers in conjunction with ACC-NZ. This review looked at the effectiveness of lumbar epidural injection of steroid with or without local anaesthetic for low back pain. Completion of the report was timely as we could compare our recommendations with the recommendations put forward by the Australian Government as part of their Choosing Wisely program.
Choosing Wisely Australia is a public organisation which assists healthcare providers and patients to have conversations about improving their healthcare quality. They aim to reduce or eliminate unnecessary or harmful tests, treatments, and procedures by allowing respected associations to choose common questions which patients may have, and provide evidence-based recommendations for those questions.
The Australian and New Zealand Association of Neurologists (ANZAN) considered 12 clinical practices in neurology which were overused, inappropriate, or of limited effectiveness to be considered for Choosing Wisely questions and recommendation. Of these, the five top times were compiled following a review of evidence and development of suitable recommendations, and endorsed by the ANZAN council on the 7th of January 2016 (for more details on this process visit http://www.choosingwisely.org.au/recommendations/anzan#1633). One of these clinical practices was the use of epidural steroid injection to treat low back pain.
The recommendations concluded that the use of epidural steroid injections were poor for back pain alone, where acute lumbar radiculopathy causing back pain was not present. While there was some limited short-term benefits for back pain caused by radicular symptoms in the legs originating from the nerve root (Level C evidence), the benefits of epidural steroid injection for low back pain without radicular symptoms did not outweigh the risks, and they were therefore not recommended.
In short, the Choosing Wisely recommended not to get lumbar epidurals for low back pain. On closer examination the Choosing Wisely recommendations were made based on three systematic reviews.
Choi HJ, Hahn S, Kim CH, et al. Epidural steroid injection therapy for low back pain: a meta-analysis. Int J Technol Assess Health Care 2013;29(3):244-53.
Quaraishi NA. Transforaminal injection of corticosteroids for lumbar radiculopathy: systematic review and meta-analysis. Eur Spine J 2012;21(2):214-9.
Staal JB, de Bie R, de Vet HCW, et al. Injection therapy for subacute and chronic low-back pain. Cochrane Database SystRev 2008;16:(3).
Conversely, the iCAHE review, which effectively reviewed the same question, identified and incorporated 44 systematic reviews, of which there were over 140 randomised controlled trials (RCTs) reported within these reviews. A further 32 RCTs which were not included in these reviews were included, along with 19 cohort and case studies to ensure that all risk factors and safety implications were considered.
A key factor which differentiated between the Choosing Wisely and the iCAHE IPM review recommendations, (aside from the number of included studies), was differentiating the evidence according to the differences in the intervention. Clinically there are three separate approaches, each of which apply to separate conditions:
The Caudal approach involves placing a needle into the sacral epidural space through the sacral hiatus, which requires more injectate and can be very hit and miss due to the location
The Translaminar or Interlaminar (A) approach delivers injectate directly into the lumbar epidural space, which is more specific and does not usually require imaging
The Transforaminal approach (B) delivers injectate into the epidural space to a specific nerve root and the ventral epidural space, which does require image guidance to be performed
All approaches require different injectate amounts, imaging requirements, and clinically, would be utilised for different clinical presentations. Our review found that a significant number of the included systematic reviews failed to differentiate between the difference approaches for the lumbar epidural injection, they failed to differentiate between different injectate dosages (being the volume (ml), concentrate (mg), or type of corticosteroid) and many of the RCTs and systematic reviews failed to appropriately define the patient presentation to determine the appropriate injection approach.
Of our findings, the first recommendation met with that of the Choosing Wisely recommendation, ie. that the evidence does not support the use of Lumbar Epidural Steroids Injections, as a broad intervention category, for the first line relief of pain or improving disability in patients with radicular symptoms or low back pain (Level A). Similarly, the evidence suggests that the use of Lumbar Epidural Steroids Injections, as a broad intervention category, for relief of pain or improving disability in patients with low back pain or radicular symptoms are effective in the short term i.e. up to 6 weeks (Level A).
However, by drilling down into the differences in approaches, other recommendations began to emerge. For axial low back pain, the evidence suggests that the optimal approaches for reducing pain and improving functional outcomes are the caudal sacral or the Interlaminar approaches in the short term (up to 3 months). (Level B). Further recommendations were also broken down for differences in patient presentation in regards to the specific approaches. For radiculopathy secondary to herniated disc the evidence suggests that the optimal approach for reducing pain and improving functional outcomes is the Transforaminal approach in the short and long term. (Level B). For pain due to spinal stenosis, the evidence suggests that the optimal approach for reducing pain and improving functional outcomes is the Caudal/sacral and interlaminar approach in the short and long term. (Level B).
Additionally, when considering the cost-effectiveness of lumbar epidural injections, the evidence suggests that LESI may present a cost-effective intervention in the short term through reducing other health expenditure, reducing the need for expensive surgery and reducing sick days (Level C). Whilst minor complications associated with lumbar epidural steroid injections were not uncommon they rarely required significant medical attention (Level B), and major complications associated with lumbar epidural steroid injections were rare (Level B).
By examining the evidence within a clinical framework, it can be seen that epidural injection, with specific approaches for specific conditions, may be a suitable treatment for both short and long term pain reduction and functional improvement. For effective evidence translation to occur it must be presented within a clinical framework or it lacks external validity.
Keep an eye out for more great work by iCAHE in the coming months, including new work examining Post-Traumatic Stress interventions!
Resources for You
Outcomes Calculator Update
The new outcomes calculator will be publically available shortly! In an effort to ensure that all measures have been appropriately permissioned, iCAHE staff have been tirelessly contacting the authors of all 91 of our outcome measures to ensure that we have the most up-to-date versions and permissions for these measures to be utilised within both our outcomes calculator and the accompanying free manual.
We appreciate your patience with this calculator and the additional resources, but we promise it's worth the wait!
If you have any comments regarding the Outcomes Calculator, please contact iCAHE at icahe@unisa.edu.au
iCAHE Website
In the past few months there have been a few staff changes at iCAHE, which has been reflected by changes to our website. Other minor updates have also been made. You can see these changes on the website homepage which can be accessed here: http://www.unisa.edu.au/Research/Sansom-Institute-for-Health-Research/Research/Allied-Health-Evidence/
iCAHE is now on Twitter!
iCAHE has officially joined the 'twittersphere'! You can find us @iCAHEUniSA or tweet us at this handle. We will be updating our followers on all the changes and updates within iCAHE, our research outputs, and any research output which catches our interest!
Follow us today for regular updates on iCAHE's work.
What's New in iCAHE
Conference Presentations
World Confederation for Physical Therapy Conference
Dr Janine Dizon and former iCAHE Director Prof Karen Grimmer conducted a focused symposium on Clinical Practice Guidelines (CPGs) with two iCAHE collaborators, Prof Quinette Louw (Cape Town, South Africa) and Dr Susanne Bernhardsson (Gothenburg, Sweden), at the World Confederation for Physical Therapy (WCPT) Congress, Cape Town, South Africa, last July 2-4, 2017. The WCPT Congress was attended by about 2000 physiotherapists from all over the world.
The CPG symposium was conducted to (1) to present perspectives of physiotherapists regarding clinical practice guidelines, (2) to discuss physiotherapists' perception of CPG development, relevance, uptake and implementation and (3) to discuss barriers and enablers in CPG activities in physiotherapy and propose strategies as a way forward, from four different countries (Australia, Philippines, South Africa and Sweden).
The CPG symposium was well attended and well received by the audience. Discussions are ongoing with physiotherapists and allied health professionals who are interested in the CPG work the team has presented.
For those interested to learn about CPGs and hear the presentation, WCPT will release the audio recordings soon. We will keep you posted. For the mean time, you may want to view the 'greatest physiotherapy show on earth' which can be accessed via this link: http://www.wcpt.org/news/Greatest-show-on-earth-July17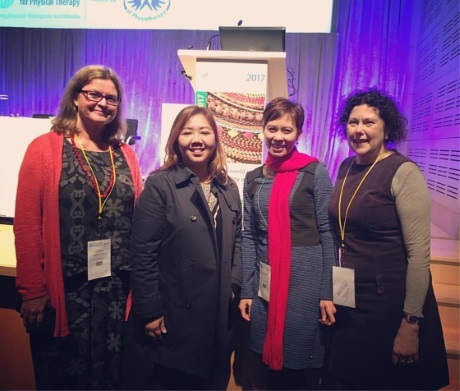 Left to Right: Susanne Bernhardsson, Janine Dizon, Quinette Louw, Karen Grimmer attending the WCPT conference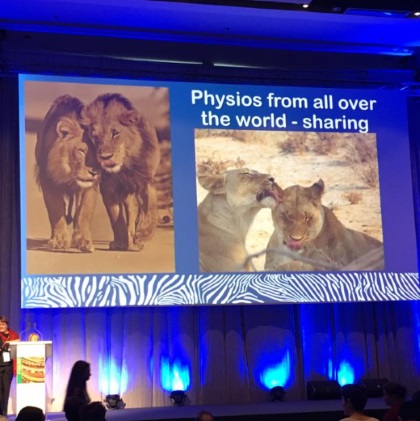 WCPT conference opening slides
2017 Australasian Animal Studies Association Conference
This year Ms Holly Bowen, an academic researcher with iCAHE, presented at the 2017 Australasian Animal Studies Association Conference on July 3-5 at the University of Adelaide. Ms Bowen presented her recent collaboration with Dr Janette Young of the University of South Australia and Dr Lisel O'Dwyer of Flinders University, which examined the perceived impact of pets on the health of elderly people, with a focus on pets acting as a protective factor against suicide.
AASA seeks to bring together and facilitate a community of animal studies scholars, scientists, creative artists and animal advocates and encourage cross-national and disciplinary exchange. As its name suggests, a more specific aim is to promote work focusing on animals and human-animal relations in Australia and Aotearoa New Zealand. For those interested in learning more about the work that AASA do please visit: http://animalstudies.org.au/
2017 Asia Physical Therapy Students Association
Steve was invited to present a number of workshops and present a plenary lecture at the 8th Annual Asia Physical Therapy Students Association (APTSA) conference in Kuala Lumpur in Malaysia. He was asked to present two full day workshops on the Maitland approach to manual therapy, a lecture on Manual therapy assessment and management of low back pain and facilitated a case presentation session with students. There were over 275 delegates at the conference and presented a great opportunity for iCAHE to collaborate with future physiotherapists from other Asian countries. We are exploring the opportunity for the iCAHE website to be a central dissemination site for some of the great work done by students across Asia in their evidence reviews. This would place the iCAHE website at the forefront of evidence dissemination internationally, allowing clinicians a one-stop shop for secondary evidence syntheses.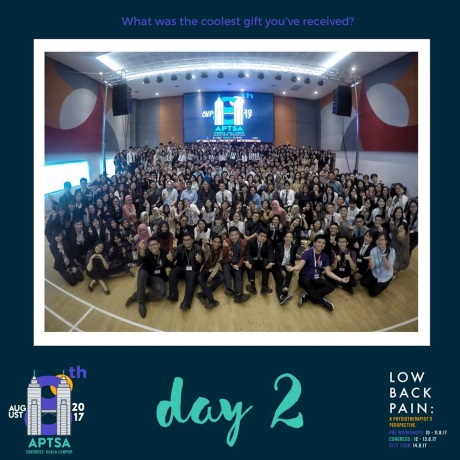 APTSA conference (Steve is in there somewhere……)
Publications
Boshoff K, Gibbs D, Phillips R, Wiles L & Porter L 2016, 'Parents' voices: 'why and how we advocate'. A meta-synthesis of parents' experiences of advocating for their child with autism spectrum disorder', Child: Care, Health and Development, vol. 42, no. 6, pp. 784-797.
Dizon J, Grimmer K, Louw Q, Machingaidze S, Parker H, Pillen H. 2017. Barriers and enablers for the development and implementation of allied health clinical practice guidelines in South African primary healthcare settings: A qualitative study. Health Research Policy and Systems, (accepted August 2017)
Abstract not available
Jacob J, Boshoff K, Stanley R, Stewart H & Wiles L 2017, 'Interprofessional collaboration within teams comprised of health and other professionals: a systematic review of measurement tools and their psychometric properties', Internet Journal of Allied Health Sciences and Practice, vol. 15, no. 2, pp. 1-12
Looyestyn J, Kernot J, Boshoff K, Ryan J, Edney S & Maher C 2017, 'Does gamification increase engagement with online programs? A systematic review', PLoS one, vol. 12, pp. 1-19.
Louw Q, Dizon J, Grimmer K, McCaul M, Kredo T, Young T, 2017. Building capacity for clinical-practice-guideline development and implementation. South African Medical Journal; 107(9) (in press)
Abstract not available
Mine K, Nakayama T, Milanese S, Grimmer K, 2016. Effectiveness of stretching on posterior shoulder tightness and glenohumeral internal rotation deficit: a systematic review of randomised controlled trials. Journal of Sport Rehabilitation, pp.1-28.
Mine K, Nakayama T, Milanese S, Grimmer K, 2016. The effectiveness of conservative management for disabled throwing shoulder in baseball: a systematic review of Japanese-language primary studies. Physical Therapy Reviews, 21(3-6), pp. 151-159.
Mine K, Nakayama T, Milanese S, Grimmer K, 2017. The effectiveness of braces and orthoses for patients with knee osteoarthritis: A systematic review of Japanese-language randomised controlled trials. Prosthetics and Orthotics International, 41(2), pp.115-126.
Mine K, Nakayama T, Milanese S, Grimmer K. The effectiveness of pain neurophysiology education for patients with non-specific chronic low back pain: a systematic review. Journal of Japanese Physical Therapy Association, 43(3), pp.247-254 (In Japanese).
Abstract (in Japanese)
Morris J, Twizeyemariya A, Grimmer K, 2017. The Cost of Waiting on an Orthopaedic Waiting List: a scoping review. Asia Pacific Journal of Health Management, 12(2), pp. 42-54. doi:10.24083/apjhm.2017.08.0003
Abstract not available
Morris J, Twizeyemariya A, Pillen H, Grimmer K, 2017. What Happens When Patients with an Orthopaedic Complaint 'Wait'? Setting the Scene in one Australian Tertiary Hospital. Asia Pacific Journal of Health Management, 12(2), pp. 34-41. doi:10.24083/apjhm.2017.08.0001
Abstract not available
Stewart H, Boshoff K & Weeks S 2017, 'Parental adherence to a research protocol to investigate the effect of the Wilbarger therapressure programTM: a qualitative study', The Open Journal of Occupational Therapy, vol. 5, no. 1, pp. 1-17.