Summer 2017-18
From the Director
2017 iCAHE Conference
New Research Nodes
Project SAGE Update
Professional Development and Training Arm
Resources for You
What's New in iCAHE
Congratulations to iCAHE Students and Staff
From the Director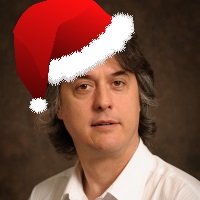 As another year draws to a close I would like to take the time to reflect on 2017 to celebrate our wins and commiserate our losses.
It has been an amazing year for changes. The obvious one was the departure of iCAHE's inaugural Director, Professor Karen Grimmer. Despite a recent bout of ill health Karen has remained involved with iCAHE and remains a valuable asset to the Centre. She is not only a great person to bounce ideas off she is also a great colleague and a fantastic friend to me personally. Whilst we won't benefit formally from the wealth of knowledge and experience that Karen has developed over the years I am delighted that her value to Allied Health internationally continues on, sadly for us, with other universities and not UniSA. Whilst our loss is their gain I am happy that these other universities will prosper and that Karens work in Allied Health will continue.
Janine Dizon continues to fly the iCAHE banner high internationally by doing amazing work in South Africa, Philippines, Malaysia, and India in the area of guideline development and contextualisation. Her work is unique not only for Allied Health but also in the area of medicine and places the Allied Health discipline at the forefront of Guidelines development in areas where Guidelines can actually make real change in people's lives. So often nowadays evidence based practice activities such as systematic reviews and Guidelines development are purely academic adventures, done for academic outputs and promotion rather than to make real change in people's lives. It is exciting to see committed iCAHE researchers like Janine who are prepared not only to 'talk the talk' but to step out of their academic offices and go out there and 'walk the walk' on the international stage.
The 2nd Annual iCAHE conference "Allied Health is Good Health" was a fantastic success. It was humbling to see how far iCAHE has developed in the past 20 years and it was a great chance to catch up with a number of our international partners. To have the support of the International Council of Allied Health Leaders, and an opening address to the summit by Dr. Jacqui Lumlay, OBE, was fantastic. Thank you to all the attendees from South Australia, interstate and internationally for making the effort to come and support the centre conference. Despite the broad range of topics covered, feedback from the conference attendees was good. I would also like to thank Dr. Rose Boucaut for attending; it was nice to see a staff member from UniSA attend the conference during the non-teaching week.
It has also been refreshing to see the gradual return of Allied Health teaching/research staff to iCAHE. Our membership is growing slowly and hopefully as we continue to collaborate with other researchers in the school we will see these numbers increase. This centre is built on a platform of research collaboration and is bigger than any one person. Our focus in on Allied Health Evidence and the progression of the discipline of Allied Health internationally. Hopefully as more people see the bigger picture we will see the centre continue to grow in 2018.
I would also like take this opportunity to thank the iCAHE team. Holly, Health, Ashley, Matt, Emily, and Emile have been a fantastic support over the year. I would particularly like to thank Holly Bowen for her organisational skills and work ability. She has been the bedrock of this centre for the past year. Although I can't say anything yet she will be embarking on a new adventure next year which will be an exciting progression for iCAHE (more news in next newsletter).
2017 iCAHE Conference
The second annual iCAHE conference was held on 6th – 8th of November and it was a great success! We were very excited to host so many guests from over six countries to celebrate the new work by academics, clinicians, and policy makers in the area of service delivery and implementation for Allied Health.
The first day of the conference was a full day writers workshop which was open to all HDR students (PhD and Masters) across the School of Health Sciences and run by two international speakers with over 400 peer reviewed publications between them – an impressive record and a fantastic opportunity for our HDR students. Professor Quinette Louw was part of an international working group for a special series of articles for the Lancet on Low Back Pain so allowed our HDR students a unique opportunity to learn directly about publishing from an internationally recognized researcher.
On the second day we opened with a welcome lecture from Catherine Turnbull, Chief Allied & Scientific Health Officer in the Department for Health and Ageing, SA Health. This was followed by a day of presentations on a wide range of allied health related topics. Presenters came from South Africa, New Zealand, Philippines, Hong Kong, India, Malaysia, emphasizing the international focus of our Centre. There were also presentations from speakers from SA, Victoria, NSW and ACT.
The evening of the second day was put aside for a cocktail evening at the City West campus and was a great chance to mingle with our overseas visitors.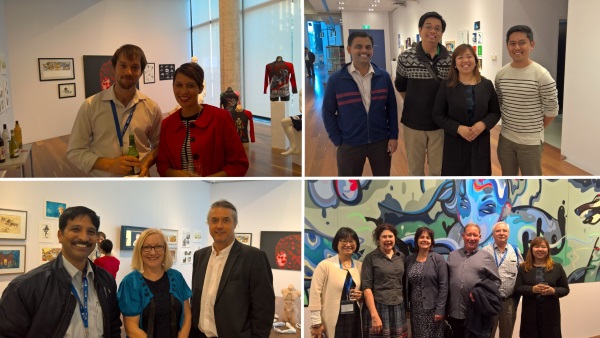 (Photos of Conference Attendees and Speakers attending the cocktail evening at the Kerry Packer Civic Gallery at the University of South Australia City West Campus)
On the third day we heard from a range of plenary speakers covering a diverse range of topics. After lunch we ran an international Allied Health summit supported by the International Council of Allied Health Leaders. We were fortunate to have an opening presentation from Dr Jacqui Lunday Johnstone OBE, Convenor of ICHPO and Founder of ICAHL, who opened the summit and set the agenda. This summit has led to the development of a Discussion paper, the first of its kind, which brought together allied health leaders from a range of countries to explore common themes in allied health development across the countries. This white paper will be submitted to ICAHL for endorsement and distribution internationally putting iCAHE at the forefront of the international allied health movement.
(Summit Session in progress)
2017 iCAHE Conference – Best Student Presentations
Mr Michael McCaul and Mrs Sarah Gilmore were awarded best student presentations for the iCAHE 2017 Conference for their presentations "Developing clinical practice guidelines for low-to-middle income countries: methods, experiences and lesson learnt in adapting, adopting or contextualising existing CPGs" and "How much do patients walk in the first week after lumbar spinal surgery?" respectively. Congratulations to Michael and Sarah on their excellent presentations.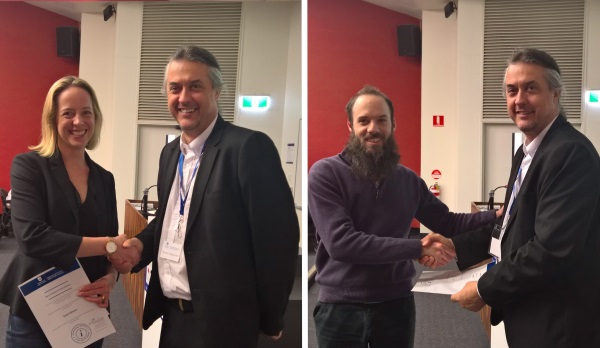 (Sarah Gilmore [left] and Michael McCaul [right] receiving their awards for best student presentation)
2017 iCAHE Conference – Recordings
Missed out on attending the iCAHE conference? Don't worry! Presentations given by our plenary speakers were recorded and are now available as a resource on the iCAHE website. You can view these presentations here: http://www.unisa.edu.au/Research/Sansom-Institute-for-Health-Research/Research/Allied-Health-Evidence/iCAHE-20th-Anniversary-Allied-Health-Conference/
Wanted to see someone specific? Follow through on the below links:
KEYNOTE ADDRESS: Professor Quinette Louw (coming soon)
Professor Narasimman Swaminathan
SPECIAL LECTURE: Professor Karen Grimmer
New Research Nodes
As committed allied health researchers emerge from the school we are delighted to support these staff in developing their research streams in the areas of publication support, HDR students and grant applications. We currently have two new research streams that are starting in 2018.
Sport Research Group.
We are currently developing a Sports Therapy stream of research, following being contacted by a senior manager in an AFL club interstate. We are currently recruiting Masters by Research students for a number of projects into Sports Therapy in AFL to support the Honours students and PhD students we already have working in this area. The current projects include the collection of injury and movement screening data from SANFL clubs (in its 4th year of data collection, making it one of the biggest datasets of its type), and the exploration of tendon changes following acute exercise using sonography (with one current PhD student and another PhD student about to start). We are also negotiating supervision of a large trial of a unique rehabilitation program following ACL repairs in one of the largest rehabilitation clinics in Dublin, Ireland. This will be world first research so stay tuned!!!
Women's Health Research Group
Alison Bell (iCAHE member) and Tricia Neumann (iCAHE adjunct) have done a fantastic job developing a Professional Certificate in Conservative Management of Pelvic Organ Prolapse, a unique postgraduate course presented by UniSA. We want to use this as a platform for developing a women's health research stream at iCAHE that can develop UniSA researchers in this area and see us being at the forefront internationally in this area.
Keep an eye on the Centre website in the new year as we will be presenting developments in both these streams
iCAHE's Project SAGE Updates
iCAHE's project with SAGE presented at Global Evidence Summit 2017
iCAHE's work with the South African Guidelines Excellence (SAGE) project (partnership between the South African Cochrane Centre (SACC), South African Medical Research Council (SAMRC), the Centre for Evidence-Based Health Care (CEBHC) and Physiotherapy Division at the Faculty of Medicine and Health Sciences, Stellenbosch University and iCAHE, UniSA) on capacity building for allied health professionals on clinical practice guidelines (CPGs) was presented at the recent Global Evidence Summit (GES) 2017, held in Cape Town International Convention Centre, Cape Town, South Africa from the 13th -16th of September 2017. The work focuses on the need for training in CPGs in South Africa for allied health professionals and individuals involved in CPG work.
iCAHE's project with SAGE on developing a guideline web resource now available online!
The SAGE Guideline Resource Toolkit which is a resource for anyone needing guidance on different clinical practice guideline (CPG) development approaches is now available via the Centre for Evidence Based Health Care website (https:// guidelinetoolkit.org.za). The web resource was designed for anyone in need of information about CPGs, searching for CPGs and needing guidance on different CPG development approaches (de novo development, adoption, contextualisation, adaption and updating). It also has links to other CPG resources.
Professional Development and Training Arm
iCAHE Professional Certificate in Quality Improvement in Healthcare and Professional Certificate in Consumer Engagement
This two-part professional certificate introduces students to a diverse range of theories, frameworks, tools, and strategies for developing person-centred healthcare. It is particularly relevant for consumer advocates, consumer representatives, project officers, and healthcare providers who wish to advocate for individual and organisational change towards person-centred care. The Professional Certificate consists of two 4.5 unit courses, commencing in Mid-2018, with participation via online lectures and virtual classrooms. Professional Certificate in Quality Improvement in Healthcare (http:// www.unisa.edu.au/Health-Sciences/Programs-and-Courses/Short-courses/PCertQuality-Improvement-Healthcare/)
This professional certificate is designed to teach students to develop skills in evidence informed practice by learning how to assess their local practice, seek the best guidance to manage patients and facilitate quality improvement in healthcare. The professional certificate is composed of a selection of two 4.5 unit courses which are delivered across a 13 week study period selected from the following list:
Clinical Practice Guidelines
Performance Review and Health Economics
Qualitative Health Research Methods for Quality Improvement in Healthcare
Please direct enquires to Mr Heath Pillen (heath.pillen@unisa.edu.au) or Dr Janine Dizon (Janine.dizon@unisa.edu.au). More information about the start dates will be available in the coming year.
Reminder -- Journal Club Evaluation
iCAHE has been facilitating Journal Clubs in hospitals and healthcare centres in South Australia for about ten years. The iCAHE Journal Clubs are designed to support healthcare professionals to engage in evidence-based practice by identifying clinical queries, searching for and appraising the quality of relevant research, and applying research evidence into clinical practice. With recent updates in evidence-based practice, iCAHE has refreshed its Journal Club approach by not only focusing on the steps in evidence-based practice but also on the context in which evidence is translated into practice.
Anecdotally we are aware that the iCAHE Journal Clubs are well received by its members and have been beneficial in terms of professional development; however, we require empirical evidence of the impact of Journal Club on professional practice and service delivery. Given this, iCAHE is conducting a mixed-methods evaluation of Journal Club with the intention of understanding the role of Journal Club in influencing clinical decision making, its impact, and the processes by which clinicians incorporate Journal Club findings into practice. The quantitative component will include a short demographic survey and an activity diary to record the occasions that clinicians had to search for best evidence, the actions undertaken to source relevant evidence for decision making, and outcomes relevant to indicators of effectiveness, efficiency, timeliness, safety, patient-centeredness, and equity. The qualitative component will use semi-structured interviews to explore how the skills and knowledge gained through Journal Club participation are enacted in practice, interpreted through a framework of adult learning theory.
If you are interested in participating in the iCAHE Journal Club or have any questions about the evaluation, you are most welcome to contact Dr Janine Dizon (Janine.dizon@unisa.edu.au) for further information.
Resources for You
Outcomes Calculator Update
The iCAHE outcomes calculator continues to be a great success, being used by over 2000 clinicians in Australia. We have recently updated the format to allow it to be used by newer computer software platforms and are currently updating the content. We have are currently exploring interest from an interstate software developer to modify the Outcomes Calculator format for use in tablets and mobile devices as an App. We have recently completed a review of the musculoskeletal outcome measures which will inform the new development of the calculator. This calculator is an excellent resource for students and researchers undertaking clinical research as it presents a collection of outcome measures with their psychometric properties. The paper copy of the calculator can be accessed at http://www.unisa.edu.au/ Research/Sansom-Institute-for-Health-Research/Research/Allied-Health-Evidence/ Resources/OC/
iCAHE Website
Keep an eye out in 2018 as the iCAHE Website undergoes slow developmental changes! In the past few months there have been a few staff changes at iCAHE, which has been reflected by changes to our website. Other minor updates have also been made. You can see these changes on the website homepage which can be accessed here: http://www.unisa.edu.au/Research/Sansom-Institute-for-Health-Research/Research/Allied-Health-Evidence/
We will be updating many iCAHE resources in the coming year including:
The Learning Hub: The iCAHE learning hub is the starting point for a range of self-directed, open access learning resources aimed to introduce the allied health clinician to, or expand their knowledge of, evidence-based practice (EBP). This section of the iCAHE website provides tutorials, podcasts, examples and booklets that the practitioner can work through at their own pace and in a manner best suited to their learning style.
iCAHE Journal Club Critical Appraisal Library: As part of the Journal Clubs that are run at iCAHE, a large volume of Critical Appraisal Summaries (CA Summaries) of published literature are created. These are useful resources to all stakeholders and as such we provide a library of all summaries. For each summary, iCAHE provides the citation details and methodological quality of the study identified to address the clinical question developed by the journal club
Critical Appraisal Tools: Critical appraisal is an integral process in Evidence Based Practice. Critical appraisal aims to identify methodological flaws in the literature and provide consumers of research evidence the opportunity to make informed decisions about the quality of research evidence. iCAHE has collated a list of critical appraisal tools, linked to the websites where they were developed which will be updated as new critical appraisal tools are published.
Glossary of terms: Stakeholders in health care are often confronted with many terms in evidence based practice (EBP). Recognising there is a need to provide clarity for these commonly used terms iCAHE is please to present two glossaries. The first glossary provides an overview of commonly used terms in Evidence Based Practice. The second glossary takes a specialised approach to Knowledge Translation. These will be regularly updated as to provide a dynamic resources for all Allied Health stakeholders.
Research Hub: The iCAHE Research Hub exists to foster a collaborative and supportive environment for researchers, clinicians and others interested in the various methodologies that may be employed in health research. The aim is to enhance opportunities for individuals and groups who are interested in research through the provision of educational resources and support in the various evidence-based methodologies available.
The core of these resources would remain the same, with newer content and external links.
iCAHE is now on Twitter!
iCAHE has officially joined the 'twittersphere'! You can find us @iCAHEUniSA or tweet us at this handle. We will be updating our followers on all the changes and updates within iCAHE, our research outputs, and any research output which catches our interest!
Follow us today for regular updates on iCAHE's work.
What's New in iCAHE
Off to India!
iCAHE researcher Matt Ransom went to Mumbai, India in November this year, completing a placement to fulfil the requirements of his Masters of Sports Physiotherapy. Matt had this to say about his trip:
"Mumbai is truly unique. Not once have I been to a city which has left such a big impression. While it's not somewhere I would've expected myself to travel, I found myself pleasantly surprised. The trip allowed me to experience the unique sports of rifle and pistol shooting while visiting the Mumbai Rifle Association. I was able to be involved in player assessments and treatment of a variety of athletes including track and field, badminton, cricket, kabaddi and water polo players. Although in complete contrast to the sports in which I usually work, I was able to gain lots of valuable knowledge and information that can be applied on my return."
While in India Matt had the opportunity to meet with many interesting people! Some of his key interactions included:
Nikhil Latey, Physiotherapist and Sports Scientist: session on practical sports science equipment and concepts including Vo2Max testing.
John Gloster, Australian Sports Physiotherapist of 24 years' experience who has worked extensively with international cricket, most notably as a physiotherapist to the Indian Cricket Team and Bangladesh National Team - Interactive sessions: Thinking outside the box for athlete assessment, diagnosis and management. The role of diet in athlete management.
Aditya Daftary, Radiologist: Rare insights into the profession of Radiology. MRI and X-ray analysis and report writing.
Amongh Pandit, Head of strength and conditioning at the Mumbai Cricket Academy: Interactive session: Strength and conditioning component within cricket.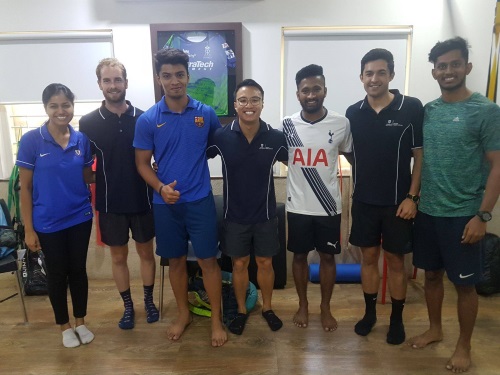 (From left to right: Anuja Dalvi, Daniel Sheehy, Preet Surve, Cuong Pham, Kshitij Bhoite, Matt, and Gaurang Ambre)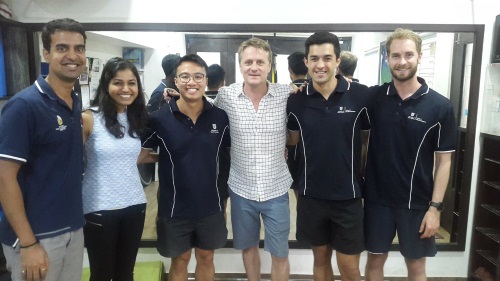 (From left to right: Niranjan Pandit, Anuja Dalvi, Cuong Pham, John Gloster, Matt, Daniel Sheehy)
Two weeks after Matt returned, iCAHE Director Steve Milanese left for New Delhi as the invited keynote speaker at the International Conference of Physical Therapy in the All India Institute of Medical Science (AIIMS) in New Delhi, India in December 2017.
Of the trip, Steve said
"I was fortunate to have been invited as keynote speaker to the International conference of Physical Therapy in the All India Institute of Medical Science (AIIMS) in New Delhi, India in December 2017. I presented a two day preconference manual therapy workshop and presented a lecture on tendon recovery post-exercise. This was a major conference with 900 delegates and held at one of the most prestigious medical centres in India. This is my 6th visit to India and this country will be a focus of iCAHE activities in 2018 as it is an exciting fertile ground for allied health research. We are exploring a formal relationship with Sri Ramachandra Medical College and Research institute in Chennai through the great work of one of iCAHEs most valued colleagues, Professor Narasimman Swaminathan, and have commenced collaborative research work with therapists in AIIMS, which is an exciting opportunity."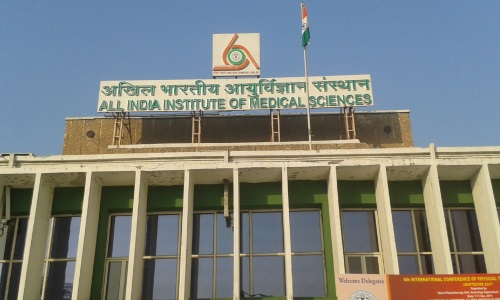 (All India Institute of Medical Science Building)
Congratulations, iCAHE Graduates!
Congratulations to Honours Students:
Jake Monaco, supervised by Dr Kobie Boshoff and Dr Jocelyn Kernott, on his project "A Process Evaluation of the Responsive Relationships Training Program for Early Childhood Educators in South Australian Children's Centres"
Holly Bowen, supervised by Dr Kobie Boshoff and Dr Jocelyn Kernott, on her project "Evaluation of the Learning Outcomes for Early Childhood Educators from the Responsive Relationships Program: A Pilot Study"
Stephen Jones, supervised by A/Prof Steve Milanese, Dr Joel Fuller, and Dr Sam Chalmers, on his project "Combining physical performance and Functional Movement Screen testing to identify elite junior Australian Football athletes at risk of injury: A secondary data analysis"
All three iCAHE honours students completed their honours degree this year with a H1 Honours.
Special congratulations to iCAHE staff members Matt Ransom and Tamara Agnew on their recent scholastic achievements! Matt has now fulfilled the requirements of his Masters in Sports Physiotherapy, and Tamara has completed, and conferred, her PhD! Congratulations Dr Agnew and Mr Ransom!
From all of us here at iCAHE, have a fantastic holiday and we'll see you all in the new year!