Summer 2016
From the Director
iCAHE has come to the end of a long year in which lots has been learnt. In the methods unit, we farewelled longstanding staffers Julie Luker, Jeric Uy and Kate Kennedy who have gone on to better things, and we welcomed Heath Pillen, Holly Bowen, Dr Janine Dizon and Emily Menesdorff. Maura McInerney provides editing assistance as required, and biostatistician Alvin Atlas is now a PhD student on an industry scholarship. In addition to the new staffers, the methods team includes Dr Ashley Fulton who received her PhD in October, and Dr Asterie Twizeyemariya (health economist). Dr Michelle Guerin and Olivia Hill oversaw another vibrant year of 34 iCAHE Journal Clubs. The methods team tackled some challenging literature reviews for industry and government, in the sense of questions that were not clear-cut, with large and often diffuse bodies of literature needing to be identified, sorted through and summarised. The team has become particularly well acquainted with Rapid Reviews, their intricacies and appropriate costings. Dr Janine Dizon joined the iCAHE team to establish its training arm. Under Janine's guidance iCAHE will be offering accredited training in 2017 for clinicians, policy-makers, managers and consumers, in 'bite-sized' chunks initially for continuing professional development (with or without assessment), but which can be linked together into a University-recognised professional certificate, if the assessments are completed to the course requirements. iCAHE will also offer the Professional Certificate in Health Consumer Engagement in April 2017, building on its successful pilot in 2015. Please send any enquiries about any of the training programs to iCAHE@unisa.edu.au, or directly to Janine at Janine.dizon@unisa.edu.au. More information in the next newsletter on the training courses, so watch this space in 2017!!
Janine Dizon and other researchers in iCAHE, the Philippines and South Africa have been working on new principles in clinical guideline writing, by exploring the notion of adoption of clinical practice guidelines from elsewhere for efficiency (rather than writing them yourself), and contextualising or adapting the recommendations to suit local needs. The iCAHE methods team is also exploring practical ways to write clinical practice guidelines for multimorbid conditions. There is scant methodological information on how to do this, despite multiple chronic diseases being suffered by 4 in 5 people who have one chronic disease.
We would like to thank all our colleagues who share our passion for high-quality research that can be translated into effective practice. We particularly thank the Allied and Scientific Health Office (ASHO), Dept of Health SA, which has supported us so strongly for so many years in our work to put best evidence into clinical practice and policy decisions. We wish all friends of iCAHE a happy and safe Christmas and New Year break, and we look forward to 2017 when we will be promoting the message on every front that 'Allied Health is Good Health'.
iCAHE Visitors
iCAHE holds connections with researchers and clinicians all over the world. Through the months of November and December, iCAHE was honoured to host a range of international and interstate guests, collaborators, and friends who shared their recent research achievements, and opened discussions for future projects.
Dr. Okwen Patrick Mbah
Dr. Okwen Patrick Mbah is a medical doctor from Cameroon, Africa, who came to Australia as part of the JBI International conference in November and visited with iCAHE for a week. He has a keen interest in developing contextualised clinical guidelines, especially focusing on non-communicable diseases such as hypertension, and the applications of evidence-based practice.
iCAHE will be working closely with Dr. Okwen over the coming months to provide assistance with research skills and training for his team. There will also be a partnership on several projects including the HIV prevention training program, the production of clinical guidelines for hypertension within the context of African people, and a systematic review on the optimal timing of Hepatitis B injections for young children.
To read more about Dr Okwen Patrick Mbah please click here to see our researcher in the spotlight feature below!
Ms. Sue Huckson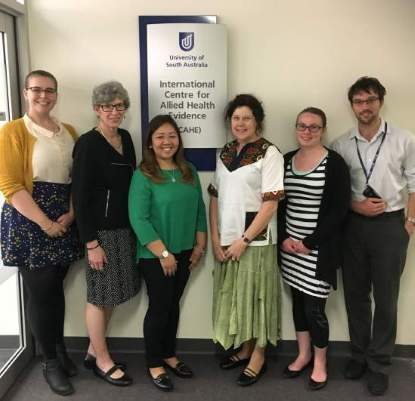 Ms. Huckson initially trained as an intensive care nurse in Victoria, Australia, before moving into the implementation of guidelines and knowledge translation when she joined the National Institute of Clinical Studies in Australia. She focuses on developing strategic and innovative approaches to support the uptake of evidence in complex health environments. Ms. Huckson is a valuable asset to the world of evidence-based practice, and has been involved with multiple national and international agencies which generate and oversee guideline produce. Ms. Huckson was the Director for Effective Practice with the National Health and Medical Research Council, led the National Organ Donation Collaborative to improve rates of organ donation, and recently took a position with the Australian and New Zealand Intensive Care Society (ANZICS) to oversee their clinical registries.
Ms. Huckson is currently the Vice Chair of the Guidelines International Network (G-I-N) and has been a friend to iCAHE for many years. In November, she visited iCAHE for the day, where she presented about what G-I-N was involved in, how iCAHE members could utilize and contribute to G-I-N resources, and opportunities for collaborations of expertise.
iCAHE hopes to work more closely with Ms. Huckson and G-I-N in relation to guideline contextualisation and developing strategies to further engage with lower income countries.
Above Photo: Some of the iCAHE team with Sue (second from left).
Dr. Yolandi Brink
Dr Yolandi Brink obtained her PhD in Physiotherapy from Stellenbosch University (2012) University investigating whether sitting postural angles are predictive of upper quadrant musculoskeletal pain in computing South African high school students where the postural angles were captured with a portable 3D motion system. Dr Brink obtained an NRF Scarce Skills Research Fellowship to conduct postdoctoral studies for two years and was appointed as lecturer in 2013 in the Physiotherapy Division of Stellenbosch University. She has a keen interest in applied human biomechanics and the interpretation thereof in clinical settings. Her research interests are adolescent spinal health focusing on sitting posture and the postural stability and motor control of children diagnosed with Foetal Alcohol Spectrum Disorders. Both areas involve the biomechanics of static posture and/or dynamic movement. Research investigating the underlying biomechanics of postures and human movement of children and adolescents contributes to the body of knowledge and enables future projects to evaluate strategies to improve neuromusculoskeletal health and functional ability in these populations. She has published eleven papers in accredited journals the last eight years of which she is the first author. In 2015 Dr Brink was awarded NRF Y rating.
Currently, she is visiting iCAHE to work in collaboration with Prof Karen Grimmer in the continuation of her work into categorising adolescent posture.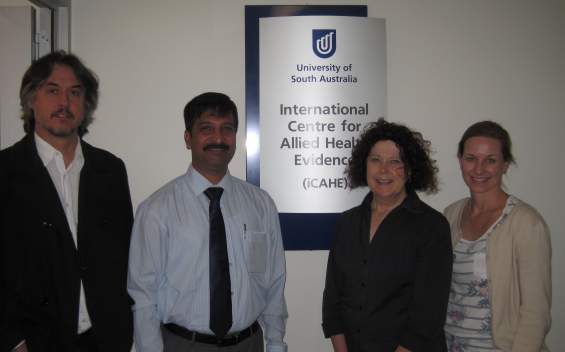 Photo L to R: Dr. Steve Milanese, Prof. Narasimman Swaminathan, Prof. Karen Grimmer, Dr. Yolandi Brink.
Prof. Narasimman Swaminathan
Mr Narasimman Swaminathan, Deputy Dean, Health Sciences, INTI University, Malaysia, visited UniSA during the week of 21st Nov 2016. Narasimman has been a long-term collaborator with Dr Steve Milanese and Prof Karen Grimmer from iCAHE, and was based in iCAHE whilst he was visiting UniSA. During his visit Narasimman met with Prof Bob Vink, Dr Shylie Mackintosh and members of the International Office. He also worked with Dr Steve Milanese, and Prof Sue Gordon (South Australian Chair of Restorative Care, Flinders University) to complete two publications. He had discussions with Dr Janine Dizon, training arm lead, iCAHE, regarding training opportunities for allied health clinicians, educators, researchers and policy-makers in Asia, in evidence-based practice principles, and in particular, clinical practice guideline writing and implementation.
Project Update
iCAHE Journal Club 2016 Update
The iCAHE-facilitated Journal Clubs (JCs) approach started approximately 10 years ago. It has been the subject of one student PhD and 11 peer-reviewed publications. iCAHE-facilitated JCs have been conducted in hospitals/healthcare centres in South Australia under the auspices of the ASHO office, Dept of Health. The JCs approach offers South Australian Allied Health (AH) professionals a unique opportunity for CPD by updating knowledge in clinician chosen-areas of practice, and through clinician-directed questions. iCAHE-facilitated Journal Clubs (JCs) is a way of engaging South Australian Department of Health Allied Health (AH) professionals in continuing professional development (CPD).
In 2016, iCAHE staff supported 34 different journal clubs around South Australia, generating more than 200 inquiries from AH personnel about papers for JC meetings. Currently we are undertaking an economic review to show the huge benefits to hosting a Journal Club.
Some examples of questions posed by allied health staff from around the state for their JC meetings are:
Speech pathology
1. The team would like to investigate; evidence for differential diagnosis between Children with Language Disorder versus Autism Spectrum Disorder.
P: Preschool children with impaired language and social skills
I: Differential Diagnosis of Language Disorders vs Autism Spectrum Disorder
C: Diagnostic tools
O: Evidence for accurate differential diagnosis
2. The team has chosen "Global Developmental Delay" for our next Journal Club topic. Specifically we would like to look at how it is diagnosed considering other factors (such as trauma and neglect).
P: Young children with significant developmental delays
I: Assessment and diagnosis of "Global Developmental Delay" (GDD)
C: Other causes of childhood developmental delays such as trauma and neglect, significant language delay etc.
O: Understanding cause and diagnosis of significant developmental delay in young children
Physiotherapy
1. We are looking to present a proposal to a group of oncologists in a few weeks to gain their support for an exercise class/group for patients about to undergo or are undergoing chemotherapy.
Our main question is about :
P: cancer patients who are about to undergo or are currently undergoing chemotherapy for any type of cancer (colon, breast, prostate and lung are most prolific in the literature).
I: a supervised exercise program (can be aerobic, resistance at any intensity) run for less than 6 months.
C: usual care (which is usually advice to maintain 150min of physical activity a week)
O: primary: Fatigue, pain, quality of life (any patient reported outcomes) and secondary: blood biomarkers, adjustment rates of chemo treatment, return to work, survival
2. Our team is interest in the benefits of whole body vibration in balance and falls prevention to older adults living in the community?
P: older community-dwelling adults
I: whole body vibration
C: no vibration
O: falls risk
Occupational Therapy
1. As acute OTs, we are often asked by the medical team to help them with assessing mental capacity of patients, especially for those who are recommended to have 24/7 care on discharge but do not understand or acknowledge their safety risk. The OT Department would like to know the evidence regarding evidenced based cognitive assessments to assist with determining capacity in the acute setting. What assessments do OT's use when contributing to the assessment of mental capacity in a hospital setting?
P: patients in hospitals
I: mental capacity assessments
C: Assessments completed by the Medical team
O: Assessments completed by Occupational Therapists
2. Disciplines in acute settings often find the time management a pressure because of the discharge time frame. Disciplines want to see patients ASAP and recommend any possible discharge avenues or plans based on own clinical reasoning. However sometimes disciplines may have conflicts among them due to differentiation in clinic reasoning, experience, roles and sometimes cultural background.
What are the common types of conflicts among clinical disciplines in acute settings, in comparison with sub-acute settings and what are the effective strategies in place?
P: Types of conflicts among clinical staff (allied health, medical officers, nurses) in acute settings (hospitals)
I: Address conflicts
C: sub-acute settings
O: effective strategies
Podiatry
1. Based on our current client-base and those we find most 'challenging' to treat, over the next 6 months we would like to focus on the following topics:
• Plantar Rheumatoid Nodule Ulceration- healing potential, surgical management
• Charcot Neuro-Arthropathy (Charcot) foot management, types
• Type 2 Diabetic ulcer management- including dressing choices
Dietetics
1. Our team is interested in identifying literature on the energy and protein requirements for patients post fractured neck of femur (NOF).
P: Elderly patients post-fractured NOF (<10 days post)
I: Measuring of energy expenditure and/or protein requirements
C: NA
O: Whether energy/protein requirements are elevated in the acute phase post fractured NOF
2. Again, we are looking at another tricky question that doesn't quite fit in the PICO format! A recent study has come out from NEMO stating that the healthy weight range for older adults is BMI of 24-31 (currently we use BMI 22-27). Here is an excerpt from the paper: "Recent meta-analysis of 32 cohort studies4 (level II and III, n=197940) of community-dwelling elderly people aged ≥65 years found a U-shaped association between all-cause mortality, with mortality risk lowest at BMI 24 – 31 kg/m2. This relationship remained when adjusting for smoking status, early death, pre-existing disease and geographical location. Therefore, in practice, it may be appropriate to adjust BMI classifications for people aged ≥ 65 years to:
∙ Underweight <23 kg/m2
∙ Healthy weight 24-30 kg/m2
∙ Overweight >30 kg/m2
REF: Winter JE et al. (2014) "BMI and all-cause mortality in older adults: a meta-analysis." Am JOURNAL CLUBlin Nutr,
We are looking to refine this a bit more – in particular, we focus on acutely unwell/hospitalised adults >65 years of age. They often have multiple medical co-morbidities. We are also searching for more evidence to support the above conclusions.
Audiology
1. Our question for this month's Journal Club is: How can (is) the amplitude (height) of ABR (Auditory Brainstem Response, Evoked Potential testing) testing (assessment) be used in diagnosing (related to) hearing (hearing loss, hearing status).
2. The topic that we would like to discuss is the interpretation of "double-peaked tympanograms" or "tympanometry results that have two peaks".
Have you read these examples and suddenly feel inspired to be a part of a Journal Club? Click here for more information on how you can bring iCAHE JC to your team.
Resources for You
Outcomes Calculator Update
The iCAHE Outcomes Calculator has been under renovation for some months, and apologies to those people who have been waiting for its re-emergence. New Windows platforms, and instability in past coding have meant a substantial rebuild which has taken longer than expected. iCAHE has found a local software expert who has patiently unpicked the calculator coding and should have the first of the renovated sets of outcome measures available by the new year. Again, watch the iCAHE website and next newsletter for details.
Actions in Allied Health
iCAHE 'Evidence Informed Practice' Conference
iCAHE is hosting it's first conference and Masterclass which will be focused on Evidence Informed Practice, and Guideline Contextualisation.

Click here for more details and to register
ANZAHPE 2017 - Australian & New Zealand Association for Health Professional Educators 2017 Conference
The Meeting will be held at the Adelaide Convention Centre located centrally in the city of Adelaide, overlooking the River Torrens and adjacent to the South Australian Health and Biomedical Precinct, the largest health precinct in the southern hemisphere. The precinct is the location of the new Royal Adelaide Hospital, South Australian Health and Medical Research Institute, University of Adelaide Health and Medical Sciences Building and University of South Australia Interprofessional Health Clinic.
The Conference's mixture of international and local speakers, in-depth educational offerings, and important delegate opportunities for contribution and discussion, make it a "must attend" event for all in the Health Professional Educator's community.
Click here for more information
Conference Reflections (2016 GIN Conference)
Guidelines International Network (GIN) Conference 2016 Report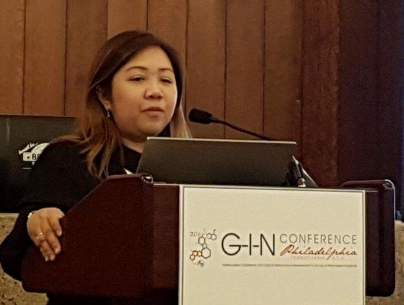 Professor Karen Grimmer and Dr Janine Dizon presented at the Guidelines International Network (GIN) 2016 Conference held last September 27-30, 2016 at the University of Pennsylvania, Philadelphia, USA. Karen's presentation was on 'Contextualization and Implementation of Clinical Practice Guidelines (CPGs) for Stroke Rehabilitation in a Developing Country' and Janine's presentation was on 'Review of Teaching Strategies and Existing CPG Courses for Effective Training in CPG Development Approaches' from the South African Guidelines Excellence (SAGE) Project. Karen and Janine also presented a poster on behalf of colleagues from the Philippines, Prof Consuelo Suarez and Dr Carolina Valdecanas, on 'Findings from the implementation of the (CPGs) for Stroke Rehabilitation in the Philippines' from the Philippine Academy of Rehabilitation Medicine (PARM) group. A lot of interest has been raised on the guideline methods that Karen and Janine presented and thus more opportunities in improving CPG development approaches and implementation, particularly in areas/settings where there are limited capacity and resources, were identified.
At the GIN conference, Karen and Janine also attended and presented in meetings of GIN committee groups (GIN Australia and New Zealand, GIN Asia, GIN Lower Middle Income Country (LMIC) and GIN Africa, GIN Adaptation and GIN Multi-morbid) where opportunities to improve guideline development, implementation and training in these areas were the focus. http://www.g-i-n.net/regional-communities/gin-asia/news-and-updates.
Dr Janine Dizon
Publications
Hoppenbrouwers G., Stewart H., Kernot J. 2016. Determining the content validity, inter-rater reliability and usability of the Novita Switch Record Form. IOS Press Content Library. Volume 28. No 1,2, pp.1-11, 2016
Fryer C., Luker J., McDonnell M., Hillier S. 2016. Self-management programmes for quality of life in people with stroke (Review). Cochrane Library. 2016 Aug 22;(8):CD010442. doi: 10.1002/14651858.CD010442.pub2.
Dizon M., Machingaidze S., Grimmer K. 2016. To adopt, to adapt, or to contextualise: The big question in clinical practice guideline development. BMC Research Notes. 2016 Sep 13;9(1):442. doi: 10.1186/s13104-016-2244-7.
Van Niekere S., Louw Q., Grimmer K. 2016. Does a prototype "Experimental" chair facilitate more postural changes in computing adolescents compared to a normal school chair? IOS Press. Work. 2016 Sep 27;55(1):63-75.
Incerti S., Douglass M., Penfold S., Guatelli S., Bezak E. 2016. Review of Geant4-DNA applications for micro and nanoscale simulations. Physica Medica. October 2016Volume 32, Issue 10, Pages 1187–1200
AL Darwish R . Staudacher A., Li Y., Brown M., Bezak E. 2016. Development of a transmission alpha particle dosimetry technique using A549 cells and a Ra-223 source for targeted alpha therapy. Medical Physics. 43, 6145 (2016);
Serrada I., McDonnell M, Hillier S. 2016. What is current practice for upper limb rehabilitation in the acute hospital setting following stroke? A systematic Review. Journal of Health Services Research & Policy. 2016 Jul 15;39(3):431-8.
Hillier S., McDonnell M. Is vestibular rehabilitation effective in improving dizziness and function after unilateral peripheral vestibular hypofunction? An abridged version of a Cochrane Review. 2016 Aug;52(4):541-56. Epub 2016 Jul 12.
Fraysse F., Milanese S., Thewlis D. 2016. Practices and risks associated with operation of tie-down lashing in the vehicle transport industry. Ergonomics. Volume 59, 2016 – Issue 12.
Lizarondo L., Turnbull C., Kroon R., Grimmer K., Bell A., Kumar S., McEvoy M., Milanese S., Russell M., Sheppard L., Walters J., Wiles L. 2016. Allied Health: Integral to transforming health. Allied Health Review. Volume 40. Issue 2 2016. Pages 194-204
Stanhope J., Milanese S., 2016. The prevalence and incidence of musculoskeletal symptoms experienced by flautists. Occupational Medicine. Volume 66 Issue 2. 1 March 2016. Pages 156-163.
Mine, K., Nakayama T., Milanese S., Grimmer K. 2016. Acute effects of stretching on maximal muscle strength and functional performance: A systematic review of Japanese-language randomised controlled trials. Manual Therapy. Volume 21. February 2016. Pages 54-62
Mine K., Nakayama T., Milanese S., Grimmer K. 2106. Effectiveness of Stretching on Posterior Shoulder Tightness and Glenohumeral Internal Rotation Deficit: A Systematic Review of Randomised Controlled Trials. Journal of Sport Rehabilitation. August 24. 1-28. (Epub ahead of print).
Bernhardsson S., Lynch E., Dizon J., Fernandes J., Gonzalez-Suarez C., Lizarondo L., Luker J., Wiles L., Grimmer K. 2016. Advancing Evidence-Based Practice in Physical Therapy Settings: International Perspectives on Implementation Strategies and Interventions. Physical Therapy. DOI: 10.2522/ptj.20160141 Published August 11, 2016
Charlton K., Murray C.M., Kumar S. Getting help quickly: older people and community workers perspectives of contingency planning for falls management. Disability and Rehabilitation. 2016 Nov 10:1-9. [Epub ahead of print]
Machingaidze S., Zani B., Abrams A., Durao S., Louw Q., Kredo T., Grimmer K., Young T. 2016. Quality and Reporting Standards of South African Primary Care Clinical practice Guidelines. Journal of Clinical Epidemiology
BOOK CHAPTER:
Active and Assisted Living: Technologies and Applications. Chapter 9. Data Analytics for enabling connected health. Naguleswaran S., Wall K., Grimmer K.
Research Spotlight
Researcher in focus: Dr Okwen Patrick Mbah
In recent years, Dr. Okwen has been particularly focused on understanding and investigating the sources of health problems within his community in Cameroon, and determining solutions to these problems. Despite minimal funding opportunities, Dr. Okwen and his team have produced several life-saving programs to combat common health problems in Africa. Dr. Okwen was recently awarded the prestigious Aubrey Sheiham Leadership Award for Evidence-Based Healthcare in Africa, which is a pan-Africa award, supported by Cochrane South Africa and the World Health Organization.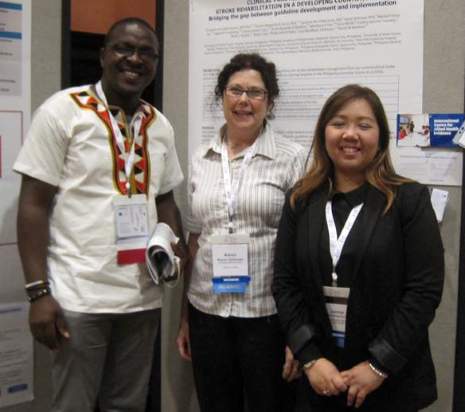 Dr. Okwen has been involved in a large study regarding HIV perceptions among youth in Cameroon, and a training program with the aim to reduce HIV occurrence, stigmatization, and perceptions in Cameroonian adolescents. This program connected playing cricket with HIV prevention education, linking key elements of the game to the important things to remember when considering HIV prevention in schools in Cameroon, examining the change in student intention and knowledge before and after the program. Dr. Okwen has partnered with iCAHE for the analysis and interpretation of this data.
Direct clinical outcomes are particularly important in Cameroon, and Dr. Okwen's understanding of this is shown through his recent projects. In response to community needs, an SMS ambulance program for expecting mothers was developed, known as Project Tsamounde, meaning 'hope' in the local Fufuldé language. This program directs emergency medical care to where a distressed expectant mother is via google maps, and requires only a text message to a pre-set number, allowing for faster medical response times and potentially saving the lives of both the mother and the child.
"Many women are dying from child-birth related issues. Women are dying while giving life. And this is something we are really concerned about, but we also know that with the coming of mobile technology, there is hope for women in Africa," Dr. Okwen says, "Most of the women in Africa today have access to a telephone. It could be her own, her husband's own, or a neighbour's. So if we had a way in which women could reach an ambulance using a phone that would guide the ambulance, it could indeed present hope for African women."
This project was sponsored by the United Nations Population Fund (UNFPA) to improve health outcomes in northern Cameroon and the service had been utilized over 400 times since its introduction in late 2015. While the project was placed on hold due to terrorist activity in the area where the project was hosted, Dr. Okwen and his team intend on expanding this project into southern Cameroon in the future.
Out and about
Prof Karen Grimmer conducts lecture at Appalachian State University
Prof Karen Grimmer delivered a lecture on ' Evidence-Based Health Care: A Global Perspective' last October 4, 2016 at the Beaver College of Health Sciences and the Department of Nutrition and Health Care Management, Appalachian State University.
Karen talked about her work and experiences in the area of health quality and service delivery issues in different settings (developed and developing countries).
https://healthsciences.appstate.edu/news/dr-karen-grimmer-presents-evidence-based-health-care-global-perspective
Dr Dizon holds meeting with Prof Irwin Epstein from Hunter College
Dr Janine Dizon had a meeting with Prof Irwin Epstein, Professor of Social Work at Hunter College in New York to discuss opportunities for training and research in the field of Social Work. Prof Irwin will be involved in the contextualisation work of iCAHE particularly in understanding context through data mining.
Janine on behalf of PARM group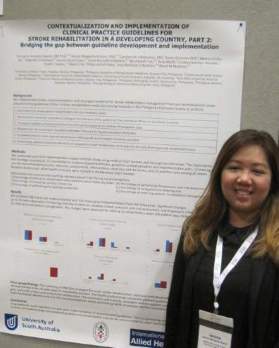 Steve Milanese at iNTI University, Kuala Lumpur, Malaysia
Steve Milanese was invited again to present a two-day workshop on manual therapy of the peripheral joints at iNTI University, Kuala Lumpur, Malaysia over the weekend of 22nd and 23rd of October. The workshop, based on the Maitland approach to the assessment and management of peripheral joint problems, was attended by over 30 participants including lecturers from other universities in Kuala Lumpur and local clinicians. This workshop was well received and included many participants who attended the workshop on manual therapy of the spinal joints Steve ran at iNTI University in 2016. These workshops aim to promote UniSA's role as a key international manual therapy training institution.
Dr Steve Milanese (centre) and Prof. Narasimman Swaminathan to his left.