European Union Research Funding Information Session
March 08 2019
European Union Research Funding Information Session
In this seminar European Union Adviser on Research, Innovation, Technology, Science and Education at the Delegation of the European Union to Australia, Mr Jonas Rüpp, will summarise the EU funding schemes that are available to researchers and educators at the University of South Australia.
The EU administers research and education funding programmes to support activities not just within Europe, but across the globe. Of particular note is the Horizon 2020 scheme, which is fully open to international participation in all fields and areas. In this seminar, Mr Rüpp will outline the policy rationale, structure and key thematic areas of the Horizon 2020 Programme. The presentation will sketch the specific requirements and steps for Australian applications to be correctly made under the scheme. Other EU funding programmes that Mr Rüpp will discuss include the Erasmus+ Jean Monnet programme, the Marie Skłodowska-Curie Actions and European Research Council Grants. Additionally, Mr Rüpp will look forward to future shifts in EU research funding, notably the next multi-annual financial framework package as it currently stands, Horizon Europe, identifying the opportunities that lay ahead for Australian based researchers and educators.
Mr Jonas Rüpp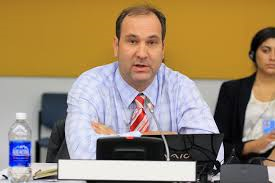 Jonas Rupp is the Science, Research, Innovation, Technology and Education Advisor at the European Union Delegation to Australia. He has degrees in science and law: BAppSc, LLB, MSc.
Over the last 20 years he has worked in government for Australia, New Zealand and Canada; and more recently the 28 Member-States of the European Union in the European Union Delegation's DG-RTD desk in Australia. He also worked in Washington DC, to create a $1.5 billion World Bank-GEF-FAO-UNEP-RFMOs-NGO-Industry "Global Partnership for Oceans to invest in effective management for sustainable fisheries, healthy ocean ecosystems, food and livelihood security" as a mechanism for achieving the SDGs following Rio+20.
In his role he promotes 'Science Diplomacy' – pointing to the benefits for all in developing fundamental understanding through natural, social, and formal sciences, and further translating through pure, inter-disciplinary, and applied approaches, science to addressing issues of common concern. Investing in science is supporting not only the economy (i.e. jobs, industry, growth), but also human development across all dimensions.
Science promotes peace and resilience and is part of a collective responsibility of the EU and all States to individuals and global partners – and the European Union's Horizon 2020 Framework Program for Research and Innovation is investing €80 billion into programs supporting open innovation, open science, and is open to the world.
Details
Date: Tuesday 9 April 2019
Time: 1.30pm to 3.00pm
Location: C1-60, C Building, UniSA Magill Campus