'AI, Digital Skills and Polish Industrial Transformation' Workshop
April 13 2019
---
Details
Date: 7 may 2019
Location: Digital Knowledge Village, Pulawska 457, 02--844 Warszawa, Poland
---
Summary of the Workshop
On the 7th of May 2019 a workshop was held in Poland as part of the Digital Technologies, Transformations and Skills: Robotics and EU Perceptions Jean Monnet Project (D3REU) being administered by the University of South Australia. The workshop focused on the grand societal challenge facing the EU and other parts of the world in terms of how to respond to the current rise of the robotics revolution. What recalibrations are needed to our understanding of digital skills in order to both promote economic growth, as well as ensure social cohesion is maintained? The 'AI, Digital Skills and Polish Industrial Transformation' Workshop identified the new digital skills required for employment and social participation, which are vital to realising the promises, and offsetting the risks, of robotics and AI.
The workshop undertook this investigation in Poland, a European leader with respect of supporting efforts to develop digital skills to meet the needs of the labour market as well as digital participation in public life. Poland was the first Member State to establish a Broad Agreement for Digital Skills, and has given rise to pioneering programmes such as the civil society–corporate partnerships DigComping and Code Masters, designed to develop and validate the digital competences of Polish teachers, students, workers and citizens. Behind these initiatives is a commitment to invest heavily in robotics and AI to facilitate local and regional economic and civic development and modernisation, while averting the massive dislocations of the recent past.
The Warsaw workshop brought together local, regional, national, European and Australasian academics, along with regional industry stakeholders and local authorities. The workshop featured keynote presentations as well as invited presentations along with industry panels and guided open forums.
---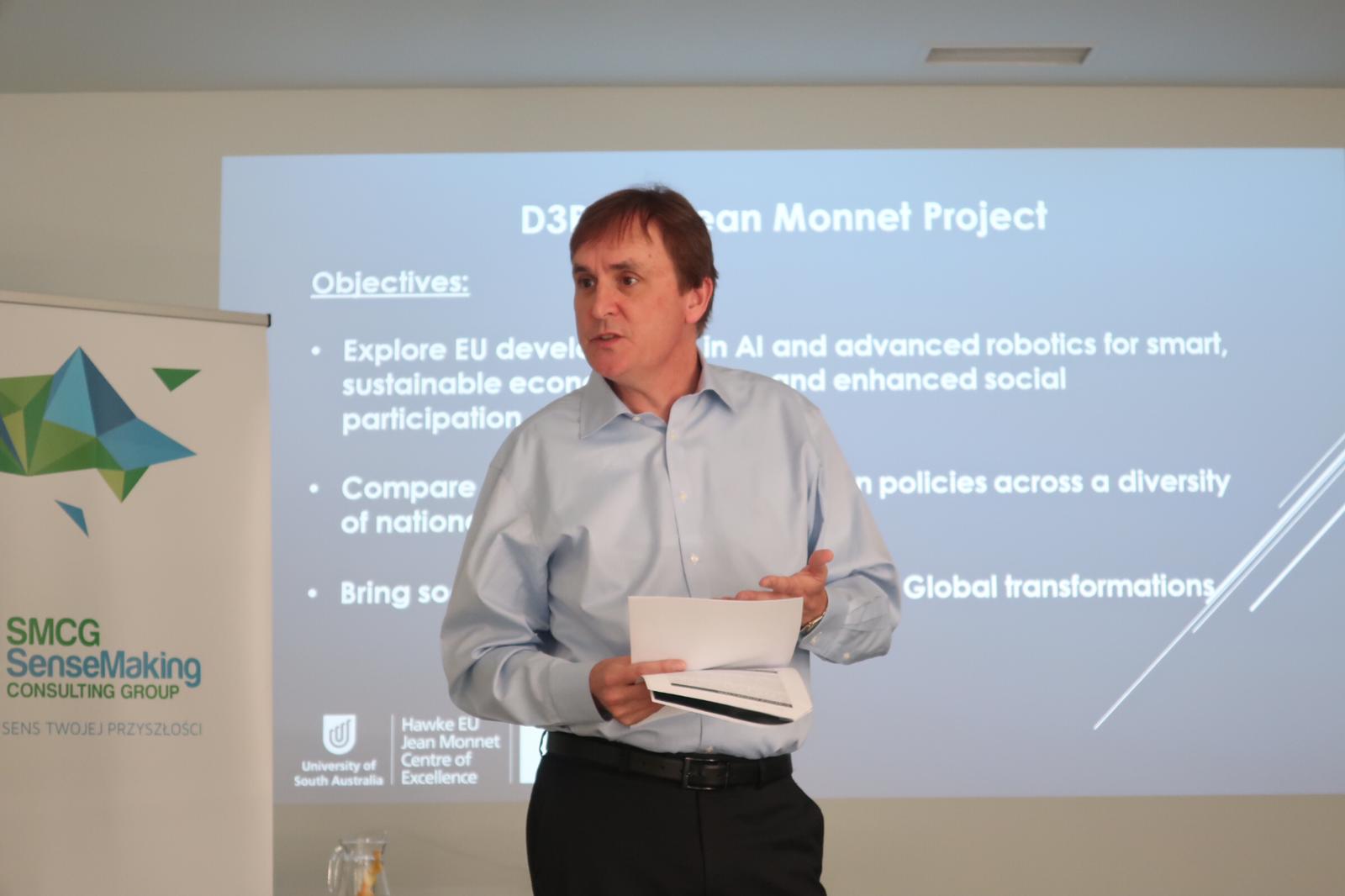 ---
Programme
TUESDAY 7 MAY 2019 - Digital Knowledge Village, Pulawska 457, 02-844 Warszawa
9.00 – 9.30 REGISTRATION
This part of the workshop is dedicated to networking and getting to know each other better.
9.30 – 9.35 WELCOME TO THE WORKSHOP
Prof. Roman Batko
9.35 – 10.05 INTRODUCTION TO THE DIGITAL TECHNOLOGIES, TRANSFORMATIONS AND SKILLS: ROBOTICS AND EU PERCEPTIONS (D3REU) PROJECT
Prof. Anthony Elliott
10.05 – 10.50 PRESENTATION BY PROF. MICHAEL INNES
"Artificial intelligence and psychology as science and profession: A tale in three parts"
10.50 – 11.10 GROUP DISCUSSION
11.10 – 11.25 COFFEE-TEA-BREAK
11.25 – 11.55 PRESENTATION BY PROF. EWA LECHMAN
"Fifth Technological Wave and Cutting-Edge Technologies
– towards structural shifts?"
11.55 – 12.25 PRESENTATION BY PROF. ROMAN BATKO
"Managing a digital-ready workplace – what does it mean in Polish glocal context?"
12.25 – 12.45 GROUP DISCUSSION
12.45 – 13.05 PRESENTATION BY KATARZYNA BALIGA-NICHOLSON
"Strategic forgetting – how much do we need to unlearn to successfully embrace AI?"
13.05 – 13.55 LUNCH
13.55 – 14.40 PRESENTATION BY PROF. MICHAŁ WSZOŁA FOLLOWED BY Q&A
"Bioprinting of bionic pancreas - possible social and economic impact of its implementation"
14.40 – 15.25 PRESENTATION BY DR JAN ARGASIŃSKI
"An affective driven engine for VR training and evaluation. Report on work"
15.25 – 15.45 COFFEE BREAK
15.45 – 16.15 PRESENTATION BY JUSTYNA JANICKA, 1000REALITIES
"Transformative power of AR and computer vision on reality"
16.15 – 16.45 PRESENTATIONS BY PIOTR STANKIEWICZ, TECHMO
"The sound of Odyssey – journey to discover applications for voice recognition, Polish language processing and computer game solutions"
16.45 – 17.00 CONCLUDING SESSION
Prof. Anthony Elliott
Prof. Roman Batko
---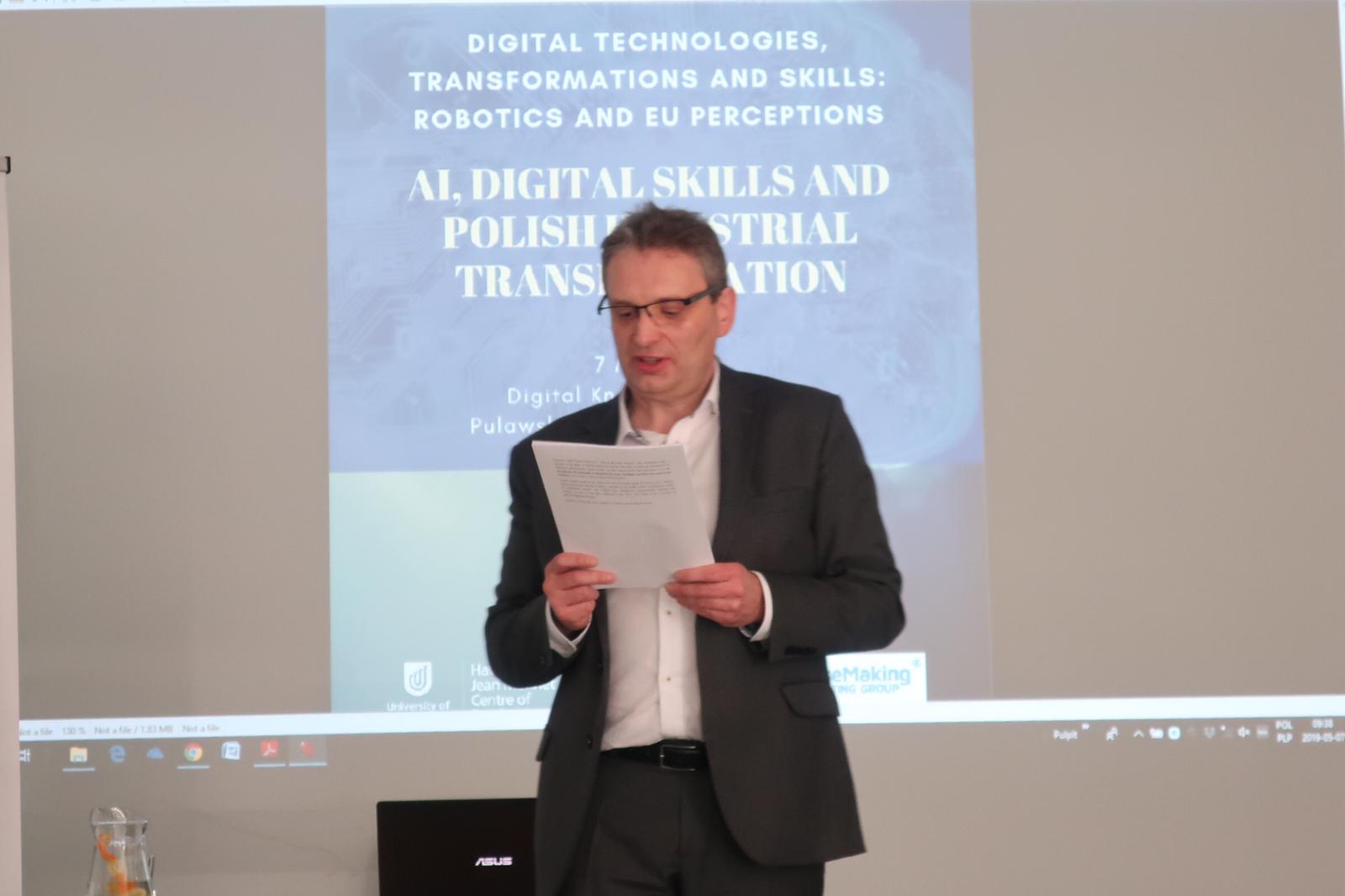 ---
Workshop Speakers
Dr Jan Argasiński, Jagiellonian University, Poland
Katarzyna Baliga-Nicholson, SenseMaking Consulting Group, Poland, Jagiellonian University, Poland
Wiesław Bartkowski, University of Social Science and Humanities, Poland
Professor Roman Batko, SenseMaking Consulting Group, Poland, Jagiellonian University, Poland
Dr Ingrid Biese, University of Helsinki, Finland
Professor Anthony Elliott University of South Australia, Australia
Dr Eric Hsu University of South Australia, Australia
Justyna Janicka 1000realities, Poland
Klementyna Jankiewicz University of Social Science and Humanities, Poland
Franciszek Kutrzeba Gdansk University of Technology, Poland
Professor Ewa Lechman Gdansk University of Technology, Poland
Professor Mike Innes University of South Australia, Australia
Robert Martin University of Aalborg, Denmark
Paula Michalik Radio ZET
Karol Nowak University of Social Science and Humanities, Poland
Camilla Sigfrids LearningMiles, Finland
Piotr Stankiewicz Techmo, Poland
Dr Nick Stevenson University of Nottingham, UK
Professor Michał Wszoła Medical University of Warsaw, Poland
---



---