Masterclass by Prof Nick Gill - Welcome and Its Discontents: Borders, States and Practices of Hospitality
12 March 2020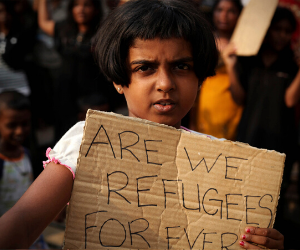 Location
Room: B2-08
B Building, UniSA Magill Campus
University of South Australia
Further information
RSVP to CILResearch@unisa.edu.au by Monday 9 March 2020
Masterclass by Professor Nick Gill
Welcome and Its Discontents: Borders, States and Practices of Hospitality
Presented by Professor Professor Nick Gill, University of Exeter (Hawke EU Jean Monnet Centre of Excellence 2020 Thinker in Residence)
Responding to strangers and newcomers is a fundamental aspect of human nature and a topic of long-standing interest in the social sciences and humanities. And yet 'welcome' is a topic that has become both increasingly divisive, and also perversely banalised and trivialised. Recent scholarship in the sociology of hospitality has called for social scientists to complement grand theories and philosophies of welcome with a renewed attention to the everyday, ordinary activities of welcome and unwelcome (Lynch, 2017) and this lecture adopts and develops this lens to offer fresh perspectives on this important topic. Starting with the stuff of everyday life raises a series of questions about 'welcome'. Is welcome inherently emotional and relational? How can everyday welcome be understood with respect to statist and nationalistic logics and demands? Who welcomes, where and under what conditions? Who, or what, unwelcomes? And what role can research play in improving our understanding of welcome? In exploring these questions the topic of welcome leads us to connect with intractable debates about coloniality, intimacy, technology and non-human life.
Reading: Lynch, P. (2017). Mundane welcome: Hospitality as life politics. Annals of Tourism Research, 64, 174-184.
---
Nick Gill is a Professor of Human Geography at the University of Exeter, UK. He is a
political geographer and has published widely on the sites, structures and contestations of state power, including at the 'border' the 'prison' and the court. Themes that run through his work include justice and injustice, mobility and its confiscation, and the politics of asylum. He currently leads a 5-year European Research Council funded project, ASYFAIR, which examines the inconsistencies and contradictions of Europe's asylum system. His most recent book Asylum Determination in Europe: Ethnographic Perspectives (co-edited with Anthony Good) is available open access from Palgrave Macmillan. He is the 2020 Hawke EU Jean Monnet Centre of Excellence's Thinker in Residence, an activity co-funded by the Erasmus+ programme of the European Union.
---
Thursday 12 March 2020, 3:00 pm to 5:00 pm
Room: B2-08, B Building, UniSA Magill Campus
RSVP to CILResearch@unisa.edu.au by Monday 9 March 2020
---

---