Precarious Refuge: addressing the challenges of temporary asylum
18 March 2020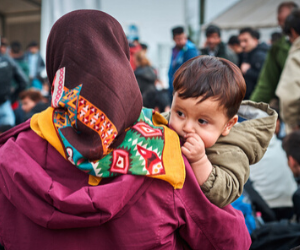 Location
Bradley Forum
Level 5, Hawke Building
City West Campus, University of South Australia
Further information
Friday 13 March 2020 - 10:00 am to 3:00 pm
Workshop/Public Outreach Event
Precarious Refuge: addressing the challenges of temporary asylum
Including a presentation by Professor Professor Nick Gill, University of Exeter (Hawke EU Jean Monnet Centre of Excellence 2020 Thinker in Residence)
The Precarious Refuge Workshop explored the challenges and possibilities for people on temporary protection visas. The workshop opened with a keynote address from Professor Nick Gill (University of Exeter, UK see bio below) and included panel discussions from researchers and service providers working with people on temporary protection visas.
---
Program
10.00 - 10.30
Professor Nick Gill discussion learning from UK responses to asylum
Academic discussion panel on the impact of precariousness for those on temporary protection visas:
Professor Nick Gill, Assoc Prof Anna Ziersch, Dr Melanie Baak, Dr Moira Walsh Lunch
12.00 - 13.00 - Lunch
13.00 - 14.00
Discussion panel on legal aspects of temporary protection:
Professor Alex Reilly, Aimee Fuller and Libby Hogarth
14.00 - 15.00
Discussion panel on everyday lived experience of temporary protection: Mercy House and St Vincent de Paul Society Migrant and Refugee Centre
Nick Gill is a Professor of Human Geography at the University of Exeter, UK. He is a
political geographer and has published widely on the sites, structures and contestations of state power, including at the 'border' the 'prison' and the court. Themes that run through his work include justice and injustice, mobility and its confiscation, and the politics of asylum. He currently leads a 5-year European Research Council funded project, ASYFAIR, which examines the inconsistencies and contradictions of Europe's asylum system. His most recent book Asylum Determination in Europe: Ethnographic Perspectives (co-edited with Anthony Good) is available open access from Palgrave Macmillan. He is the 2020 Hawke EU Jean Monnet Centre of Excellence's Thinker in Residence, an activity co-funded by the Erasmus+ programme of the European Union.
---

---

---