Fantasies of Refugee Law: Failing Asylum Seekers in Europe
18 March 2020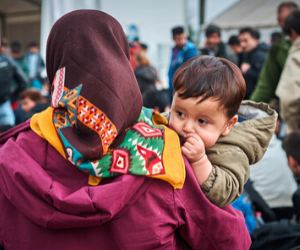 Location
Bradley Forum
Level 5, Hawke Building
City West Campus, University of South Australia
Further information
Public Lecture and Reception: 6.00pm - 8.30pm; RSVP to CILResearch@unisa.edu.au by Friday 13 March 2020
---
LECTURE CANCELLED
In line with public health advice surrounding COVID-19, the University has deferred all public events until further notice - https://unisa.edu.au/Media-Centre/Releases/2020/coronavirus-updates/. Consequently, Professor Gill's Lecture was regrettably cancelled.
---
Public Lecture and Reception
Fantasies of Refugee Law: Failing Asylum Seekers in Europe
Presented by Professor Professor Nick Gill, University of Exeter (Hawke EU Jean Monnet Centre of Excellence 2020 Thinker in Residence)
What turns a principle into a fantasy? Although asylum policy and law generate unparalleled levels of political and social concern, astonishingly little is known about the day to day sites at which life and death decisions about refugees are made. This lecture examines the fate of lofty humanitarian legal principles at the point of their practical manifestation in space and time in the courts and hearing centres of Europe: effectively the last chance saloons before illegalisation and deportation. Drawing upon a multi-sited ethnographic study of hundreds of asylum appeals in seven European countries, the lecture reveals the everyday tyrannies and procedural dysfunctions inherent to these under-examined sites. Adopting a distinctively spatial, grounded view of the challenges of legal systematisation, the lecture contributes to both refugee law and critical perspectives in socio-legal studies and anthropology by laying bare the fragility of law in action.
---
Nick Gill is a Professor of Human Geography at the University of Exeter, UK. He is a
political geographer and has published widely on the sites, structures and contestations of state power, including at the 'border' the 'prison' and the court. Themes that run through his work include justice and injustice, mobility and its confiscation, and the politics of asylum. He currently leads a 5-year European Research Council funded project, ASYFAIR, which examines the inconsistencies and contradictions of Europe's asylum system. His most recent book Asylum Determination in Europe: Ethnographic Perspectives (co-edited with Anthony Good) is available open access from Palgrave Macmillan. He is the 2020 Hawke EU Jean Monnet Centre of Excellence's Thinker in Residence, an activity co-funded by the Erasmus+ programme of the European Union.
---
LECTURE CANCELLED
In order to help reduce the spread of Covid-19, UniSA has just made a decision to defer all public events until further notice - https://unisa.edu.au/Media-Centre/Releases/2020/coronavirus-updates/. This decision was not made lightly and was taken in order to ensure public safety. Consequently, Professor Nick Gill's Lecture has regrettably been cancelled.
---

---