Our director
Professor Wasim Saman
Professor Wasim Saman is Professor of Sustainable Energy Engineering at the University of South Australia and Director of the Barbara Hardy Institute. Professor Saman was also the founding Director of the Sustainable Energy Centre (1997) which now forms part of the Barbara Hardy Institute.
His career has focused on sustainable energy education and industry targeted research since the 1980s and he has published over 180 technical articles, leading an internationally recognised team of researchers and post graduate students.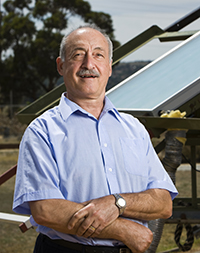 Wasim is currently leading projects focusing on solar thermal electricity generation and storage being carried out through the Australian Solar Thermal Research Initiative. He is Research Leader in the CRC for Low Carbon Living focusing on Integrated Building Systems with the aim of leading the transition to zero energy buildings and is leading a national project developing a framework for adapting Australian households to heat waves funded by the National Climate Change Adaptation Research Facility.
Wasim received the Pioneer Award from the World Renewable Energy Network in 2012 and is Past President of the South Australian branch of the Australian Solar Energy Society and Director of the Australian Carbon Biosequestration Initiative Ltd. He has acted as a consultant to many Government and industry bodies including current membership of the Technical Advisory Panel of the Office of Renewable Energy Regulator, Science Subgroup of the South Australian Clean Energy Council and the Nationwide House Energy Rating Scheme Technical Advisory Committee established by the Department of Climate Change and Energy Efficiency.
With a considerable track record in developing and implementing sustainable systems and technologies, including solar and energy efficient heating and cooling systems, Wasim has led the development and implementation of a methodology for evaluating and reducing energy use in new housing developments. He is currently involved in developing new energy rating tools for Australian housing and his current research includes developing an integrated solar system for the provision of hot water heating and cooling, developing better roofing systems, evaluation and monitoring of innovative low carbon, energy and water housing development at Lochiel Park and building solar thermal electricity, thermal storage and desalination systems.
Wasim has been awarded over $10 million in national competitive, industry and government research funding during the last decade and has made significant contributions to learned and professional organisations. This includes membership of the Editorial Board of the International Journal of Low Carbon Technologies (published by the Oxford University Press), chairing the technical program committees for the third International Solar Cities Congress (2008) and the 2001 Solar World Congress.
The Sustainable Energy Industry Support Centre, a nationally funded facility from Industry, Australian Commonwealth Government and the South Australian Government was also developed by Wasim for test facilities to support research and development in the areas of air conditioning, solar hot water, thermal energy storage and thermal rating of building elements which continues to grow.