Focussing service delivery on the needs of vulnerable children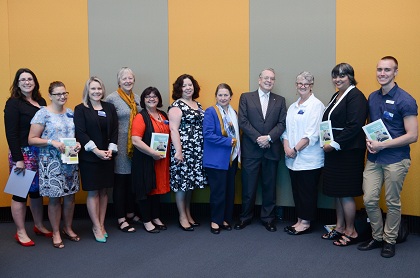 Putting children and parenting needs at the forefront requires changes in attitudes, perceptions and ways of working, across all levels of the social services system.
The Protecting and Nurturing Children: Building Capacity Building Bridges Initiative was an integral activity under the First Action Plan of the National Framework for Protecting Australia's Children 2009-2020 (see page four for more information) - the first comprehensive policy aimed at promoting a collective responsibility for children's wellbeing.

The key focus of the BCBB initiative was to improve outcomes for children in families with multiple and complex needs, regardless of whether these families present to an adult specialist service or a child and family service.

Working in partnership with 12 Communities for Children sites, this initiative developed relationships, strengthened collaboration and informed practice to make children's needs visible, particularly within services targeted toward adults.
The Centre's knowledge has informed practice change in relation to both service collaboration and child and family sensitive practice. Key achievements resulting from this initiative include:
330+ participants attended collaboration workshops across 11 sites;
1900+ participants from 250+ agencies across 12 communities attended child and family sensitive practice workshops;
Train the Trainer manual developed with training delivered to 40+ trainers;
Practical, freely available elearning resources developed
System Impact
To drive system change the Centre worked with national peak bodies and organisations such as Anglicare Australia, Mental Health Coalition, Families Australia, Family and Relationship Services Australia, the Secretariat of National Aboriginal and Islander Child Care, Alcohol and Other Drug Council of Australia, Communities for Children facilitating partner organisations, and with the disability sector. This work emphasised that "child protection is everybody's business" and has led to the national "Child Aware Local Initiative" that places children's needs at the centre of policy, practice and community action.
Organisational Impact
Organisational impact was evidenced by the creation of a new platform for professionals focused on diverse adult issues to talk about risks to children in the family. Opportunities were created for professionals to develop cross-sector relationships to foster conversations about how to lessen the risks to children. Within some key organisations, BCBB created cohorts of trained staff to generate opportunities for peer support and development of child- and family-sensitive practice in the workplace. These organisational cohorts received mentoring and resources from BCBB.
"It has served to highlight the importance of keeping children at the centre, to understand vulnerability, and around the need for a better co-ordinated approach. So we no longer mirror a family's chaos"
Nina Levins, Anglicare, the auspicing agency of Communities for Children in Alice Springs
With the support of Department of Social Services, Australian Government and participating Communities for Children facilitating partners