News and Events
Footage from the National Housing Conference, Darwin 2019
The AHURI website has published presentations, video and audio from the recent National Housing Conference that was held in Darwin between August 27-30.
New AHURI report on the future of South Australian housing
A new report titled 'Audit of South Australia's current housing assets and mapping of future demand' has been commissioned by the South Australian Housing Authority and delivered by AHURI's Professional Services team and the University of Adelaide. From the AHURI website:
'The research is an extensive audit of the State's current housing assets and maps upcoming demand in order to fully understand present and future housing needs. This knowledge will help the South Australian Government plan what housing and infrastructure resources will best be deployed in different regions across the state.'
The report has been published on the AHURI website:
https://www.ahuri.edu.au/news-and-media/news/ahuri-research-explores-south-australian-housing-futures/_nocache
2019 Australasian Housing Researchers' Conference
The AHURI Research Centre at the University of South Australia recently co-hosted the 2019 Australasian Housing Researchers' Conference with the University of Adelaide. Over three days we heard from a diverse group of researchers including plenary speakers Professor Sarah Johnsen, Professor Gavin Wood, Professor David Clapham and Professor Geoff Meen as well as presentations from local, interstate and international delegates on topics varying from homelessness research to new models of tenure and consumption to population ageing and housing. Some particular highlights of the conference were a panel of early career researchers chaired by Dr Hazel Easthope who discussed their visions for the future of housing research to 2040, the social, collegial atmosphere that existed throughout the conference, and the high calibre of the researcher presentations across the board.It was an honour to co-host the event with the University of Adelaide and we look forward to joining the next AHRC in 2020. Please feel free to send any feedback to our administrative email.
2019 AHURI Top-up Scholars Symposium in Adelaide
Prior to the start of the 2019 AHRC, AHURI held its annual Top-up Scholars Symposium. Our centre director, Associate Professor Christine Garnaut, attended the symposium along with UniSA's AHURI Top-up Scholars Jess Porter and Laura Hodgson.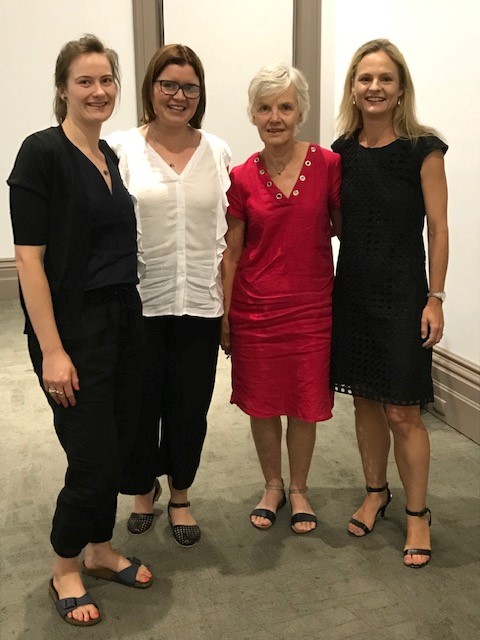 From left: Laura Hodgson, Jess Porter, Christine Garnaut, Christa Viljoen
Current UniSA AHURI Scholarship Top-up Recipients
Jessica Porter:
Working title – 'Local Government and affordable housing provision in Australian regional cities: an analytic of government'
Jessica's research considers the policy measures that have been developed to boost the supply of affordable housing; and investigates how governance arrangements at the state and local government levels shape affordable housing outcomes in Australian regional cities.
Laura Hodgson:
Laura is in her third year of a PhD at the University of South Australia investigating the impact of Airbnb on New South Wales housing markets. Laura uses two case study areas in Sydney and the Northern Rivers to examine the impact of Airbnb. Laura is interested in the decision-making and complex relationships between government, the community and non-government actors during this period of disruption.
Sara Mirhadi:
My research titled "Place Attachment in Transition; A Critical Evaluation of Design Elements and Human Perceptions of Migrants' Houses in Australia" aims to identify lived experiences of migrants in their Australian houses. This study investigates migrants' ways of adaptation and appropriation of the houses to their preferences. Accordingly, the project focuses specifically on capturing socio-spatial modifications of migrants' houses through a rigorous triangulation methodology combining social and architectural research methods.
Australia, as a distinctive multicultural context, faces with household diversity which leads to a changing in housing demands and ultimately housing design approaches. Observing and researching on these housing design changes is way important for anticipating future housing market. Thus, the anticipated outcome of this research is to offer new insights into effective housing design approaches and planning policies.
2018 End of Year News Bulletin and successful NHRP funding announcements
We are delighted to congratulate Associate Professor Deirdre Tedmanson and her research team on their successful application for funding in AHURI's NHRP 2019 agenda. For further details about this and other successful applications that involve researchers from the University of South Australia, please follow the link to our end of year news bulletin below.
View News Bulletin December 2018 (PDF 214Kb)
View News Bulletin June 2018 (PDF 271Kb)