Professional development & short courses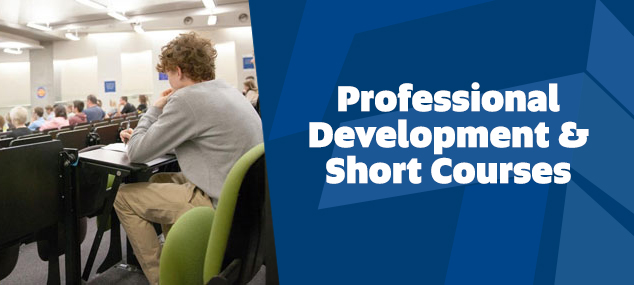 This short course is designed to smooth the transition to university studies with the basic scientific knowledge needed, when commencing any of the UniSA health science undergraduate programs.





This course is offered collaboratively with the Australasian Society of Clinical Immunology and Allergy Incorporated (ASCIA) and provides an understanding of the role of the allergy nurse, the allergic process and allergic disease and the varying manifestations in both children and adults.





The UniSA Professional Certificate in CT and PET Imaging is designed prepare students for clinical experience in Computed Tomography (CT) and Positron Emission Tomography (PET)/Computed Tomography (PET/CT) hybrid imaging. It will also provide a broad knowledge base of advanced CT procedures.






The purpose of this program is to provide post-graduate training for registered physiotherapists, registered nurses and registered medical practitioners who conservatively manage pelvic organ prolapse.




Professional Certificate in High Performance Conditioning



Be at the coal-face of in-season training. This six day intensive course provides you with a rare chance to benefit directly from Adelaide Football Club (AFC) and UniSA's sport science expertise.






The purpose of this program is to increase your understanding, skills and expertise in supervising learners in the workplace through applying teaching and learning principles and approaches within the work setting.





The Professional Certificate in Pain Sciences is designed for qualified health professionals seeking an opportunity to advance their understanding and skills in the assessment and management of pain.






This professional certificate is designed for registered nurses working in any healthcare setting who may be involved in the provision of palliative care to adult clients and their families.





This ten-week course is designed to provide those persons eligible to hold an X-ray operator's license with the knowledge to perform a limited range of plain film diagnostic radiography.





The Radiation Therapy Practice Professional Development Modules are available to radiation therapists to engage in readily accessible professional learning, anywhere, any time.





UniSA's Pharmacy Intern Training Program (ITP) provides intern pharmacists with specialised training and skills in pharmacy practice. Intern pharmacists have the choice to build on a base program to obtain postgraduate University qualifications highly respected in the workplace.





The University of South Australia's driver assessment course offer a quality product to occupational therapists. These predominantly online subjects utilise a competency based training framework, underpinned by reflection, self directed learning and group participation, in order to deepen theoretical understanding and practical application.