Gendered Violence and Citizenship
The complex effects of intimate partner violence on mental health, housing and employment
This project examines the long term effects of intimate partner violence (IPV) over women's life course. Based on a national survey and life histories, the impact of IPV on mental health, housing and employment as interconnected dimensions of citizenship is analysed. The research will produce evidence on women's active and diverse responses and develop new understandings of gender, violence and citizenship.
Funding
ARC Discovery Grant Awarded 2013 – 2015
Preminary Report Now Released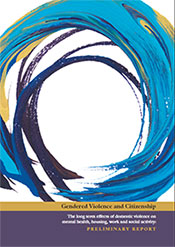 This report presents quantitative data from 658 survey participants and qualitative data is drawn from those women who have separated from a violent partner. The first section of the report presents demographic data about the participants and their circumstances. The second section of the report describes the impact of IPV on the 4 areas: work, housing, mental health and social activity. How the effects of IPV impact and interconnect across these areas are presented through individual case studies drawn from the survey and interview data. These also highlight women's recoveries from IPV in various ways across their life course.
Click to download
Time Line
The project will be conducted over four phases which include a National Survey, semi-structured life history interviews, constructing life histories and the development of an analytical model.
Contact
For further information please contact: Sarah.Wendt@unisa.edu.au