Exploring South Australia






Top 10 regions to visit
(2017 Lonely Planet)
South Australia was named as one of the top 10 places to visit in 2017 by Lonely Planet coming in at number five. Described as 'Australia in a nutshell', the State has been recognised for its broad appeal from pristine beaches and wine country to the far reaches of the outback all in one, providing the ultimate Australian experience.
South Australia is home to a diverse range of landscapes, including spectacular coastline, desert-scapes, islands teeming with wildlife and some of the oldest mountain ranges on Earth. The State is also home to long summers and stunning beaches. It is famous for award-winning food and wine, as well as its sensational entertainment, events and festivals. The State offers many opportunities for a truly extraordinary experience.
Flinders Ranges and South Australian outback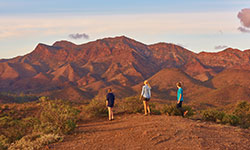 The beautiful Flinders Ranges and Outback offers spectacular ancient ranges, open desert spaces, lakes, wildflowers and wildlife, historic towns and rich Aboriginal and European history. They have been named one of Australia's outstanding national landscapes – recognised as an emotionally uplifting destination.
Kangaroo Island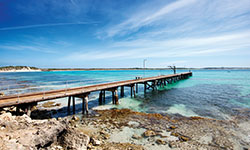 Kangaroo Island is the nation's third largest island and a haven of native forests, pristine beaches, wildlife sanctuaries and a history of shipwrecks. There's so much to do on this adventure island; exploring untouched bushland, fishing on beautiful beaches, wildlife watching, eco tours, charters or simply relaxing. Kangaroo Island is a 45-minute sea ferry journey from Cape Jervis on the tip of the Fleurieu Peninsula.
Wine Country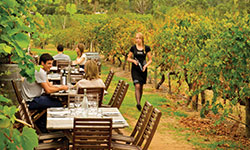 Adelaide is spoilt with wine regions from the Barossa Valley, 70km north-east of Adelaide to McLaren Vale, only 35km south of Adelaide. You can access these regions with public transport and enjoy the freedom to enjoy the local produce. You might also get the chance to meet many of the expert winemakers at wineries and cellar doors.
Riverland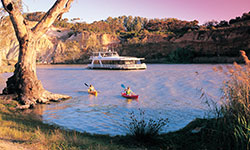 Just one hour's drive from Adelaide, the Murray River, lakes and Coorong is a popular escape with water sports, wilderness and wild adventures on offer. The Riverland is where the cool waters of the Murray River feed wetlands and floodplain forests; where warm sandy landscapes are transformed into carpets of vineyards, citrus and almond groves.
---
Haydan - United States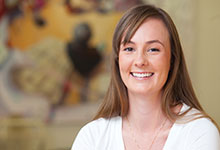 "South Australia is a beautiful state and Adelaide is a wonderful city. Studying at the University of South Australia allowed me to explore both."
---