Accessible Adelaide
Get to most places in less than half an hour






Adelaide is known as the '20-minute city', which is a good estimate of the time it takes to travel from the city campus to the airport, beaches or hills. It's a quick and easy city to get around with an integrated bus, train and tram public transport system connecting all parts of the city and suburbs.
With free Wi-Fi, free tram and free bus services through the city centre, Adelaide is a truly student city. Free bikes are also available with Adelaide City Bikes offering more than 500 bikes for free hire with sites located at both the City East and City West campuses.
When you arrive
We offer a free on-arrival reception service to all students. Once you have confirmed your arrival and accommodation details, you can book your on-arrival reception. Book at least three days before you arrive and a university representative will meet you and take you to your accommodation. If you are travelling with your family, they are also eligible for these services (unisa.edu.au/On-arrival-reception).
Campus Connector
The university also runs a free bus service between the Magill and Mawson Lakes campuses to make life easier for staff and students who make the journey. For full timetable and route details visit: unisa.edu.au/campusconnector
International Distances to Adelaide
One big advantage of Adelaide is its accessibility, with direct flights from a number of cities worldwide and all Australian capital cities.

Dubai – 13 hours 25 minutes
Hong Kong – 8 hours 20 minutes
Kuala Lumpur – 6 hours 58 minutes
Singapore – 6 hours 30 minutes
Approximate times displayed for direct flights.
Places to explore in and around the city
Adelaide Central Markets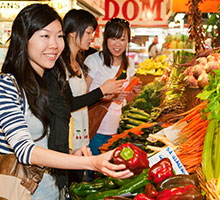 Established in 1869, the Adelaide Central Market has been a thriving hub of food and culture for more than 148 years. With more than 80 traders, the market offers a huge range of fresh food including fruit and vegetables, meat and poultry, seafood, cheeses, bakery, small goods and health foods, along with some of Adelaide's most popular cafes and eateries.
Adelaide Hills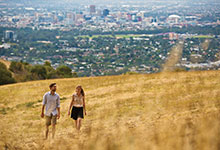 Less than 40 minutes from Adelaide's city centre you can discover the magic of the hills in towns like Aldgate, Birdwood, Hahndorf and Lobethal. You can also visit Cleland Wildlife Park and wander at your leisure among free roaming kangaroos, wallabies, emus and koalas.
Coast
Adelaide beaches offer the ideal setting for you to enjoy surfing lessons, dolphin cruises or fish and chips at sunset.The most popular beach is Glenelg and you can easily catch a tram from the city. Or take a trip down the southern coast and spend the day at some of the most beautiful and unspoilt beaches in the world.
---
William Bredberg - Sweden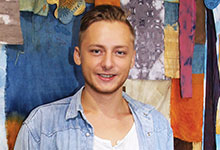 "Adelaide is a very laidback city in comparison with the bigger cities in Australia and if you want to relax, it is easy to get away. You can easily get to the beach within twenty minutes."
---