Minh Toan Chau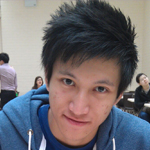 Vietnam
Minh Toan Chau,Bachelor of Medical Radiation Science (Medical Imaging) (IBRS))
What are the benefits of UniSA and their teaching staff?
"I love teaching staff at the University of South Australia (UniSA). They answer all my queries in regards to the courses within 1-3 days and the staff at the Learning and Teaching Unit were extremely supportive.
Studying at UniSA is definitely the best choice you can make. UniSA has many social and educational events - one of them is CareerExpo which I find very helpful. This expo helps students to get to know each other, the jobs they may end up working and how to write an impressive CV/Resume for future employment. I undertook 3 days clinical placement in first year. The 3 days clinical placement was mostly observational. However, I got to observe so many things that happen in daily basis at Flinders Medical Centre. I was directed to different modalities in Medical Imaging (including general radiography, angiography, ultrasound, computed tomography (CT) and emergency department (ED)) and everything was inspirational."
What are your impressions of Adelaide?
"It was easy to settle in Adelaide. My first impression was that it was pretty quiet but I reckon it's the best place on earth to study in as there aren't as many distractions. There are a variety of cultures and backgrounds in Adelaide and respect for other cultures and their beliefs are the first thing I had to learn. The people are so nice here. I made heaps of friends on the first day."
Enquire Online