I Gusti Ary Suryawathy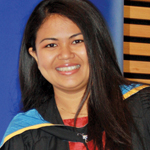 Indonesia
I Gusti Ary Suryawathy, Master of Professional Accounting (DMPC)
Why did you choose to study at the University of South Australia (UniSA)?
"The study environment appealed to me including the modern buildings, sophisticated technology and the helpful staff."
What are the benefits of UniSA and their teaching staff?
"The teaching staff are so helpful and very supportive. They provided their time for personal consultation if I didn't understand the topic or the assignment. They encouraged me to study hard and I still have contact with them. During enrolment the Student Buddy helped me a lot in choosing subjects and making the student ID card. The service was excellent. For instance the Learning and Teaching Unit gave me information about family OSHC, childcare and assignment assistance. When I did my first assignment, I met a staff member who gave me advice and suggestions about grammar. I got a distinction for my very first assignment and was very happy."
What are your impressions of Adelaide?
"Adelaide is a clean and fresh city - not so crowded. It was easily to settle in because it's a small city and maps are provided. The people are so helpful - if I need any info I just ask. Living in Adelaide was so great I want to come again."
Enquire Online